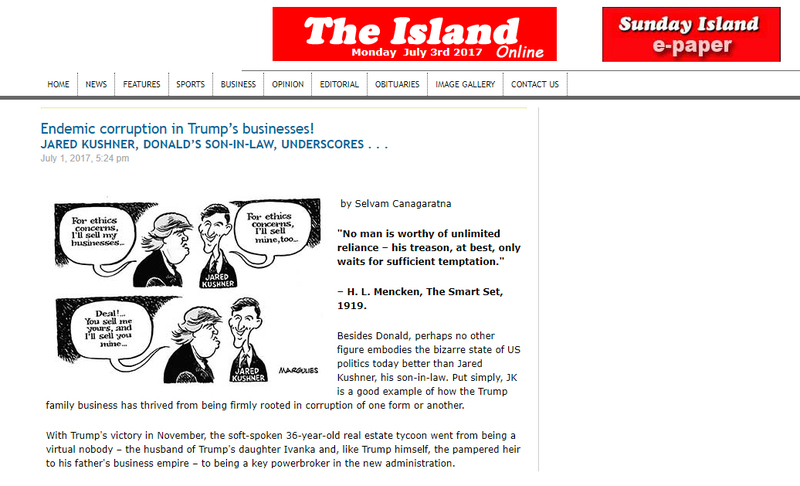 JARED KUSHNER, DONALD'S SON-IN-LAW, UNDERSCORES . . .
"No man is worthy of unlimited reliance – his treason, at best, only waits for sufficient temptation."
– H. L. Mencken, The Smart Set, 1919.
Besides Donald, perhaps no other figure embodies the bizarre state of US politics today better than Jared Kushner, his son-in-law. Put simply, JK is a good example of how the Trump family business has thrived from being firmly rooted in corruption of one form or another.
With Trump's victory in November, the soft-spoken 36-year-old real estate tycoon went from being a virtual nobody – the husband of Trump's daughter Ivanka and, like Trump himself, the pampered heir to his father's business empire – to being a key powerbroker in the new administration.
In his new role as senior adviser, Kushner weilds influence over one of the major 'hot spots' in world politics – the Middle East – and has also become an unenviable part of the web of hypocrisy, contradiction and intrigue surrounding the Trump Administration and Donald's promises to make 'America Great Again'.
Despite Kushner's frequent portrayal in the media as a soft-spoken, moderating influence among his father-in-law's advisers, the more the press investigates Kushner, the more a shady and Trumpian character emerges!
In May, Kushner also became the latest member of Trump's inner circle to be implicated in backroom dealings with Russia. Federal and congressional investigators announced that they were looking into Jared's meeting, in mid-December, with Sergey Gorkov, Chairman of Vnesheconombank (VEB) with close ties to Vladimir Putin and whose bank is under sanction by the US.
What is also now hogging the spotlight is Kushner's role as a 'slumlord' – with an unsavoury history of harassing low-income tenants and evicting them from his properties. As the one-time owner of the New York Observer, he used the newspaper as a platform to pursue personal vendettas against rivals.
Jared also has a history of partnerships with corrupt foreign businessmen and officials that is particularly hypocritical for somebody serving a President who flaunts 'Buy American, Hire American' policies and who rode to power on a wave of nationalistic fervour by employing rhetorical attacks against Muslims, Mexicans and China's trade policies.
Other significant mileposts in Kushner's business history include his deals with an Israeli bank under criminal investigation by the US Justice Department, and his dealings with Chinese businessmen linked to the country's ruling elite.
And there's Jared's meeting with a Russian banker before Donald's inauguration as Prez – in an apparent attempt to create a 'back-channel' communications with Moscow [from within the Russian Embassy premises] thus shielding it from the prying eyes of the FBI!
Jared, as head of Kushner Companies, obtained millions of dollars through a US Government visa program which permits foreign investors to 'buy their way' to permanent residency in the US. [It so happened, we learn, that the program's extension was also Trump's first major piece of legislation!]
That program, called the EB-5 Immigrant Investor Program, was introduced in the early 1990s and is a favourite of real estate tycoons like Trump and Kushner, allowing them to attract wealthy foreigners to bankroll luxury building projects at extremely low interest rates.
Because EB-5 recipients must pledge a minimum of $500,000 to $1 million toward a US business venture, the program is officially billed as a way to attract foreign capital to the US and create jobs. But the actual requirements for job creation on an EB-5 project are extremely low – only 10 permanent jobs need to be created.
The important point to keep in mind is that EB-5's primary beneficiaries are NOT workers in the US, but property developers like Kushner and his father-in-law, as well as other wealthy investors in China and elsewhere.
Hundreds of poor and desperate immigrants die every year attempting to cross the US border, while the rest are vilified and scapegoated by the likes of Donald, while his closest associates are busy extending a program from which they have personally gained – and one, under which, thousands of foreign millionaires are granted residency visas every year with little controversy, including nearly 3,000 from January to March of this year alone!
By way of comparison, that 3,000 is almost the same number of visas that were issued over a three-year period, from January 2008 through June 2011, for unskilled workers falling under the EB-3 visa category, which is the only type of visa open to working-class foreign workers not related to a US citizen and who cannot apply for any other type of special visa status.
However, unlike the EB-5 program, in which foreign investors apply for residency directly, unskilled workers aren't allowed to file their own paperwork to obtain an EB-3 visa. Instead, they must be sponsored by an employer, which must obtain a 'foreign labour certification' from the Department of Labour, a complex process that can take months.
The Who.What.Why website on June 12 had Martin J. Sheil, a retired branch chief of the IRS Criminal Investigation Division, writing thus: "The talking heads on cable news periodically posit the potential of prosecuting folks like Michael Flynn and Kushner for violating the Logan Act, which was passed around 1799. It essentially bars private citizens from negotiating with foreign powers in disputes with the US. This antique law has not been dusted off in a long time and was likely flawed from its onset. Only one prosecution has been brought in the 218-year existence of this statute. Prosecutors don't think it works."
In Sheil's considered view, the Department of Justice and the Special Prosecutor should instead be looking at the International Emergency Economic Powers Act (IEEPA), which is the primary law under which the US sanctions programs are issued. This federal law was signed by President Jimmy Carter on December 28, 1977.
IEEPA authorizes the President to regulate commerce after declaring a national emergency in response to any unusual and extraordinary threat to the US which has a foreign source. Sheil then pointed to the relevant parts of the law which reads as follows:
"It shall be unlawful for a person to violate, attempt to violate, conspire to violate or cause a violation of any license, order, regulation, or prohibition issued under this chapter." Sheil added, "The US has successfully levied huge fines on banks and corporations that tried to evade federal sanctions on foreign countries."
Russia's annexation of Crimea resulted in the US imposing sanctions on the Russian bank, VEB, in July 2014, which suffered extensive economic losses, compelling Putin to bail out VEB with over $20 billion in government subsidies.
According to multiple media reports, Michael Flynn [Trump's fired National Security Adviser] had arranged a meeting at Trump Tower in December of 2016 with Ambassador Kislyak and Kushner. Shortly after, another meeting was arranged by Kislyak with Kushner and Russian banker Gorkov.
Flynn, wrote Sheil, can be compelled to plea bargain given his filing of a false SF-86 with regard to his contacts and payments from Russia and Turkey in 2015 and 2016, his perjury in lying to DOD personnel regarding his receipt of foreign payments, and his likely filing of false tax returns.
"Should Kushner be boxed in by Flynn's testimony and need to plea-bargain, we can only guess what that can lead to. It should be noted that statutory exposure for IEEPA violations is 20 years. Kushner is 36 years old. If Mueller were to offer to plea Kushner for filing a false disclosure form, that has a statutory exposure of 5 years with a likely sentencing of about a year in exchange for full cooperation."
Not exactly a rosy future, huh?
http://www.island.lk/index.php?page_cat=article-details&page=article-details&code_title=167557
Mentions
States
---
Securities Disclaimer
This website is for informational purposes only and does not constitute an offer or solicitation to sell shares or securities. Any such offer or solicitation will be made only by means of an investment's confidential Offering Memorandum and in accordance with the terms of all applicable securities and other laws. This website does not constitute or form part of, and should not be construed as, any offer for sale or subscription of, or any invitation to offer to buy or subscribe for, any securities, nor should it or any part of it form the basis of, or be relied on in any connection with, any contract or commitment whatsoever. EB5Projects.com LLC and its affiliates expressly disclaim any and all responsibility for any direct or consequential loss or damage of any kind whatsoever arising directly or indirectly from: (i) reliance on any information contained in the website, (ii) any error, omission or inaccuracy in any such information or (iii) any action resulting therefrom.