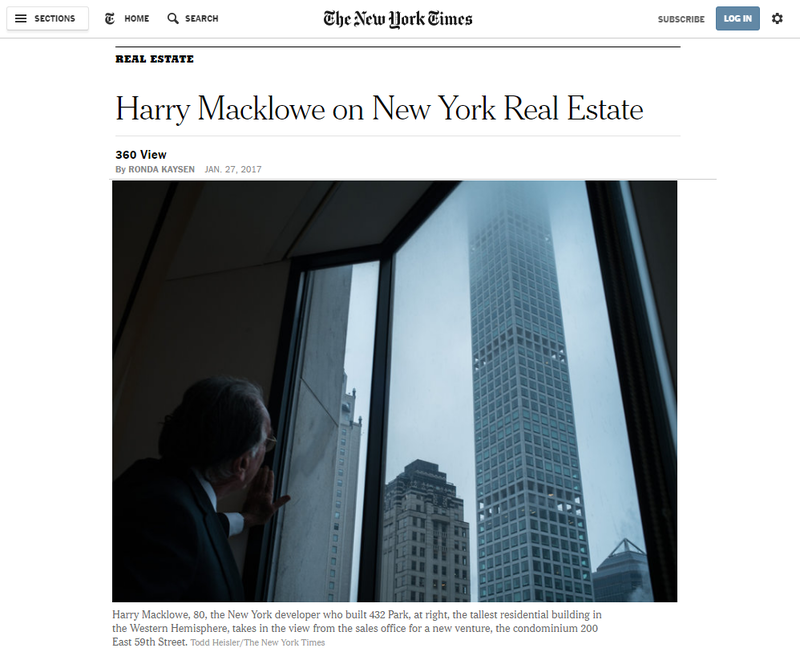 Harry Macklowe, the real estate titan with a career as mercurial as it is long, is riding the wave of successful sales at 432 Park Avenue — said to be the tallest residential building in the Western Hemisphere — and forging ahead with new projects. Sales began this month for a residential condominium in Midtown and he plans to convert One Wall Street, an Art Deco office building, to residential.
"Real estate is a nice thing," he said. Then, after a brief pause for comic effect, he added: "You can do it until you croak."
At 80, Mr. Macklowe has had many professional near-deaths over the course of his career, which covers almost six decades and has been marked by dizzying highs and stomach-churning lows. Yet each time, he has pulled off a resurrection. At his latest comeback, 432 Park Avenue, which Macklowe Properties developed with CIM Group, a penthouse sold in September for $87.66 million. The tower proved that Mr. Macklowe continues to be a formidable player in the real estate arena.
His latest project, a condo at 200 East 59th Street, is far more modest, a reflection of the cooling luxury market. The 35-story tower, with 67 apartments, will rise opposite Bloomingdale's department store. Prices begin at about $2.1 million for a one-bedroom and $4.075 million for a two-bedroom.
"We wouldn't start a 432 Park today," he said. Nevertheless, he remains optimistic that he will be able to sell the remaining 18 apartments there, one of which is listed for $82 million. While "the upper end of the market is justifiably slow," he said, "we're very confident that our pricing structure is correct and we'll sell."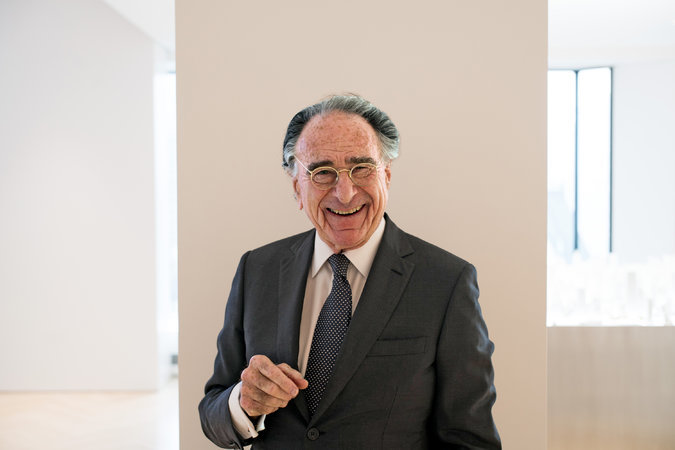 Mr. Macklowe has been in the real estate business for almost 60 years. Prices at 200 East 59th Street will range from about $2.1 million for a one-bedroom to $4.075 million for a two-bedroom.
From Mr. Macklowe's vantage point, he has never stumbled, not even in 2008 when he was forced to relinquish seven properties to lenders and to sell four others, including his crown jewel, the General Motors building on Fifth Avenue at 59th Street. Exhibiting the same unabashed confidence exuded by another New York developer who just took office in Washington, Mr. Macklowe reasoned: "I've never had a bad deal," he said. "I've only had good deals that, because of timing, haven't worked out."
As for the future, Mr. Macklowe is confident, if not exuberant, about President Donald J. Trump, whom he sees as good for business and commerce. "The cabinet he's put together is, for the first time, full of outstanding people, all sophisticated business people, and you've not had that before in our lifetime," he said. Rex W. Tillerson, the president's choice for secretary of state, strikes Mr. Macklowe as particularly adept. "I think it'll be good for the world," he said, adding that he is excited to personally know about half of Mr. Trump's cabinet picks.
He dealt directly with Mr. Trump in 2003 when he bought the G.M. building, which had been owned by Mr. Trump and Conseco, for $1.4 billion. Mr. Macklowe described Mr. Trump as honorable in his business dealings.
Real estate "is not an industry full of camaraderie and good will," said Vicky Ward, the author of "The Liar's Ball" (Wiley, 2014), a book about Mr. Macklowe and the G.M. building. Developers "are set up to dislike each other, yet occasionally they do come together to partner."
The two do not share the same taste in design. After Mr. Macklowe bought the G.M. building, he renovated the lobby and common areas to give them a more understated look. And although Macklowe Properties was the sole owner, he did not splash his name across the facade, as Mr. Trump had done in four-foot tall gold letters.
While Mr. Macklowe's professional life enjoys a moment of calm, his personal one is in the midst of upheaval. Last spring, he filed for divorce from Linda Macklowe, his wife of 57 years, leaving her, according to the gossip columns, for another woman. And in November, he filed a lawsuit against his son, William Macklowe, over issues relating to their separate real estate businesses. After their relationship soured in the wake of the 2008 upheaval, the son started his own venture, William Macklowe Company.

A rendering of the exterior of 200 East 59th Street, which has 35 stories. Bloomingdale's is a neighbor.
Harry Macklowe declined to comment on personal matters. However, in an industry dominated by family dynasties, the potential disintegration of Mr. Macklowe's family sets him apart, putting his legacy in question. But Mr. Macklowe, the son of a garment industry executive who broke into the real estate business as a commercial broker, is more concerned about the here and now than the hereafter. "Once you're no longer here, you're no longer here," he said. "So the degree of satisfaction is now."
The sales gallery for 200 East 59th Street is in the Macklowe Properties offices in the G.M. building, now owned by Boston Properties, Zhang Xin and the Safra family. Laid out like a retrospective of his long career, the gallery walls are flanked with eight-foot-tall photographs of his developments. Models of his projects fill the space.
Mr. Macklowe bent over one model, plucking a stray sliver of plastic from a miniature ledge and placing it on the plastic lid of his paper coffee cup. Stopping in front of an oversize photograph of Metropolitan Tower, the black glass residential 1987 high-rise on West 57th Street, he lamented the lack of recognition it received. "I never got the compliments for it," he said. "I thought it was outstanding."
Three years after the tower opened, the architecture critic Paul Goldberger, writing for The New York Times, begrudgingly gave it a nod, describing it as "an alien object," but adding, "It is a lot less destructive to the cityscape than it looked as if it was going to be. The slender wedge of black glass has a certain elegance, like minimalist sculpture. This is not the finest piece of glass detailing around, but it is far from the crudest."
Mr. Macklowe easily slips into long monologues about the minute details of his buildings, describing the type of hedges he selected for entryways and the angles at which they should be trimmed — he avoids ivy because it dies in the winter. He speaks in passionate terms about columns, setbacks and Siberian mink, the variety of marble used in the bathrooms at 200 East 59th Street. He appreciates sleek, modernist lines. The architect Mies van der Rohe is his idol; the Barcelona Pavilion, his Mecca. "I believe in classic design," he said.
The kitchens at 200 East 59th Street are minimalist, with white glass cabinets and slab countertops of white Calacatta marble.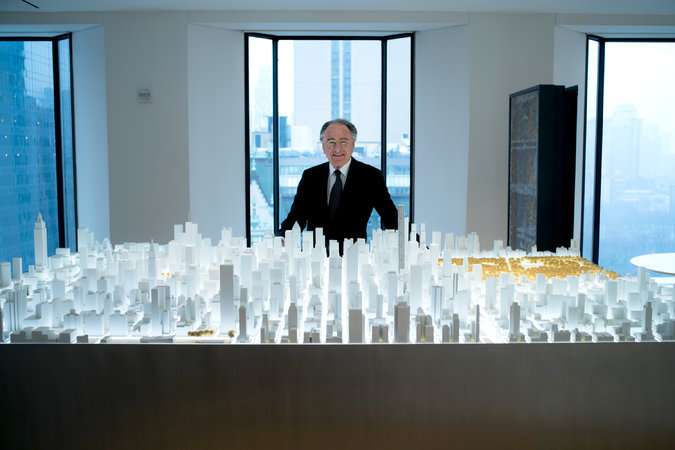 Mr. Macklowe's sales gallery for 200 East 59th is filled with models.
"There are two colors, do you know what they are?" he asks me.
No, the answer is not gold and more gold. It's black and white, obviously.
For many New Yorkers, Mr. Macklowe will be remembered as the developer whose company bulldozed several S.R.O. hotels in Midtown in the middle of the night in 1985, just hours before a city moratorium on the practice went into effect. In their place, he built Hotel Macklowe on West 44th Street, only to return it to lenders during a financial upset in the early 1990s. It is now called Millennium Broadway Hotel.
But in 432 Park Avenue, Mr. Macklowe sees the chance to rewrite his legacy, and enjoy some of the accolades he craves. "When you do something that people compliment, it is wonderful, that's the aphrodisiac that nobody else can enjoy," he said.
Designed by Rafael Viñoly, the 1,396-foot tower rises above the Empire State Building, reshaping the city's skyline, something he said he did not intentionally set out to do. Yet, "nobody else saw what I saw," he said of the opportunity to develop the parcel that once housed the Drake Hotel.
And so, with 432 Park, Mr. Goldberger finally gave a full-throttled endorsement. "Viñoly's 432 Park, on the outside, is as sophisticated as One57 is glitzy," Mr. Goldberger wrote in Vanity Fair in 2014. "Its facade is a flat, minimalist grid of smoothly finished concrete. As one looks at the building it's hard not to think of Tadao Ando, the Japanese architect who is famous for making concrete feel more sensual and luxurious than marble."
Michael Kimmelman, The Times's architecture critic, described the building's exterior as "a grid of concrete and glass, like an extruded Sol LeWitt, or a distended Josef Hoffmann vase (or a middle finger stuck up at the city, depending on your perspective)."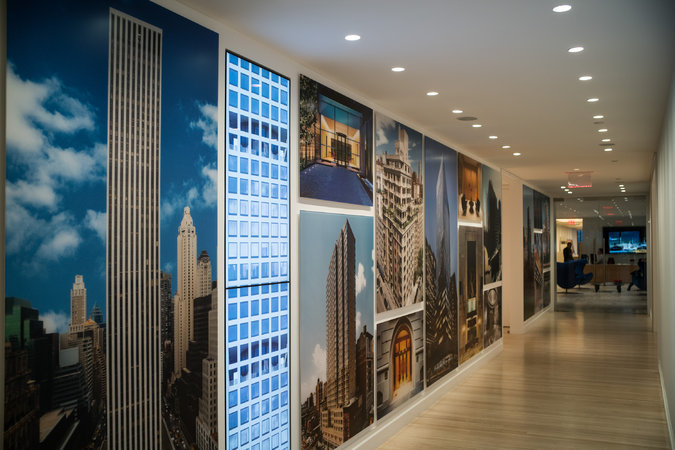 The walls of the sales gallery offer a retrospective of his long career, filled with photographs of his ventures, including the G.M. building and 432 Park.
Indeed, praise for 432 Park has not been universal, as it has been criticized as a potent symbol of vast economic disparity. Many New Yorkers are dismayed that 432 Park, along with other super-tall towers like One57, casts shadows across Central Park.
"There is a cumulative impact of these super-tall towers together casting shadows," said Tara Kelly, a vice president of the Municipal Art Society, which issued a 2013 report about the impact of these buildings on the park. Such shadows impact the "enjoyment of city life, of quality of life. It can affect temperature," she said.
Mr. Macklowe dismisses these concerns. "People like the status quo," but eventually adjust, he said.
Mr. Macklowe has a reputation for being a fierce negotiator who is cool under pressure. But he can also tell a good story, like the one he told me about Steve Jobs. Soon after Mr. Macklowe built a glass cube for Apple in the G.M. building plaza in 2006, he offered Mr. Jobs office space in the building. Mr. Jobs declined.
"He said, 'Are you kidding?'" Mr. Macklowe recalled. Mr. Jobs didn't want to be in Midtown. He wanted to be in SoHo, where he could soak up fresh ideas.
Mr. Macklowe was not offended. Jobs "wasn't going to go to the Grill Room and have lunch with Henry Kissinger," he told me, adding, "That's exactly how I felt, I want to learn something new every day."
https://www.nytimes.com/2017/01/27/realestate/harry-macklowe-on-new-york-real-estate.html?_r=1
Mentions
States
---
Securities Disclaimer
This website is for informational purposes only and does not constitute an offer or solicitation to sell shares or securities. Any such offer or solicitation will be made only by means of an investment's confidential Offering Memorandum and in accordance with the terms of all applicable securities and other laws. This website does not constitute or form part of, and should not be construed as, any offer for sale or subscription of, or any invitation to offer to buy or subscribe for, any securities, nor should it or any part of it form the basis of, or be relied on in any connection with, any contract or commitment whatsoever. EB5Projects.com LLC and its affiliates expressly disclaim any and all responsibility for any direct or consequential loss or damage of any kind whatsoever arising directly or indirectly from: (i) reliance on any information contained in the website, (ii) any error, omission or inaccuracy in any such information or (iii) any action resulting therefrom.