UNPAID BILLS PROVE HARDSHIP FOR CONTRACTORS IN NORTHEAST KINGDOM EB-5 PROJECTS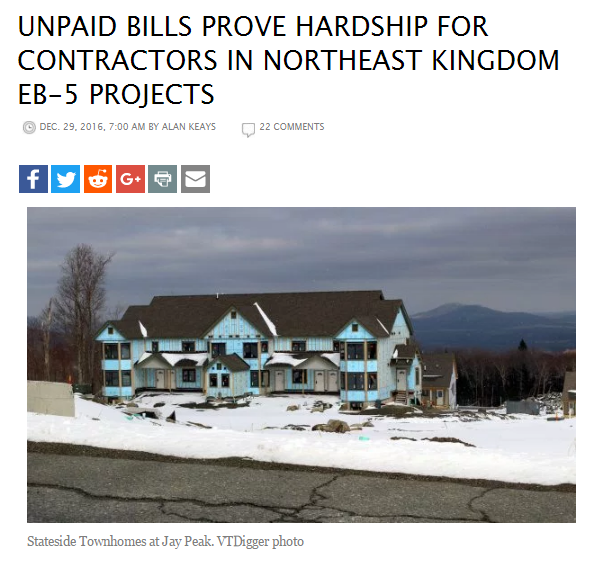 The litany of woe for contractors involved in the Jay Peak projects keeps growing. Workers have been laid off, lines of credit have been extended and assets needed as collateral have been tied up in loans.
Those are just some of the hardships faced by the more than 40 companies who together are owed nearly $7 million for work on a series of development projects at Jay Peak and Burke Mountain ski areas and a proposed biomedical park in Newport.
As the New Year approaches, many of the firms, who did everything from plumbing and roofing to siding and wiring, are struggling to remain afloat with unpaid bills from more than a year ago weighing down balance sheets.
The projects headed by Jay Peak owner Ariel Quiros and Bill Stenger, the resort's former CEO and president, generated a boom to the economy of Vermont's Northeast Kingdom from 2008 to 2013, as builders and tradesmen worked on construction of three hotels and three condo complexes at Jay Peak. The massive expansion of the ski area also featured a waterpark, ice arena and golf club.
The buildout of Jay Peak was nearly complete in 2014 when fraud allegations from investors began to surface in news reports, and federal and state regulators became involved.
As pressure from regulators mounted and developers were prevented from seeking more EB-5 immigrant investor funds for a period of nine months, money dried up for bills already past due for the Stateside condos at Jay Peak, a hotel and elite athletic conference at Burke Mountain and AnC Bio Vermont, a proposed biomedical facility in Newport.
That left a slew of accounts receivable on the books for local contractors — with no available funds for payment.
Take Rob Conrad, owner of Conrad Construction of Derby. He said the unpaid bill for work his company did helping to build a new $50 million hotel that opened in September at the base of Burke Mountain has set his business back about 10 years.
"I'm definitely a smaller version than what I usually am," Conrad said this week. "A lot of times I'll have 25 to 30 men working for me through the summer into the fall. This year it was five."
Conrad's business is owed $245,237 for work that included siding and roofing at the hotel. The failure to receive that payment, he said, has not only meant fewer employees, but also struggles to make purchases and finance other jobs.
It is taking a personal toll, too.
"I'm completely, fully leveraged. My house is on line, If they don't pay me, I may lose my house. I took a line of credit and had to put collateral up to do it," he said. "The fact that they haven't paid me, basically means that I'm paying financing charges on their hotel … they're using me as a bank."
Conrad is hardly alone.
One subcontractor is owed nearly $800,000, another about $640,000. The rest of the unpaid bills are less than $500,000, with most between $20,000 and $250,000.
"If I get anything now, I figure it's bonus," said Chip Percy, of Dale E. Percy Inc., of Stowe, who is owed about $250,000 for sitework on the AnC Bio Vermont project. "The system sucks, quite frankly."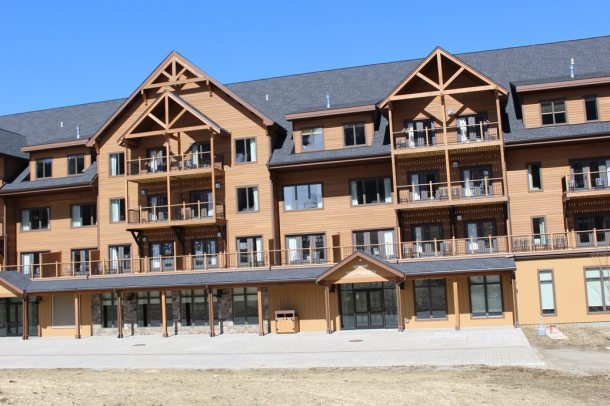 Burke Hotel
The Burke Hotel. VTDigger file photo
Quiros, a Miami businessman, and Stenger, a Newport resident, are accused in state and federal lawsuits filed in April of defrauding more than 700 EB-5 immigrant investors and misusing $200 million of the $350 million raised through the federal EB-5 immigrant investor program meant to fund a series of development projects.
Since the Securities and Exchange Commission brought charges against the developers, payment on the bills stopped for companies who put in the windows at the 116-room hotel at Burke Mountain and dug the sewer and water lines for AnC Bio Vermont, a biomedical research facility that never came to be in Newport.
About $4.6 million is owed to subcontractors for work they did at Jay Peak and Burke Mountain, according to documents filed in federal court in Miami.
Contractors and subcontractors who put in water, sewer and power lines at AnC Bio Vermont are owed $2.1 million, court records show. Federal regulators say the biomedical project is "nearly a complete fraud."
EB-5 investors put up $500,000, plus an administrative fee, in a qualified project, and if that investment creates 10 jobs, the investor is eligible for permanent U.S. residency. The immigration status of more than 400 investors remains in doubt due to the alleged fraud associated with the projects and their failure to create jobs.
Contractors and subcontractors have found themselves in limbo, too, with payments for their work tied up in legal actions that has left many wondering if, as well as when, they will receive payment for the work they did.
Some say the state should have acted sooner to stop projects when it became apparent that money was not being used as outlined in investor agreements. Others say more attention has been paid to investors who face the loss of green cards, than to companies who are out the money due them for services they provided.
The Vermont EB-5 Regional Center suspended Burke Mountain and AnC Bio Vermont in August 2014.
In March 2015, at the same time state regulators began investigating Quiros and Stenger, Gov. Peter Shumlin pressed for partial approval for the projects, despite the misgivings of officials at the regional center and the Department of Financial Regulation.
The state allowed Stenger and Quiros to continue soliciting investors under the condition that any new monies had to be held in escrow and payments had to be approved by a third party administrator overseen by the regional center and the Agency of Commerce and Community Development. This arrangement led to long delays in payments to contractors who laid the groundwork for AnC Bio Vermont and completed the $50 million Burke Hotel in December last year. Payments to the Burke and AnC Bio Vermont contractors stopped altogether in the fall of 2015 when the developers ran out of money. The Stateside contractors walked off the job in the summer of 2015.
Contractors say they performed work for the developers in good faith and were not made aware that they would be on the hook as a result of the state action.
Lucy Leriche, interim secretary for the agency, did not return a phone call seeking comment last week.
Percy said he sees a big difference between himself and investors. "When you invest there is a risk," he said. "My contract doesn't say anything about being an investor. My contract says if I do this, I get paid that."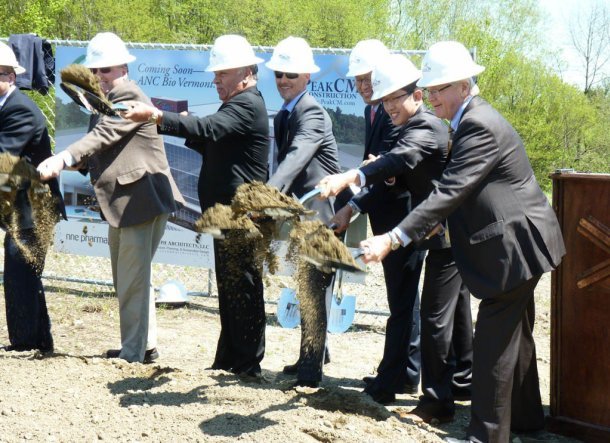 Dignitaries break ground on a proposed EB-5 project in Newport last month. No state officials attended the ceremony. Photo by Anne Galloway/VTDigger
Mike's Electric of Jay, owed about $640,000 for work it did and services it provided for projects headed by Stenger and Quiros, took out a $500,000 loan from the Vermont Economic Development Authority. The state announced the loan program to assist contractors and subcontractors in June. The loans permit interest-only payments for the first year.
"It's allowed us to move forward," Andy Barter, a company vice president, said of the loan, adding that it has tied up $1.2 million in assets needed to secure it.
Mike's Electric is owed $491,972 for its work at Burke, $51,366 for Stateside, and $27,729 for AnC Bio, court filings state.
The lack of payment contributed to the laying off three of the company's roughly 60 employees, according to Barter. "Something had to give," Barter said of the impact of having such a large account receivable on the books. "It's been challenging, but we're making it work at the same time."
VHC Company Inc. is Winooski-based company specializing in installing plumbing, piping and air systems. It's the subcontractor with the biggest unpaid invoice, $799,421, for work at Burke Mountain Hotel and Conference Center.
David Brown, VHC's president, said this week that while there has been a "great deal of anxiety" over the situation, "thankfully" the company's cash flow has allowed it to get by without too much disruption.
"It's obviously a very disappointing set of events that took place," Brown said. "My concern, even now, is when are we going to paid."
Brown, who is using part of a line of a credit to cover what he's owed, said based on media reports he has seen, he expects at least a partial payment soon, and then the remainder to come when the hotel is eventually sold to a new owner, hopefully by the end of next year.
Michael Goldberg, the court-appointed receiver overseeing the properties at the center of the investor fraud cases, could not be reached for comment.
He has repeatedly said in previous interviews he expects to use funds from a recently approved $13.3 million settlement he reached with Citibank to make partial payments to the contractors. The settlement was reached to resolve a dispute between Goldberg and Citibank over a line of credit the financial institution extended to Quiros in 2015.
"I should be able to get contractors between 30 and 40 percent immediately, paid," Goldberg said in an interview last month. "We'll try to get them more."
Conrad said while he also expects to get paid in full for the work he did on the hotel at Burke, a partial payment would at least be a start.
"That would definitely take some of the pressure off," he said. "That would free up some money so I could start doing 30 percent more jobs than I'm doing now."
The partial payment of funds from the Citibank settlement, Barter added, would provide some relief. "That would make a big difference," he said.
Barter said he's optimistic that at some point the bills will be paid in full, especially since the assets, including the hotels at Jay and Burke, are in "extremely good shape" and carry no mortgages.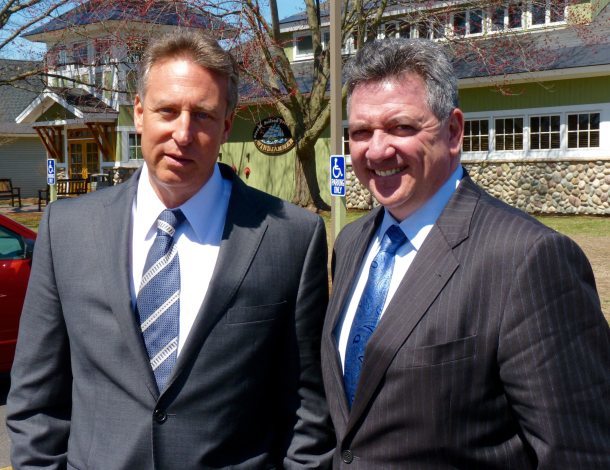 Michael Goldberg
Attorney Michael Goldberg (left), is the court-appointed receiver in the Jay Peak EB-5 fraud case. Jeffrey Schneider is an attorney Goldberg brought in to help him with the case. File photo by Morgan True / VTDigger
Goldberg has said that in about 10 months, if the receivership is able to successfully sell the Burke Mountain and Jay Peak ski resorts, contractors will end up getting 100 percent of what they are owed.
In the months following the filing of the investor fraud lawsuits, Goldberg has worked with the contractors to obtain through the federal court in Miami writs of attachment on the properties where the contractors worked to help them collect on the unpaid bills.
The writs give the contractors no ability to enforce at this time, but it allows the company to seek repayment in the future. Under Vermont law, lienholders have 180 days after a lien has been filed with a municipality to sue. However, due the assets being frozen through the litigation, that is not an avenue available in these cases for companies with unpaid bills to take.
In addition to using the Citibank settlement funds to make partial payments to contractors, Goldberg also asked, and was granted, approval by the federal judge presiding in the SEC case to use $1.9 million to pay the legal and professional fees that have accumulated since the start of the receivership in April.
In seeking those fees, Goldberg pointed to the complex legal and accounting work that was needed to stabilize the resorts. He also noted the reduced rates that the lawyers, accountants and other professionals have been charging for their work.
Some contractors contacted this week didn't begrudge Goldberg and others getting paid for their work, but did wonder why lawyers, accountants and other professionals were getting 100 percent of what they were seeking while the contractors were getting far less.
"I think he knows what he's doing. He's a hustler. He works hard," Percy said of Goldberg, but added, "If he gets 100 percent and I get 40 percent, I don't think that's right."
Percy is owed $134,350 for sitework at Jay Peak's Stateside Condo project and $113,061 for site work associated with AnC Bio.
He also took issue with how state officials have handled the situation, saying he didn't believe corruption was at play. However, he said, a lack business experience and "common sense" from those in government positions made things worse and hampered them as they tried to fix.
By allowing work to continue on projects once it became apparent that there wasn't enough funding to complete them, Percy said the state left companies owed money with no option but to sit tight and wait.
"The state bungled this thing," he added.
https://vtdigger.org/2016/12/29/unpaid-bills-prove-hardship-contractors-northeast-kingdom-eb-5-projects/
Mentions
Litigation Cases
States
---
Securities Disclaimer
This website is for informational purposes only and does not constitute an offer or solicitation to sell shares or securities. Any such offer or solicitation will be made only by means of an investment's confidential Offering Memorandum and in accordance with the terms of all applicable securities and other laws. This website does not constitute or form part of, and should not be construed as, any offer for sale or subscription of, or any invitation to offer to buy or subscribe for, any securities, nor should it or any part of it form the basis of, or be relied on in any connection with, any contract or commitment whatsoever. EB5Projects.com LLC and its affiliates expressly disclaim any and all responsibility for any direct or consequential loss or damage of any kind whatsoever arising directly or indirectly from: (i) reliance on any information contained in the website, (ii) any error, omission or inaccuracy in any such information or (iii) any action resulting therefrom.