EB-5 Investor Says Jay Peak Developers Double-Sold Hotel Jay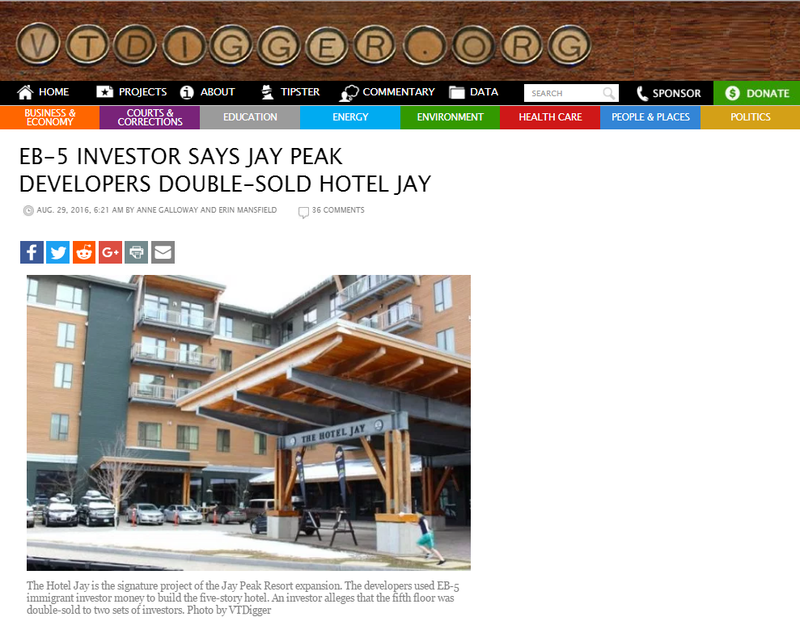 An investor alleges the developers at Jay Peak Resort double-sold the same fifth-floor units at the signature Hotel Jay to two separate groups of investors.
An investigation by VTDigger confirms discrepancies between what the developers promised investors and what they actually built.
According to the investor and the Digger review, the developers apparently used the money raised from the second group to pay for cost overruns in the project financed by the first group of investors — in particular, the signature water park that went way over budget.
Bill Stenger and Ariel Quiros, the developers of Jay Peak Resort, raised $75 million from immigrant investors to build the Hotel Jay project, which in addition to the hotel includes the water park, a golf course, ice rink and other amenities. While the $37 million hotel was under construction, the developers sought an additional $32.5 million from a separate group of investors for a project called Penthouse Suites.
Stenger and Quiros told Penthouse Suites investors in offering documents that $28.3 million of their investment would be spent on 55 "ultra luxury" suites that would be built on an expanded fifth floor at Hotel Jay.
Originally, the fifth floor was not designed to cover the entire fourth, and the developers said the Penthouse units would be built as part of the expansion where the fifth floor would be fully built out.
However, a state permit shows that the developers got permission to build 10 additional suites for the expansion on the fifth floor — not 55, as advertised to investors. Another public document shows the resort planned to spend $3.5 million on the 10 suites — nowhere near the $28.3 million the investors put up for the Penthouse Suites project.
Stenger and Quiros told investors they were building 46,000 square feet for the Penthouse Suites project and 250,000 square feet for Hotel Jay.
State permits, however, show the total square footage of the five-story Hotel Jay, including the fifth floor Penthouse Suites, is 258,300, according to Kirsten Sultan, the Act 250 district commissioner for the Northeast Kingdom.
No one has explained the missing 37,700 square feet.
Stenger denies any wrongdoing.
NEW ALLEGATION
Tony Sutton, an immigrant from England who invested in Tram Haus Lodge, the first EB-5 project at Jay Peak, raised concerns about alleged fraud in 2014 — two years before the Securities and Exchange Commission and the state brought charges against Quiros and Stenger.
Sutton, who is the spokesman for investors in Tram Haus, says investors also warned the state about double-counted rooms at Penthouse Suites, but the allegation was never investigated.
He believes investors in Penthouse were hoodwinked by the developers.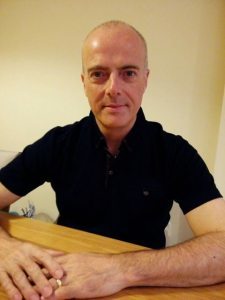 Tony Sutton, an investor in the Tram Haus Lodge at Jay Peak Resort.
"There was a crossover between what they called a suite for the Penthouse and just the normal Hotel Jay hotel rooms," Sutton said in an interview. "We have a crossover where, in effect, they've sold the same rooms or suites to both Phase 2 [Hotel Jay] investors and the Phase 3 [Penthouse Suites] investors."
Stenger, the president and CEO of Jay Peak Resort, said the investors in Hotel Jay and Penthouse Suites got what they paid for.
"Umm, no. The Penthouse project is a separate project from the Hotel Jay," Stenger said. "There are 65 investors in the Penthouse Suites project and 150 in the Hotel Jay project."
Stenger adamantly denies allegations of selling the same units to different sets of investors.
"If you're trying to get at the fact that we didn't build what we were supposed to build, that's crazy," Stenger said. "If anything the story should be that we built more than we had to."
The developers promised 175 units or 120 suites to Hotel Jay investors, and 55 units to the Penthouse Suites investors. Jay Peak Resort obtained permits for 10 units for the hotel addition. VTDigger could not independently verify how many rooms and suites were built at the hotel for the second and third floors.
Act 250 officials had plans available only for the fourth and fifth floors. The fifth floor shows 51 rooms and suites; the fourth floor has 52, four of which are part of the Penthouse project, according to Jay Peak. The architect and contractors did not offer plans for review. The state Division of Fire Safety said the drawings for the hotel were not on file, and the Jay Fire Department refused to provide plans to VTDigger, citing business privacy.
Sutton's allegations are only now coming to light. Although complaints were filed with the Department of Financial Regulation in November 2014 about alleged discrepancies in the way the developers marketed Penthouse Suites to investors, the allegations do not appear to have been investigated by state or federal officials.
State and federal officials declined to comment on the investors' allegations.
Both the SEC and the state of Vermont filed fraud charges in April against Stenger and Quiros, a Miami businessman and owner of Jay Peak Inc.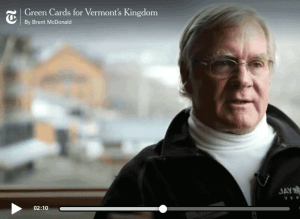 Bill Stenger
Regulators accuse Quiros and Stenger of buying the resort with investor funds and routinely backfilling previous projects with money from new investors in a "Ponzi-like" scheme. The SEC and state officials have said the resort ran deficits from the beginning as Quiros and Stenger built out the six-phase development, starting in 2008. The SEC maintains that the deficits were caused by misuse of $200 million of investor funds and "systematic looting" by Quiros.
The national EB-5 program allows immigrants to invest $500,000 in projects located in high-unemployment areas. If each investment creates 10 jobs, the investors are eligible for permanent U.S. residency.
Sutton says the Penthouse Suites project was a vehicle for getting more money out of investors without actually building an additional project.
"You have to try and get into the mind-set that they had at the time," Sutton said. "If (the developers) already were starting to find the money that they were getting from investors wasn't cutting all the money that they needed for the projects … it looks to us as though someone came up with this plan to build this additional floor, sell it to 65 investors, but only build 10 additional suites."
Stenger rebuffed Sutton's claim that the Penthouse Suites project was simply a way to raise money from investors by double selling the same real estate.
"What do you think? I mean, come on," Stenger said. "It was an investment program where 65 people were welcomed. They invested in a highly successful hotel. They received their green cards."
But construction of the Hotel Jay project, particularly the now-popular water park, had cost overruns, according to Jerry Davis, who was the project manager for DEW Construction at the time. Davis said he remembered there was a budget issue, "definitely over a few million dollars."
"We noticed there was going to be a budget issue with Phase 2 [Hotel Jay], particularly when it came to the hotel and the water park," Davis said. "There was some agreement that the budget would be increased, and that's when the construction and design estimate was changed. Again, I don't know where the money comes from. I just know that when we bring an issue of budget increase, we look at it — we go back and forth."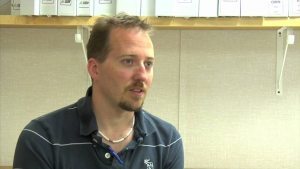 Jerry Davis
Davis said, "Stenger came up to me, actually I remember it to this day, it was a big deal. He came into my office and said, 'I want to add additional floors to these zones.' The bottom line was, the entire hotel would have five floors."
Davis said the developers originally planned to build a fifth floor for two zones of Hotel Jay and the Penthouse project was for three additional fifth-floor zones. But the before and after rendering the developers provided to Act 250 officials show the developers sought a much smaller increase in square footage for the fifth floor — from 33,313 to 41,575.
Davis recalls that Stenger asked him for the fifth floor changes very late in the process — late winter 2010 — and the hotel had already been designed and put out to bid. "But the way he said it is, 'Look, we're going to break off the entire fifth floor for all of the zones and make it a separate EB-5 offering."
After that, Davis said, he didn't differentiate between Hotel Jay and Penthouse Suites. To him, it was all one project.
"When I was with DEW, we never broke out the value of Penthouse Suites," Davis said. "I don't know how the owners did that. They may have done that internally, but I never broke that out.
"It's all as one to me. Hotel Jay, water park, to me it was one project and one contract that included the fifth floor," Davis said. "How the owner broke that out, just like how they broke out the water park or arcade, I don't want to say. I don't care, but we're building the project."
LUXURY PENTHOUSE SUITES?
Penthouse Suites is the third phase of a six-phase development at Jay Peak Resort, a ski area on the Canadian border in the Northeast Kingdom. Stenger and Quiros planned to spend $282 million from immigrant investors under the federal EB-5 visa program to expand the resort, and five out of the six projects were constructed from 2008 to 2015. The sixth — Stateside — was only partly completed because the developers ran out of money, according to the SEC.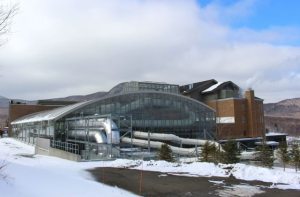 The water park at Jay Peak had cost overruns.
The $37.5 million Penthouse Suites project featured ancillary developments valued at $4.4 million including an 8,000-square-foot "Mountain Learning Center." As part of the offer to investors, the Jay Peak developers said they would spend $5 million of their own money on "mountain bike and tour trails, infrastructure, common areas, and parking." The SEC alleges the developers did not fulfill promises to contribute to the Jay Peak projects.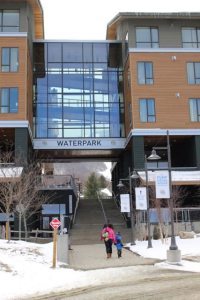 Hotel Jay entrance to the water park.
Unlike the other six phases in the EB-5 program at Jay Peak, the Penthouse Suites project is not a standalone development. It was designed to be part of Jay Peak's signature project, the grand Hotel Jay.
In the offering memorandum to investors in 2008, two years before the Penthouse Suites project was offered, Hotel Jay was billed both as a 175-room hotel and as a 120-suite hotel, with "penthouse units," conference rooms, spa and fitness center and restaurants.
The state permit describes Hotel Jay as a five-story building with 120 units. Levels three through five consist "of a mixture of studio, one, two, and three-bedroom hotel suites." In addition, the project features a golf and cross-country ski center, bowling area, ice rink and the large indoor water park.
The expansive development was in the works for several years before the developers started construction in June 2010.
Penthouse Suites, on the other hand, was not part of the original design and appears to have been something of an afterthought. Quiros and Stenger registered the Jay Peak Penthouse Suites limited partnership with the Vermont secretary of state in May 2010, a month before DEW broke ground on Hotel Jay.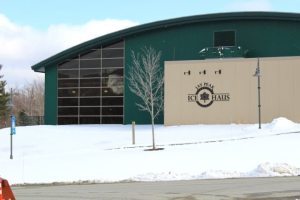 The Ice Haus is part of a $282 million expansion of Jay Peak Resort.
The developers gave Black River Design Architects and DEW Construction six to eight weeks to redesign the fifth floor of Hotel Jay to accommodate Penthouse Suites, according to Davis, the project manager.
"We definitely had to fast track it," Davis said.
At the same time they were building Hotel Jay and pulling Penthouse Suites together, Stenger and Quiros were soliciting investors overseas. The offering memorandum they gave to investors said there would be 55 suites in Penthouse, totaling 46,000 square feet. Later Stenger told investors there were 56 in all. Four of the suites are on the fourth floor, the rest on the fifth floor, according to a state permit.
The only way the developers appear to be able to claim they are selling 55 guest rooms is to count square footage they already counted as part of the Jay Hotel investment.
An amended state permit for Hotel Jay shows the original design included open terrace areas on the fifth floor totaling 8,300 square feet. The Penthouse Suites project filled in these areas with 10 additional units.
Sultan, the Act 250 commissioner, said the May 2010 application was for "an approval of a change to the design" for Hotel Jay. The construction of a sixth "additional" story, alluded to in an offering document given to investors, was not built, Sultan said. "It was more a matter of using the space for the existing Hotel Jay," she said.
About 8,300 square feet was added to the existing plan for the 250,000-square-foot hotel, according to Sultan.
Jake Webster, the vice president of real estate development at Jay Peak, told the Jay Zoning Board, according to minutes from an August 2010 meeting, that he was seeking "the addition of 10 suites and one additional conference room on the top floor of the building valued at $3.5 million. This will maximize the use of space within the structure."
The DEW Construction Corp. website describes Hotel Jay as a 230,000-square-foot, five-story hotel with "176 units [130 suites]."
Sutton says it appears the Penthouse Suites investors put up $28.3 million for what may have been as few as 10 units in the 8,300-square-foot expansion.
Stenger described Hotel Jay as "an expensive building" and said the developers charged investors the appropriate amount for Penthouse Suites.
"That's what, you know, it's also the top floor, and it's more expensive at that level, but you know, that's, the cost, a building of that magnitude, a four-or-five star hotel with a penthouse location like that. It's expensive," Stenger said.
The offering memorandum is short on details about what Penthouse Suites was supposed to look like. It is simply described as "one floor of upscale accommodation within the Jay Peak Phase II Hotel units building." A photo of the proposed suite given to investors showed an expansive living area, full kitchen, large bedroom and bathroom.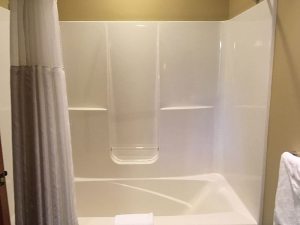 Jay Peak, Penthouse Suites bathtub.
In a recent visit, VTDigger found that the Penthouse Suites had black granite countertops in the kitchen and bathroom. But inexpensive finishes were used elsewhere. The suites feature basic carpeting, tile floors, basic toilet fixtures, and fiberglass bath and shower units.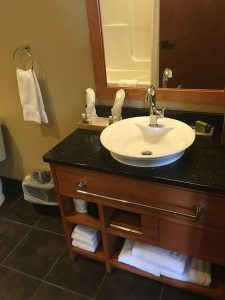 Penthouse Suites bathroom sink.
While there is a discrepancy in the square footage the developers represented to the two separate groups, whether Jay Peak accurately represented the number of hotel rooms that investors would be buying into depends on the definition of the word "suite" and how developers counted the different kinds of rooms.
Stenger and Quiros used terms such as "suites," "units" and "hotel rooms" interchangeably, and they told investors one thing and Act 250 officials another, making it very difficult to discern what they actually built.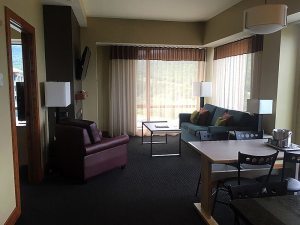 Penthouse Suites living room.
Suites, as described to the Penthouse investors, included living rooms, full kitchens, several bedrooms and bath. But plans show there are 51 rooms total on the fifth floor, including full suites and what Jay Peak calls "lock out suites."
Lock out suites are single bedrooms with a bathroom — not full suites with a living room, kitchen and bedroom. They are sometimes connected to another bedroom or the full suites. In some cases, they are single rooms and are not interconnecting.
Most of the lock out suites have a separate door on the hallway with its own number.
About half of the 51 suites on the fifth floor are "lock out suites."
VTDigger toured the facility and spoke with staff at Jay Peak who said each of the "lock out suites" can be rented separately as hotel rooms.
INVESTOR BLAMES THE STATE
Sutton said several investors in Penthouse Suites believe that 45 of the suites they invested in are missing. It was difficult to know for sure, he said, because Stenger and Quiros deliberately kept investors in the dark and state and federal regulators haven't investigated the matter.
"Nobody in Phase 2 [Hotel Jay] or Phase 3 [Penthouse] ever got any ownership documents, and again that was just to make sure that nobody smelled a rat at an early stage. I mean, it was, it was a very deliberate act," Sutton said.
"When you look at a permit and you can see the permit only ever asks to build 10 additional suites on the top floor, you can be fairly sure that's all they built," Sutton said. "They didn't ask for a permit for 10 and then build another 45 just on top of it."
Sutton said investors contacted state officials with questions about Penthouse Suites in November 2014.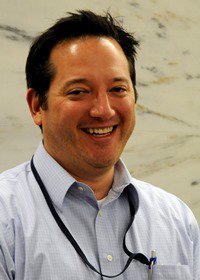 Brent Raymond, former director of Vermont's EB-5 Regional Center.
But the Vermont EB-5 Regional Center, which was responsible for overseeing the Jay Peak projects, did not investigate, Sutton said. It wasn't until March 2015 that the Vermont Department of Financial Regulation began a full-fledged probe of alleged misrepresentations to investors and misuse of funds at the resort.
"We told them, 'You need to go and see what's happening with Hotel Jay and Penthouse because you will find there's 45 suites missing,'" Sutton recalled.
But Brent Raymond, who was director of the EB-5 center at the time, and Pat Moulton, the outgoing secretary of the Agency of Commerce and Community Development, which oversees the program in Vermont, did not respond to investor complaints about Penthouse, according to Sutton.
Sutton said state officials' unwillingness to investigate was part of a pattern. Moulton and Raymond did not respond to earlier complaints by investors in the Tram Haus project at Jay Peak about the developers' conversion of their ownership stakes into loans.
"The state had missed that 45 suites never got built?" Sutton said. "I can sort of understand why the state doesn't want to look into it because it completely exposes them to being utterly negligent."
State and federal regulators declined to comment for this story, including whether they were investigating Sutton's allegations that the developers in essence sold some of the same units twice. The allegations were not part of the charges filed by the SEC.
Attorney General William Sorrell declined to comment on whether he was investigating the apparent discrepancies in the two projects.
Moulton said via email: "I am not in a position to discuss matters that are under litigation and related to investor complaints."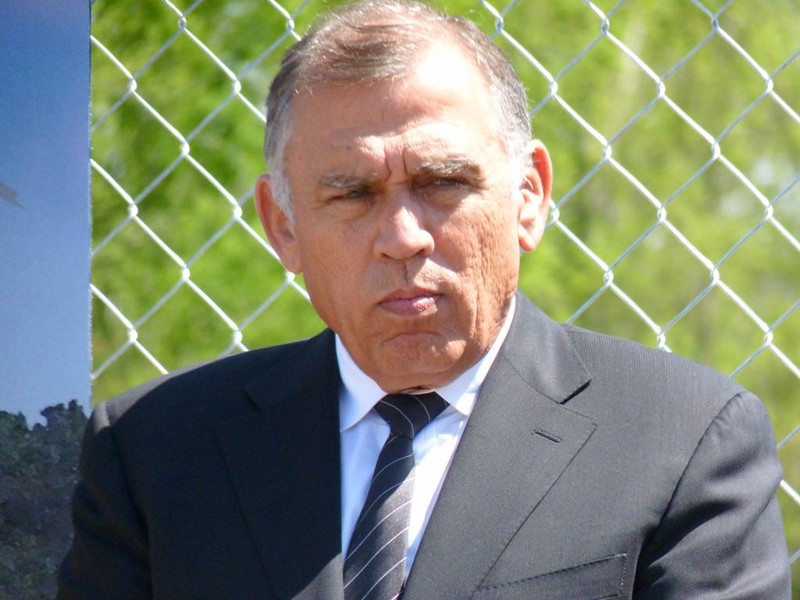 https://vtdigger.org/2016/08/29/eb-5-investor-says-jay-peak-developers-double-sold-hotel-jay/
Mentions
Litigation Cases
States
---
Securities Disclaimer
This website is for informational purposes only and does not constitute an offer or solicitation to sell shares or securities. Any such offer or solicitation will be made only by means of an investment's confidential Offering Memorandum and in accordance with the terms of all applicable securities and other laws. This website does not constitute or form part of, and should not be construed as, any offer for sale or subscription of, or any invitation to offer to buy or subscribe for, any securities, nor should it or any part of it form the basis of, or be relied on in any connection with, any contract or commitment whatsoever. EB5Projects.com LLC and its affiliates expressly disclaim any and all responsibility for any direct or consequential loss or damage of any kind whatsoever arising directly or indirectly from: (i) reliance on any information contained in the website, (ii) any error, omission or inaccuracy in any such information or (iii) any action resulting therefrom.