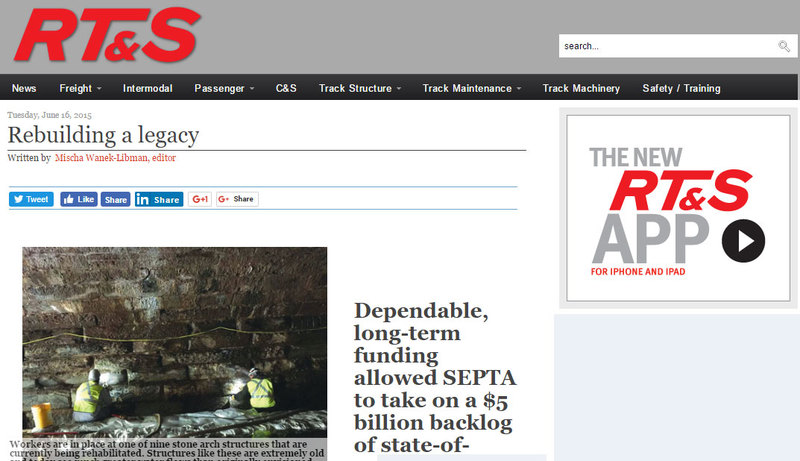 Dependable,long-term funding allowed SEPTA to take on a $5 billion backlog of state-of-good-repair projects.
Available funding can be the tipping point for any transit agency's capital program. Southeastern Pennsylvania Transportation Authority (SEPTA) knows the pressures of working with a constrained budget, but also knows how to maximize every dollar so that service impacts are reduced.
In mid-2013 and despite SEPTA's valiant efforts and a 50 percent increase in regional rail ridership over a 15-year period, the accumulative effects of funding shortfalls had taken their toll on the authority's infrastructure. Fiscal Year 2014, which began July 1, 2013, marked the fourth consecutive year SEPTA's commonwealth provided capital funds had been reduced and represented the lowest level of capital funding since 1998.
During this time, the Pennsylvania legislature was considering transportation funding legislation, which proposed a restructuring of the commonwealth's gas tax and other funding sources to provide dedicated transportation funding. To address the impact of further inadequate capital funding, the authority put together a 10-year strategy that allowed for safe and reliable public transport to occur in southeastern Pennsylvania, but on a greatly reduced network.
SEPTA's Service Realignment Plan would have left 89,000 daily riders without rail service, eliminated service on nine of 13 regional rail lines, truncated service on two additional rail lines, as well as the Norristown High Speed Line, suspended service on the Broad-Ridge Spur of the Broad Street Line and eliminated all express service on that line and converted all city and suburban trolley routes to bus routes.
Jeff Knueppel, deputy general manager of SEPTA and a structural engineer, says some parties believed the Service Realignment Plan to be grandstanding, but adds there was no arguing with facts.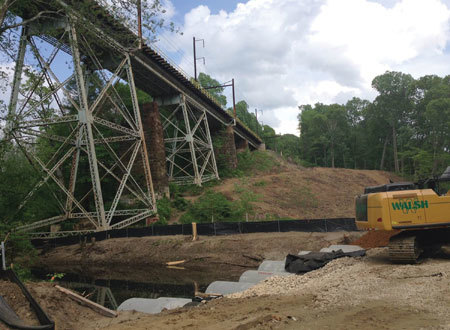 "We knew how old our vehicles were in respect to [peer agency vehicles]. SEPTA travels over bridges on the Media Elwyn Line and they were [more than] 100 years old. SEPTA had already gone through one emergency repair to extend the life of the Crum Creek Viaduct for 25 years and we were a few years past that 25-year extension. We very carefully put this plan together, in reality, no one stood up and said your facts are wrong," said Knueppel.
The Pennsylvania General Assembly passed Act 89 and was signed in to law by former Governor Corbett in November 2013. With Act 89's installation on the law books, SEPTA's capital budget essentially doubled and the authority was given the funding assurance needed to start addressing a $5 billion state-of-good-repair backlog, a program it called "Rebuilding for the Future."
Plan to rebuild
To borrow SEPTA's own description of its "Rebuilding for the Future" program, the authority is "taking a business approach to managing its asset portfolio. SEPTA will rehabilitate or replace bridges, replace critical power systems and design and procure new vehicles. These projects will also create new business and contract opportunities throughout Pennsylvania. This places SEPTA in a strong position to reinvest in and rebuild the system to provide safe, reliable service, while enhancing the travel experience for current and future customers."
The work, which will take place during the next two decades, is divided into categories that encompass substations, power infrastructure, bridge replacement and rehabilitation, stations, roofs, maintenance and transportation facilities, right-of-way and track, communications and signals, vehicles, expanded parking, accessibility enhancements (ADA), Center City underground concourses and bus loop improvements.
"I like [grouping projects into categories] because you develop a staff [that is] responsible and they get really good at doing the work as they do it repeatedly. It also gives us the flexibility that if some element of that type gets worse or degrades faster than we thought, we could easily make program adjustments in a given category," said Knueppel.
The rebuilding program is based on the success of SEPTA's stimulus program and as Knueppel points out, elements of the stimulus program have been applied to the rebuilding program.
"The adage 'time is money' is absolutely true and it couldn't be any truer than with construction," said Knueppel. "SEPTA did a lot of things to make bidding more attractive for our contractors. We really set a standard of saying that when issues come up, we will treat contractors and consultants fairly and that's a big move forward and it has helped in our bidding environment."
Knueppel explains that moving quickly on projects was a priority of the stimulus program and one that will be carried over into the rebuilding program.
Additionally, SEPTA used outside help, such as general engineering consultant contracts and identified support elements to have in place for construction.
"We really studied the entire organization at SEPTA to see what we needed to do to support this construction and that's the same approach for rebuilding. Very carefully, we've added resources wherever we need to for the rebuilding program," said Knueppel.
Key projects
In the almost year and a half since SEPTA announced the rebuilding program, progress has been made with the authority awarding 68 construction contracts worth $288.3 million, eight general engineering consultant contracts worth $40 million, two design contracts worth $8.8 million and a $150 million new electric locomotive procurement project that recently received board approval.
Additional early action priorities included the renewal and replacement of bridge timbers on the Cobbs Creek and Darby Viaducts on the Media/Elwyn Line, as well as the replacement of the 120-year-old Crum Creek Viaduct.
The Crum Creek Viaduct went through a year-long project to extend its useful life by 25 years in 1983 and then received emergency repairs in 2013 to keep the 100-foot high, 1,000-foot-long bridge in service. Without replacement, the bridge would not be safe and SEPTA would have had to close access, cutting off the end of the line.
"We're really excited that we were able to replace that structure before it had to close. SEPTA did it with an innovative design/build contract and achieved significant savings," said Knueppel. "Involving construction people more in the design is really something SEPTA is working on. Constructability reviews are essential and that's what's going on in a design/build project and which result in solutions that are innovative and save money. Our estimate [for Crum Creek] was $65 million and the bids came in at $55 million. That is a really good savings and to see what a design/build contract could do for us in this case was really fantastic."
Additional centerpiece projects include the City Hall Station rehabilitation, the City Center Concourse improvements, restoring regional rail service between Elwyn and Wawa and power substation rehabilitations.
"Most of the [substation] equipment is original from that late 1920s and 30s. SEPTA had a transformer burn up the other day and the authority took a new transformer from another substation and moved it to the old location in order to keep the rail line running. That's not the way we want to operate, so we're excited to advance the rehabilitation of our substations, which are important for the future. As SEPTA ridership has grown by 50 percent in the past 15 years, this work is very important," said Knueppel.
Community outreach; safety
As with all projects of this magnitude, a long-term action plan for safety and community relations plays an important role in reaching success.
"SEPTA always put a heavy community outreach component in our projects. We are very careful about scheduling track outages and making sure that we don't return to the same community over and over again," said Knueppel.
He also mentions the importance of listening and having a flexible game plan in the role of being a good neighbor.
"For example, people were objecting because we were staging bridge timbers and where they were being stockpiled and the way the wind blew and their proximity were causing people in an apartment complex some distress, so SEPTA moved them. In another instance, SEPTA had a signal hut obscuring the vision of drivers when they came to a grade crossing. We had it moved 13 feet back within 24 hours. We react quickly and we listen because we want to build partnerships," said Knueppel.
Regarding safety, Knueppel and SEPTA know where it sits on the echelon of priorities: First.
"When you have all this funding and all this growth in your capital program, we're busy, but safety is still a priority. As a result, SEPTA put together the 'Never Too Busy for Safety' program. What was exciting and worked well with our work force was that this was not in reaction to an event, this was an attempt by management to be proactive. Safety is everywhere. No matter what we do, safety is central," said Knueppel.
While a lot of stress can accompany a program that encompasses so much, Knueppel's attitude is decidedly enthusiastic about the rebuilding program and its future.
"I love to build. I get excited about construction and the teamwork that's involved in making things happen and, we're headed in a great direction. SEPTA has a strong future. When we pull off an efficient, fast and excellent project, I can say it's a public agency project with private sector results. We're a public agency that gets it, is spending taxpayer money wisely and driving improvements and economic activity for a region."
http://www.rtands.com/index.php/passenger/rapid-transit-light-rail/rebuilding-a-legacy.html
Mentions
States
---
Securities Disclaimer
This website is for informational purposes only and does not constitute an offer or solicitation to sell shares or securities. Any such offer or solicitation will be made only by means of an investment's confidential Offering Memorandum and in accordance with the terms of all applicable securities and other laws. This website does not constitute or form part of, and should not be construed as, any offer for sale or subscription of, or any invitation to offer to buy or subscribe for, any securities, nor should it or any part of it form the basis of, or be relied on in any connection with, any contract or commitment whatsoever. EB5Projects.com LLC and its affiliates expressly disclaim any and all responsibility for any direct or consequential loss or damage of any kind whatsoever arising directly or indirectly from: (i) reliance on any information contained in the website, (ii) any error, omission or inaccuracy in any such information or (iii) any action resulting therefrom.