Here's One Immigration Policy That Should Withstand President Donald Trump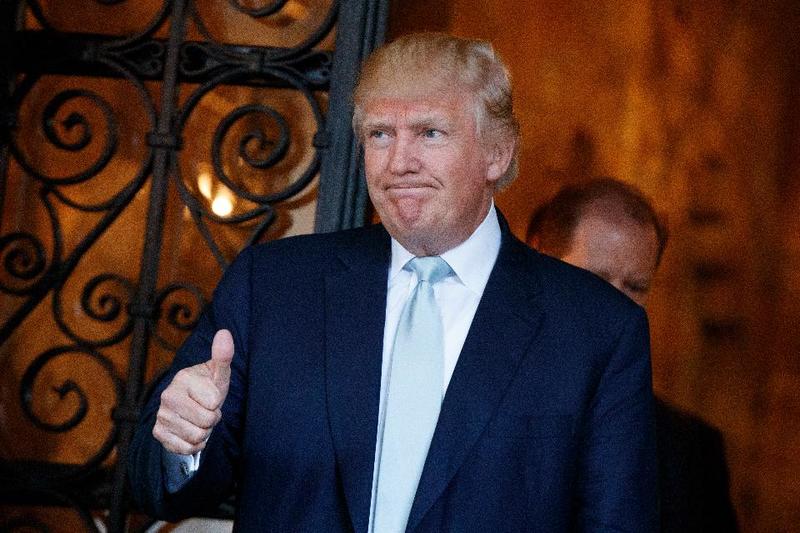 President-elect Donald Trump gives a thumbs up to reporters at Mar-a-Lago, Wednesday, Dec. 28, 2016, in Palm Beach, Fla. (AP Photo/Evan Vucci)
Over the last 12 months, Americans have been bombarded with headlines and commentary about Donald Trump's plans to build a wall on the Mexican border, and deporting an estimated 14 million immigrants who have overstayed their visas. While Trump himself has never articulated his immigration policy beyond building a better border fence, hiring more border security officers, and deporting roughly a million criminal aliens, there is one immigration law on the books that should continue, beneficiaries of the law all say.
Known as the investor visa, the EB-5 visa has been around since 1990. It became a tool for project finance during the 2008-09 financial crisis when business, primarily real estate developers, were unable to get commercial loans.
At the same time, savvy developers knew that low interest rates in Europe and large allowances for Chinese investment abroad by Beijing was supportive of American real estate, both from individuals and institutional investors in need of long-term capital preservation. Developers had no way to raise capital, so they turned to rich foreigners from Beijing to Buenos Aires instead. Those foreigners are helping to build much of the new Miami and New York City skylines, and in some cases have also independently financed wifi projects on New York subways.
The program expired in September, however. President Barack Obama extended it until Dec. 9, 2016. That means the EB-5 program is essentially in limbo and now rests at the whims of a new president; a president who has been sold to Americans as the most anti-immigrant president ever despite his First Lady, Melania Trump, being an immigrant herself.
The EB-5 visa program requires investors put up at least $500,000 in a project. It can be a new project, or one that is getting rehabilitated and was built no earlier than 1990. The investment must lead to 10 new full time jobs. As a gift for the cash, foreign investors get American citizenship for themselves, their spouse and their children.
Compared to the H1-B visa used by tech companies to hire foreign workers, mainly from India, the EB-5 visa is not a "job stealer" like the H1-B is purported to be. Some U.S. tech workers argue that Indian IT companies like Infosys and Wipro abuse the H1-B program to keep wages down by hiring IT workers from India instead. Big U.S. tech companies like Facebook and Microsoft are all proponents of increasing the H1-B program, a visa that is clearly designed for foreign workers.
The Empire State Building is seen hidden in the clouds as construction continues at the Hudson Yards project on Manhattan's West side in New York on October 1, 2016. (Photo by BRYAN R. SMITH/AFP/Getty Images)
Meanwhile, the EB-5 program is a job creation program. It fits perfectly in the wheelhouse of the Trump mindset.
A cottage industry has sprung up to lure rich foreigners, mostly from emerging markets. Agencies act as intermediaries between wealthy investors abroad and so-called Regional Centers, of which there are now thousands across the U.S. that serve as a sort of clearing house for development projects looking for foreign capital.
Rodrigo Azpurua launched Riviera Point Development Group in Miami 10 years ago, but only started tapping into the immigrant visa program in 2011. Riviera Point's first project was a roughly 73,000 square foot office park in Miramar, a Miami neighborhood. Immigrants funded it. Immigrants created the jobs. They're now U.S. citizens.
"We saw there was a market need for office space there, but there was no capital. The city wasn't supportive of loans and vacancy was dropping so we looked for an alternative way to finance deals," Azpurua says.
Riviera's latest EB-5 project is a 155 room Radisson Red next to the Miami International Airport. Some 48% of that money is from 23 immigrants -- mostly South American -- who will get their U.S. citizenship once all the money is counted. The project breaks ground this month.
In New York City, the biggest mixed used real estate project underway is called Hudson Yards. A Manhattan based developer called Related raised a whopping $600 million from Chinese investors looking for an American passport. The total cost of Hudson Yards is expected to be around $20 billion.
Immigrant investors pumped $200 million into Acadia Realty's 1.8 million square foot Brooklyn-based project known as City Point. EB-5 money accounts for 42% of City Point, according to Acadia.
Miami's skyline has been changing thanks in part to large inflows from immigrants looking to trade $500,000 for a U.S. passport. (Shutterstock)
Most off these immigrant investors are looking for a mix of capital preservation, and building new lives for their families outside of countries currently facing economic or political crises.
There has been allegations of fraud in the system. One of the most often cited abuses is in the Jay Peaks projects of south Florida.
State and federal lawsuits filed in September accused Miami businessman Ariel Quiros and Bill Stenger, one-time CEO and president of Jay Peak, of misusing $200 million in EB-5 funds as part of six development projects in south Florida.
The Securities and Exchange Commission called their biotech research facility a "fraud." And now their EB-5 financed research center in Newport, Fla. is nothing but a fenced-in parcel of land with nothing going on there. The immigration status of the investors remains in limbo.
Still, to say the EB-5 program is a loaded with money laundering and other scandal is far off the mark.
Less than 4% of the regional centers that have been set up and approved by U.S. Customs and Immigration Service were shut down due to fraud, based on data from Homeland Security.
"People are using EB-5 as a mechanism to commit fraud just like they would use the banking system here to commit fraud. There is an emotional reaction against this program because it is an immigrant based program," says Samar Ali, an attorney specializing in EB-5 cases at Bass, Berry & Sims in Nashville.
A small percentage of die-hard anti-immigrant Trump supporters might not like it for the simple fact that it brings in more foreigners, including rich foreigners from the Middle East. Left-wingers in the Democratic Party might not like it because they see EB-5 as being biased against working class immigrants here on expired visas, and providing favor to one-percenters. EB-5 immigration is probably less than 5% of the total estimated number of immigrants stuck in visa fraud purgatory.
Foreign born Americans with one foot still in their former country are discovering the EB-5 as a way to attract investment.
Venezuelan-born Daniel Pena Giraldi moved to the U.S. in 2001 on a student visa. He's been here ever since. His development firm, Stambul, built downtown Miami's boutique Langford Hotel with EB-5 money, using a China-based agency to find wealthy investors.
Stambul is now developing an old historic post office in downtown Miami with plans to turn it into a gourmet food court, financed by future American citizens born somewhere in Asia.
"We do some due diligence to know who the investors are," Giraldi says. "They have to meet certain requirements by law, so the U.S. is supposed to know where the funds are coming from. For me as a project developer, this immigration program works as a means for project finance because if you want to find rich people who want to put money to work in the U.S. and are very anxious to put money to work in the U.S., then this is the way to find them," says Giraldi. "But if you want to be altruistic about it, the investor visa is a good way for communities to attract capital that creates jobs rather than capital that goes into an empty penthouse," he says.
No one knows how belligerent Trump will be on the immigration front. But if Trump sticks to his talk about creating jobs, and bringing in foreign investment, then there is nothing better in current immigration law than the EB-5.
"I'm not so sure he meddles with it," says Roger Bernstein, an EB-5 project manager and owner of the EB-5 for Florida Regional Center. Bernstein said that the Trump family was involved in an EB-5 deal in New Jersey. In fact, it was his son-in-law, Jared Kushner, who built the 50 story Trump Bay Street tower with Chinese investors looking for citizenship.
"These are wealthy immigrants sending their kids to private schools and are not a drain on public services, if that is a concern," says Bernstein. "But if congress lumped EB-5 into a larger immigration reform bill that promotes amnesty for example, then for sure Trump would kill it."
http://www.forbes.com/sites/kenrapoza/2017/01/02/heres-one-immigration-policy-that-should-withstand-president-donald-trump/#6dedc37d6cd6
Mentions
States
---
Securities Disclaimer
This website is for informational purposes only and does not constitute an offer or solicitation to sell shares or securities. Any such offer or solicitation will be made only by means of an investment's confidential Offering Memorandum and in accordance with the terms of all applicable securities and other laws. This website does not constitute or form part of, and should not be construed as, any offer for sale or subscription of, or any invitation to offer to buy or subscribe for, any securities, nor should it or any part of it form the basis of, or be relied on in any connection with, any contract or commitment whatsoever. EB5Projects.com LLC and its affiliates expressly disclaim any and all responsibility for any direct or consequential loss or damage of any kind whatsoever arising directly or indirectly from: (i) reliance on any information contained in the website, (ii) any error, omission or inaccuracy in any such information or (iii) any action resulting therefrom.