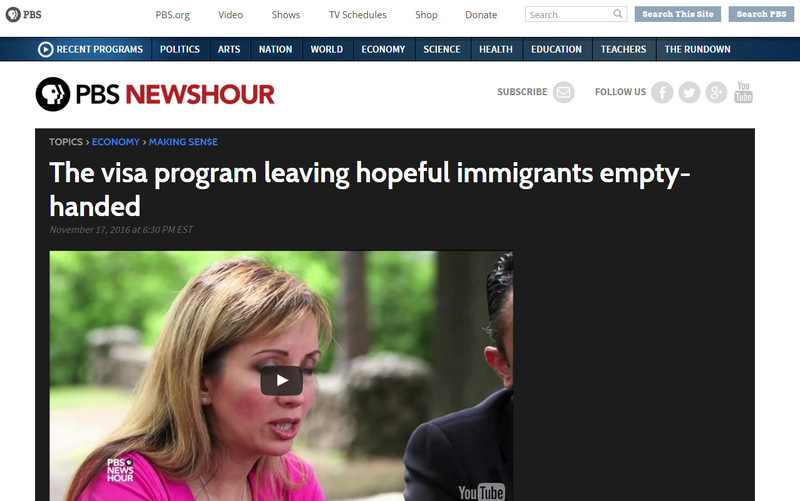 After leaving their home in Pakistan and living in Dubai, Noreen and Shehryar Iqbal aspired to move to the U.S. through the EB-5 Visa program, which grants green cards and eventually U.S. citizenship for large, job-creating investments. Now their life savings are gone and there are no green cards in sight. What happened? Economics correspondent Paul Solman reports.
JUDY WOODRUFF: The so-called EB-5 visa permits foreign nationals to invest in job-creating programs in the U.S. in exchange for permanent residency. But it's been scandal-plagued, leading to calls for reform.
As Congress gets set to tackle some final business before the end of this year, will the program finally get fixed?
Our economics Paul Solman takes a look. It's part of his weekly series, Making Sense.
NOREEN IQBAL: See, in Dubai the thing is, as long as you work in Dubai, you can live in Dubai. But what if you leave the job? We have to go back to Pakistan, which we don't want to.
PAUL SOLMAN: Noreen and Shehryar Iqbal thought they had a surefire way to avoid a return to their native Pakistan.
NOREEN IQBAL: It's not a safe country.
SHEHRYAR IQBAL: It's got a lot of security challenges.
PAUL SOLMAN: He's a flight attendant for Dubai's national airline. She was, too, until they had kids. Their plan, sock away enough of their salaries to buy their way into America via the EB-5 visa program, which grants green cards, and eventually U.S. citizenship, to foreigners and their immediate families.
Just invest half-a-million dollars to create at least 10 full-time jobs in either a rural project or an urban area with a high unemployment rate.
NOREEN IQBAL: We saved even the allowance money. I can say that. It's so embarrassing for us to tell somebody that allowance money is for you to eat, but we used to save that also.
PAUL SOLMAN: Oh, you mean the money that the airline would give you.
NOREEN IQBAL: The airline give you on your flight to have your food and everything, we would save that also.
PAUL SOLMAN: And put it away.
NOREEN IQBAL: Put it away.
PAUL SOLMAN: To that, they added Shehryar's small inheritance — his parents had died in a car crash when he was a teenager — and investments they'd made to grow their nest egg.
SHEHRYAR IQBAL: She bought a little studio in a nice upscale area. It's called the Jumeirah Lake Towers. It was generating a very, very good rental income.
PAUL SOLMAN: Are you — you're starting to remember it all? That's what's going on?
NOREEN IQBAL: Sorry.
PAUL SOLMAN: No, no, it's OK.
NOREEN IQBAL: So, we rarely talk about this, because I start to…
PAUL SOLMAN: A lot of tears have been shed over the EB-5 project the Iqbals chose to invest in, one we first covered last year here on Making Sense. The Jay Peak ski resort in Northern Vermont, coupled with plans for a hugely ambitious stem cell manufacturing facility affiliated with a South Korean biotech firm.
But, in April, the Securities and Exchange Commission charged developers Ariel Quiros and Bill Stenger with 52 counts of federal securities violations, alleging they'd misused $200 million of EB-5 investor funds, running the ski resort project as a giant Ponzi scheme, and the stem cell project as a total fraud.
The Iqbals, who put down their money on stem cells, have lost not just their half-million dollar investment, but another $65,000 in legal and administrative fees, with not a green card in sight.
We talked to them on their recent visit to the U.S. on tourist visas using their free flight passes.
Are you now wiped out?
SHEHRYAR IQBAL: Yes.
NOREEN IQBAL: All of the money, it was just squandered, you know?
PAUL SOLMAN: And you lost your entire inheritance.
SHEHRYAR IQBAL: Yes. And it hurts me, because my mom and dad were very young when they passed away. And it was my job to protect the money that they have left us. And that — it really breaks my heart.
PAUL SOLMAN: Does it make you think differently about America?
SHEHRYAR IQBAL: To be honest, unfortunately, yes. We have lived in countries which are not regulated, but we have never been cheated on this scale. We have never been cheated at all, to be honest.
PAUL SOLMAN: The Iqbals feel that America is really letting them down.
MICHAEL GIBSON, USAdvisors.org: The United States is. That the government, through its agencies, are not monitoring this activity is really disgraceful.
PAUL SOLMAN: Michael Gibson is an independent EB-5 investment adviser who says he thoroughly vets projects before recommending them to clients, documenting everything on tape.
And you go around the country.
MICHAEL GIBSON: All over the United States.
PAUL SOLMAN: Recording EB-5 projects.
MICHAEL GIBSON: Absolutely. Been doing it since 2008.
PAUL SOLMAN: But only one in 10 projects, he says, agree to let him in.
MICHAEL GIBSON: The biggest problem is transparency. The agency that's administering the program offers no disclosure regarding any of the investments.
So, if you're an investor and you're asking questions about how many projects they have developed, how much capital they have raised, what they have done with that capital, how many jobs have been created, none of this information is disclosed.
PAUL SOLMAN: And it's not just 700 investors in the Vermont project who've literally paid the price. In South Dakota, an EB-5-funded beef packing plant went belly up, taking the funds of some 300 investors with it.
MICHAEL GIBSON: They assumed that the state was overseeing this investment, and the fact is that they were not.
SEN. CHARLES GRASSLEY (R-Iowa): There is no set of sanctions for violations, no recourse for bad actors.
PAUL SOLMAN: Last year, six bills were introduced in Congress to reform the EB-5 program, increasing scrutiny of the so-called regional centers, private firms that sponsor EB-5 developments. None passed. Why?
MICHAEL GIBSON: There are a few regional centers with very powerful connections in Washington, including their lobbyists. They are concerned any reform would impact their ability to raise capital for cities such as New York and Los Angeles and Miami.
PAUL SOLMAN: Right, says Angelique Brunner, who owns and operates five regional centers. But, without EB-5, she says, many urban projects, like this retail development in Washington, D.C., would never break ground.
ANGELIQUE BRUNNER, EB5 Capital: We're an essential piece of projects like this. We work directly with developers. And we have seen firsthand the challenges that they experience in the capital markets when they're going to raise capital.
And it's an important part of the story to encourage other capital players to come to the table in terms of banking and other equity.
PAUL SOLMAN: "Oh, really?" says Gibson. Then what about all the EB-5-funded projects rising in Manhattan, amid similar conventionally financed projects, luxury condos in Tribeca, ritzy Midtown hotels and office buildings?
And then there's the largest EB-5 project of them all, Hudson Yards on the far West Side. It had no shortage of Americans willing to invest, says Gibson.
MICHAEL GIBSON: And many would argue that, in fact, they already had capital lined up. They just were pursuing EB-5 capital, as it was lower-cost. It was cheaper financing for them.
PAUL SOLMAN: And that's it?
MICHAEL GIBSON: That's it.
PAUL SOLMAN: So, it's not creating jobs then at all.
MICHAEL GIBSON: They would have created the jobs anyway. That's what many would argue. This is simply a way for them to save a point or two on their financing.
PAUL SOLMAN: Scandals, fishy financing, yet lobbyists have kept Congress from cleaning things up, for the usual reasons, says Gibson.
MICHAEL GIBSON: The developers are very well-financed, well-heeled. They donate to the political campaigns of many of these politicians. So if the developers can save several million dollars, they are going to encourage their politicians to have them — allow them to use the EB-5 capital for their development. It's self-interest.
PAUL SOLMAN: In the case of Jay Peak, which was part of a state-run regional center, the lobbying was done by Alex MacLean, a former assistant to Vermont's governor.
ALEX MACLEAN, Former Assistant to Vermont Governor: One of the amazing things about Vermont is that it's so small, and the access to the politicians is readily available.
DONALD TRUMP (R), President-Elect: Nobody knows the system better than me.
PAUL SOLMAN: Now, no American political story would be complete these days without Donald Trump. And, indeed, he figures in this one. Just this month, Trump Bay Street, a 50-story luxury apartment building, opened in Jersey City, New Jersey, built by a company run by Trump's son-in-law, Jared Kushner, who raised a quarter of the project's $200 million financing from EB-5 investors in China.
DONALD TRUMP: Which is why I alone can fix it.
PAUL SOLMAN: But, locally and federally, the door between government and lobbying keeps revolving.
And, to Michael Gibson, the stakes of closing it for EB-5 projects are substantial.
MICHAEL GIBSON: The issue is that it is affecting the credibility of the United States, because granting what is probably the most cherished document in the world, a U.S. passport, and path to eventual citizenship is really in the hands of developers, who at times do scheme and fraud to take advantage of the investors.
PAUL SOLMAN: The Iqbals, their dreams of immigration to the U.S. dashed, still make their home in Dubai, at least for now. For them, American credibility is shot.
SHEHRYAR IQBAL: If someone would come and ask me, "I have got half-a-million dollars and I want to move to the U.S.," I would probably say, don't do it.
PAUL SOLMAN: This is economics correspondent Paul Solman reporting for the "PBS NewsHour."
http://www.pbs.org/newshour/bb/visa-program-leaving-hopeful-immigrants-empty-handed/
Mentions
States
---
Securities Disclaimer
This website is for informational purposes only and does not constitute an offer or solicitation to sell shares or securities. Any such offer or solicitation will be made only by means of an investment's confidential Offering Memorandum and in accordance with the terms of all applicable securities and other laws. This website does not constitute or form part of, and should not be construed as, any offer for sale or subscription of, or any invitation to offer to buy or subscribe for, any securities, nor should it or any part of it form the basis of, or be relied on in any connection with, any contract or commitment whatsoever. EB5Projects.com LLC and its affiliates expressly disclaim any and all responsibility for any direct or consequential loss or damage of any kind whatsoever arising directly or indirectly from: (i) reliance on any information contained in the website, (ii) any error, omission or inaccuracy in any such information or (iii) any action resulting therefrom.