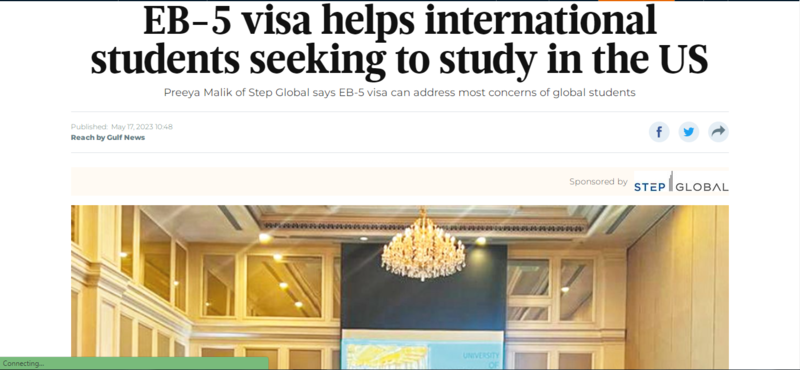 The United States is home to Harvard, Yale and Stanford, to name a few. Students from across the globe aspire to enrol at the world's most prestigious universities. An education from prominent state or private schools alike, adds considerable value to a graduate's resume, opening an array of doors and career growth both within the US and globally. However, international students face fierce competition when applying for some of the most reputed and renowned educational institutions in the US. Therefore, many foreign students planning to study in the US are now looking towards the EB-5 visa, which could unlock a vast array of benefits, including obtaining higher chances of acceptance in the world's best programmes, reduced tuition rates, and coveted internship positions. Preeya Malik, US licensed lawyer and Managing Director of the immigration advisory firm Step Global, highlights in this interview, the main advantages of the EB-5 program, which can assist GCC families in taking the right decision for their children's future.
The EB-5 Immigrant Investor Program
The US EB-5 program is a direct route to obtain permanent residency in the US, also known as a green card, and is also a pathway to US citizenship. In order to obtain a US green card via the EB-5 program, applicants are required to invest a refundable minimum amount of $800,000 (Dh2.9 million) in an approved EB-5 project, which will then bolster job creation for the US economy. Under this scheme, the application may include the investor, the investor's spouse, and any children under the age of 21. If a child has already surpassed 21, they can apply as the primary applicant.
Visa issues faced by international students
Traditionally, international students apply for an F-1 student visa, which allows them entry as a full-time student at an accredited US university. Following graduation, they can apply for an OPT (Optional Practical Training), which will allow them to take a paid position with a US employer, in the same field for which they have obtained a degree. However, once the OPT expires after 1 to 3 years (depending on the area of study), a student has two options: (1) to obtain an H1-B visa for employment or; (2) exit the country.
This seems like a smooth path, especially if a graduate's OPT employer is willing to sponsor them for employment. However, in recent years, the H-1B has come under a number of uncertainties. As an increasing number of foreigners apply to migrate to the US via H1-B visas, this category has become oversaturated, especially for those from certain nationalities, like the Indian subcontinent. Due to this, the H1-B employment visas are now allotted on the basis of a lottery draw once annually, and hence securing an H1-B visa is not guaranteed, even if someone has a willing sponsor employer. If one does not get selected in the draw in a given year, they must reapply the following year, thus delaying their career prospects in the United States.
Outside of this, due to restrictions on the F-1 student visa, international students will also face issues in securing internships and employment during the course of their education, which could greatly add to the mandatory experiential aspect of a degree in the US that future employers may expect.
Why do students and parents choose EB-5 over other immigration routes?
The EB-5 visa can address most of the concerns encountered by international students wishing to study in the US. Below are the most prominent reasons the EB-5 Program is the preferred option for many families from the UAE and across the GCC:
Lower tuition rates
US universities are a top choice for many GCC students seeking to pursue higher education, however, it is well known that the tuition fees for international students in the US can be exorbitantly high. US public universities offer varying tuition rates for in-state, out-of-state, and international students. In-state tuition is the rate students who are domiciled in a particular state will pay, while out-of-state tuition is the rate a resident of another state will pay. Finally, international rates are for those students who are not a resident of any state, and in other words, are international students. Unfortunately, international students pay on average three times more than domestic students. However, obtaining a green card through EB-5 and becoming a US permanent resident, can be a way for students to receive in-state tuition. These savings can amount to more than $35,000 per year depending on the university, which can be particularly beneficial for families with multiple children or for children who will go on to do multiple degrees in the US.
Access to financial aid and scholarships
Another appealing aspect of the EB-5 visa is the access it provides to scholarships and financial aid. Every applicant to a US university is competing with students across the globe for a limited number of scholarships available. However, with an EB-5 Green Card, students are eligible to apply to a larger number of scholarships offered only to US residents, thus increasing the probability of being selected. The various states, US government, and schools also provide grants and 0 per cent loans, which are not available to international students but are accessible for green card holders and US citizens.
No job limitation during education
International students may face difficulties in finding positions both off-campus and on-campus during their education, whether paid or unpaid. First, F-1 students are limited in the number of hours they may work during their education, are sometimes limited to employment only on campus, and can many times only apply for unpaid positions.
Green card holders and US citizens are not subject to such restrictions and can work freely thereby allowing them to enter a greater employment pool, and also avail themselves of useful work experience that could help in obtaining employment post-graduation. For example, many of the top law firms in the US will only hire students who have worked for them summer upon summer as an intern.
No sponsorship required
Perhaps, one of the biggest advantages of a green card via the EB-5 program, is that it removes all the stress of securing a work visa and employment after graduation. Many students become increasingly disappointed and frustrated when they find they are forced to leave the US after their studies have been completed and their OPT time expired because they are unable to secure an employer to sponsor them or they are not selected in the H1-B lottery. At that time, parents rush to find solutions for their children to be able to stay and work in the US.
Rather than being reactive, a proactive approach via the EB-5 program, allows children to obtain permanent residency so they do not have to worry about their status post-graduation and can focus on accelerated career growth. They can then be head to head with their American peers rather than trying to find an employer willing to take on the extra administrative burden of sponsorship and an H1-B employee. With a green card in hand, one can take the time to find the right position from a career standpoint and negotiate the best salary, a luxury that foreign workers do not have.
When is the right time to apply for EB-5?
"It is important to consider an application well before a child turns 18," says Malik. "We advise families who are specifically applying to this program for the education and future career prospects of their children to anticipate processing times and start the process as soon as possible and as early as when a child starts high school, so that they will be ready to take full advantage of the benefits by the time they are applying for university. While EB-5 is still one of the fastest and most efficient ways to obtain a US green card, the full process can still take a few years to come to fruition. Unfortunately, many families come across this program too late, when they're looking for an urgent solution to have their children stay in the US post-graduation. Although we do help many families in this position, being able to plan ahead is less stressful for the whole family."
Immediate access to the US for F-1 visa or H1-B visa holders
On March 15, 2022, the US government introduced the option of Adjustment of Status (AOS) Concurrent filing for EB-5 applicants. This means that an applicant who is studying in the United States on an F-1 student visa, can submit their paperwork for Adjustment of Status (AOS) concurrently with their EB-5 green card application.
The first advantage is that those already in the US on any legal visa status can apply to adjust their status from within the US without having to return to their home country to complete visa processing.
Second and most importantly, along with the AOS submission, the applicant can request an Employment Authorization Card and Travel Document (Advance Parole). Within months, the applicant will have the ability to legally live and work in the US without employer sponsorship while they wait for their EB-5 green card application to be processed. As their status changes from the temporary visa they were previously on to pending green card, they may also take advantage of other benefits only allowable for US residents and citizens.
Although this concurrent filing does not allow an applicant to receive the green card faster, any delay in processing timelines will not affect the applicant's ability to take advantage of living and working in the United States immediately. This option is also available for H1-B holders.
Meet the Step Global immigration lawyers on May 21 to get more information
Step Global invites anyone interested in the US EB-5 green card program to join them for an exclusive free seminar on Sunday, May 21 at 4pm at The Ritz Carlton DIFC, Dubai. Malik - an award-winning US immigration lawyer and renowned expert in the EB-5 program - will be there in person to present the program and share her insights with attendees. Working with a portfolio of only the most reputed EB-5 Regional Centers and projects, Step Global, along with its legal team, has helped thousands of applicants and their families migrate to the US under the EB-5 program with one of the highest track records of approvals in this region.
https://gulfnews.com/uae/eb-5-visa-helps-international-students-seeking-to-study-in-the-us-1.1684306930014
---
Securities Disclaimer
This website is for informational purposes only and does not constitute an offer or solicitation to sell shares or securities. Any such offer or solicitation will be made only by means of an investment's confidential Offering Memorandum and in accordance with the terms of all applicable securities and other laws. This website does not constitute or form part of, and should not be construed as, any offer for sale or subscription of, or any invitation to offer to buy or subscribe for, any securities, nor should it or any part of it form the basis of, or be relied on in any connection with, any contract or commitment whatsoever. EB5Projects.com LLC and its affiliates expressly disclaim any and all responsibility for any direct or consequential loss or damage of any kind whatsoever arising directly or indirectly from: (i) reliance on any information contained in the website, (ii) any error, omission or inaccuracy in any such information or (iii) any action resulting therefrom.