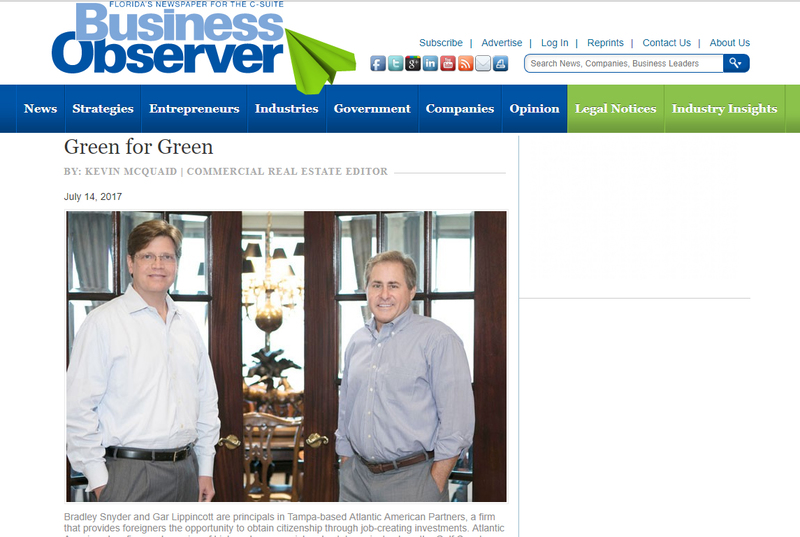 Bradley Snyder and Gar Lippincott are principals in Tampa-based Atlantic American Partners, a firm that provides foreigners the opportunity to obtain citizenship through job-creating investments. Atlantic American has financed a series of high-end commercial real estate projects along the Gulf Coast.
Gar Lippincott can't decide whether his Atlantic American Partners is in the immigration business or the commercial real estate finance business.
The confusion is understandable: Atlantic American operates in both camps, using foreign EB-5 investment capital to fund development of high-profile projects throughout the region.
On the real estate side, the company has been involved in more than two dozen high-profile projects, including the $98 million 915 Franklin apartments under construction in downtown Tampa, the $39.5 million Channelside apartments in Fort Myers and the 10-story Current hotel underway on Tampa's Rocky Point.
In all, Atlantic American has invested about $250 million in projects valued at $1.02 billion — developments that have also created an estimated 8,460 jobs since its first $11.5 million EB-5 venture in 2011.
That's where the immigration side comes in. Atlantic American's investors are foreign nationals who use a 27-year-old federal program administered by the U.S. Citizenship & Immigration Services agency to obtain green cards for themselves and their immediate family.
To do so, investors must shell out a minimum of $500,000 and pass a vetting process to obtain a temporary green card. When their money has been placed in a job-creating venture that employs at least 10 people per investor — say a new apartment complex — they can apply for their permanent citizenship.
Atlantic American first became aware of EB-5 in 2008, in the wake of the Lehman Bros. collapse — a time when traditional investment firms were seeking new sources of capital and opportunity.
"Traditionally, investments have only two parameters," says Lippincott, a former MetLife executive who joined Atlantic American in 2005 and is today the firm's managing principal.
"There's risk and reward. But EB-5 investments have totally different criteria for the people doing them," he adds. "They want their green cards, they don't want to lose their money, they want their money back and they want a slight return. The return, we've found, is typically the last priority of the four."
Each year, the U.S. sets aside 10,000 EB-5 visas, a fraction of the roughly 675,000 immigrant permanent visas issued. Investors typically receive returns of between 3% and 6%.
But more importantly, they gain access to the U.S. In recent years, 75% of all EB-5 visas issued have gone to Chinese citizens, many of whom want the green cards to be able to educate their children here.
But Lippincott says residents from Brazil, Vietnam, the United Kingdom and elsewhere have also used the program. The idea isn't unique to the U.S., either: More than two dozen other countries — including Portugal, Canada and Australia — all have mechanisms whereby foreigners can access citizenship through investment.
"It's particularly fulfilling to me to meet the people who are doing this for their families," says Bradley Snyder, an Atlantic American partner. "It's renewed my sense of what the American Dream is."
To date, Atlantic American has worked with 500 investors. Each has received their green card, Lippicott says.
Atlantic American has differentiated itself from some EB-5 investment firms by applying a private equity fund model to the business.
Rather than coming up with a real estate project to develop and using EB-5 money as a way to finance it, Atlantic American maintains a steady stream of both projects and investors — the result of frequent trips to China and other countries.
"The biggest challenge is always having a project lined up that meets our investment criteria," Lippincott says of Atlantic American, which grew out of CEA Group, an investment firm founded in 1974 that once specialized in media and entertainment companies.
And instead of providing capital for single projects, in most cases, Atlantic American mitigates risk by creating funds that contain multiple real estate assets.
"Everyone around the world understands the wisdom of not putting all one's eggs in one basket," Snyder says.
But to meet its criteria, Atlantic American often has to evaluate more than 300 real estate projects annually — in federally designated "Targeted Employment Areas" — to find deals like the $29 million Le Meridien or Aloft hotels in downtown Tampa, or the $41 million Estero Oaks apartments in Lee County, to back.
The company makes money by sharing with developers in management fees and project cash flow, and through capital gains once a project is sold — typically five years after completion or stabilization.
To maintain a semblance of control for EB-5 investors, who become limited partners in each of the company's funds, Atlantic American insists on being on the board of every project in finances.
"If we do not generate a profit for our investors, we do not participate in any capital gains," reads an Atlantic American brochure distributed to potential foreign investors.
"This is the way the professionally managed funds are structured in the U.S."
Each real estate project also has to be market driven, the company's partners say, and Atlantic American looks for deals where EB-5 capital amounts to no more than 35% of the total required to build.
"We can tell now fairly quickly whether a real estate deal passes our smell test," Lippincott says.
Developers like EB-5 deals because they provide lower cost of capital — typically 10% — than traditional debt, and can boost equity requirements that banks command.
"They understood what our vision was, and they were very unique in that they weren't just providing capital — they became engaged in the value-creation process," says Punit Shah, whose Tampa-based Liberty Group developed a $15.7 million Aloft Hotel in Tampa with $4.5 million in EB-5 capital. The project generated 192 jobs, according to Atlantic American.
"I also appreciate that they do their due diligence and research in a methodical way, and they really know the marketplaces they invest in."
Jerome Hagley, an executive vice president of Atlanta-based Carter, which is building the $98 million 915 Franklin apartments with $23 million in EB-5 money from 46 investors, agrees.
"We liked their approach and they delivered," he says. "From the receiving end, we couldn't be happier. It wasn't an easy deal and it took time, but we're now looking to do another deal with them."
The 23-story 915 Franklin project, which will be completed in November, also is unique for Atlantic American in that it was a "single-asset" investment, and not part of a pooled fund. Snyder and Lippincott say some foreign investors prefer such transactions.
But as EB-5 has gained in popularity — Lippincott estimates that five years ago Atlantic American had 80 primary competitors; today there are more than 1,000 — scrutiny has increased, too.
Some critics contend the EB-5 program unfairly provides citizenship to the wealthy. Others maintain that the program has been fraught with problems, from unscrupulous operators and others who want to exploit foreigners for their own gain.
Snyder and Lippincott anticipate that by year-end, the EB-5 program will undergo a major overhaul and that new regulations will be implemented to heighten transparency — a process they welcome.
Among the many proposed changes is the amount foreigners must invest to qualify for EB-5, from $500,000 to as much as $900,000.
"There's so much uncertainty right now," Lippincott says. "So we're focused on finishing the commitments we have, and processing our backlog, and when the new regulations come out, probably in October or November, we'll sit down and go over them and rehash our business model if necessary."
In response, the company has begun liquidating its first two funds.
Atlantic American also is considering a variety of non-immigration related investment vehicles, aimed at real estate in secondary and tertiary cities across the U.S.
Regardless of any changes to EB-5, though, Lippincott says one goal will remain clear: where the company invests.
"Our goal is to get back to investing primarily in the Tampa area," he says. "It underwrites well, with everything going on and the job and population growth. And it's nice to be able to look out your office window or drive by in your car and see a project you've been involved with."
http://www.businessobserverfl.com/section/detail/green-for-green/
Mentions
States
---
Securities Disclaimer
This website is for informational purposes only and does not constitute an offer or solicitation to sell shares or securities. Any such offer or solicitation will be made only by means of an investment's confidential Offering Memorandum and in accordance with the terms of all applicable securities and other laws. This website does not constitute or form part of, and should not be construed as, any offer for sale or subscription of, or any invitation to offer to buy or subscribe for, any securities, nor should it or any part of it form the basis of, or be relied on in any connection with, any contract or commitment whatsoever. EB5Projects.com LLC and its affiliates expressly disclaim any and all responsibility for any direct or consequential loss or damage of any kind whatsoever arising directly or indirectly from: (i) reliance on any information contained in the website, (ii) any error, omission or inaccuracy in any such information or (iii) any action resulting therefrom.