SEC: Quiros Potentially Liable For $191.8 Million in 'ILL-GOTTEN GAINS'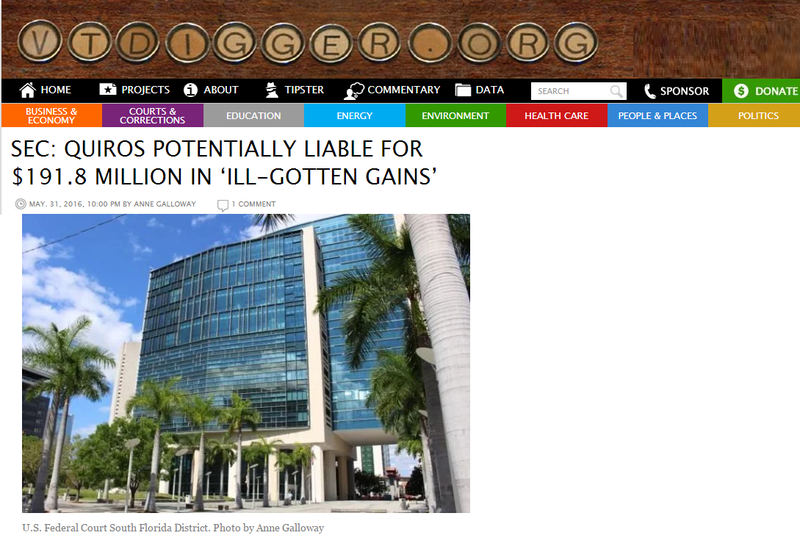 The Securities and Exchange Commission told a federal court judge on Friday that there is sufficient evidence to show Jay Peak owner Ariel Quiros violated securities laws, and there is a reasonable likelihood he will re-offend if he isn't stopped by the court.
Quiros and his business partner, Bill Stenger, have been accused of misappropriating $200 million out of $350 million in EB-5 immigrant investor funds. The SEC presented several hundred exhibits in three days of court hearings earlier this month showing how Quiros allegedly moved money in more than 100 bank accounts and looted $55 million in investor funds to purchase two New York City condos and two ski resorts.
Judge Darrin Gayles is currently reviewing the SEC's proposed preliminary injunction. If the judge accepts arguments made by federal regulators, Quiros would be barred from running the Jay Peak and Burke resorts. He would also be prohibited from selling securities, and his assets would remain largely frozen.
The SEC says Quiros is potentially liable for disgorgement of $191.8 million in "ill-gotten gains" from Jay Peak and AnC Bio Vermont development schemes. The federal regulators say Quiros' lawyers have incorrectly claimed that the maximum disgorgement amount the federal government can seek is the more than $50 million he "personally pocketed." The additional $141.8 million in fraudulent gains are broadly defined, according to the SEC, and include $106 million Quiros allegedly misused from AnC Bio Vermont and the Stateside projects, $20 million in contributions he failed to make for several Jay Peak developments and $15 million in interest.
Quiros' defense attorneys argue that the Miami businessman did not perpetrate a Ponzi scheme as the SEC alleges because he built most of the promised developments at Jay Peak and most of the investors received green cards. One of the lawyers, David Gordon, has said Quiros did not make any misrepresentations to investors and therefore did not violate securities laws. Gordon blamed Quiros' business partner, Stenger, for creating the offering documents that were used to solicit investors.
The SEC for the first time on Friday released the total number of investors in the Jay Peak, AnC Bio and Burke projects. Federal regulators say there are 731 investors from 74 countries. As a result of the fraud, the immigration status of 404 investors remains in jeopardy. Several investors could be deported in the next few months. None have been paid promised returns on their investments, and none have recouped their original investment of $500,000, according to the SEC.
Gayles, in an order last week, allowed Quiros to sell his Fifth Avenue apartment. Proceeds from the sale, which could generate between $8 million and $10 million, according to Quiros' attorney, may be used to pay "reasonable" attorneys' fees, to be determined by the court, and "reasonable" living expenses, of $15,000 per month. Gayles ordered that Quiros pay off taxes or mortgages owed on the property and that any remaining money from the sale be held in escrow by the SEC receiver.
Gordon had asked the court to allow Quiros $100,000 per month for living expenses and $400,000 for fees for attorneys and accountants. The SEC says the expenses and fees are "outrageously high" and that money used to buy the Manhattan condo is tainted. The federal regulators allege that Quiros used $3.8 million in investor funds from the Golf & Mountain projects at Jay Peak to purchase the condo.
Late last week, there was a flurry of other filings with the U.S. Federal District Court of South Florida:
Gayles preserved the right of Blanc & Bailey, a subcontractor for a hotel at Burke Mountain Resort, to pursue legal action on a lien. Blanc & Bailey is owed $400,000 for "rough carpentry." The order gives the contractors no ability to enforce at this time, but it allows the company to seek repayment in the future. Under Vermont law, lienholders have 180 days after a lien has been filed with a municipality to sue. Subcontractors for the Burke Hotel are owed $3.5 million, according to Michael Goldberg, the SEC receiver, who requested protection of lien rights for Blanc & Bailey.

Last week, Goldberg also asked the judge to protect lien rights for DEW Construction or for the Stateside subcontractors at Jay Peak who are owed $2.2 million.

Gayles gave Stenger until June 30 to respond to SEC charges that he abdicated his responsibility to investors and aided and abetted the fraud. The SEC did not seek an asset freeze against Stenger who has cooperated with authorities and continues to work at Jay Peak. His salary is the equivalent of $100,000 per year, Goldberg has said.

The judge has ordered Citibank, through Pershing LLC, to release $1.8 million from accounts held by Jay Construction Management. Exhibits from the SEC show that Quiros deposited $17 million from AnC Bio Vermont investors in two separate accounts with Citibank. He immediately took out a line of credit against all but roughly $600,000 of the total, the SEC alleges.
MORE DETAILS EMERGE
In a 100-page conclusory argument submitted to the court on Friday, the SEC found that "as a direct result of Quiros' schematic pilfering and misuse of investor funds, the Jay Peak ski resort and all of the limited partnerships are on the brink of collapse." The SEC shows that in all Quiros and Stenger misused $200 million out of $350 million in investor funds, including the more than $50 million that Quiros allegedly used for real estate purchases and personal expenses.
Quiros' personal worth was approximately $3.85 million in 2009, according to documents from the Vermont Economic Development Authority, which that year permitted the Jay Peak developers to borrow more than $1 million in taxable and nontaxable bonds. In a deposition with SEC litigators five years later, Quiros estimated his net worth was $178 million.
All that remains of the cash on hand at Jay Peak is $6 million, according to Goldberg. The resort faces $11.5 million to $16 million of expenses in the next few months, including a $5 million upgrade to the tram line.
The fraud started in 2008 with the purchase of Jay Peak Resort with about $25 million immigrant investor funds. Quiros backfilled money needed to build the first hotel at the resort, Tram Haus, with funds from investors for later projects.
That first alleged act of fraud led to a pattern of complicated money transfers for all seven phases of the Jay Peak projects (including AnC Bio Vermont). Stenger deposited investor funds in escrow accounts at People's United Bank then transferred the money to Quiros' accounts at Raymond James where he used investor funds as collateral for margin loans. At one point, Quiros backed $105 million in margin loans with investor monies. Limited partnership agreements with investors prohibited borrowing from or commingling investor funds.
In a "rob Peter to pay Paul scheme," the SEC alleges Quiros backfilled the first five phases of the Jay Peak developments with money from investors for later projects, "which is why there are major shortages" in the Stateside condo and hotel project at Jay Peak and AnC Bio Vermont.
The developers simply ran out of money to finish Stateside because of the misuse and looting of investor funds, the SEC attorneys write. Quiros and Stenger originally had $67 million for the hotel and condo project, but they ultimately came up short by $26 million for Stateside in September 2015. If the project isn't completed, job targets required under the EB-5 program will not be met and investors will not be able to get permanent green cards to stay in the United States.
AnC Bio Vermont, a proposed artificial organ manufacturing and stem cell research facility in Newport, "has been rampant with fraud," the SEC alleges. Despite the fact that the products did not have patents or FDA approval, Stenger and Quiros told investors the facility would create 3,000 jobs and achieve $306 million in revenue by 2018. About $83 million was collected from immigrant investors for the project, and Quiros, "practically from the beginning," started siphoning tens of millions of dollars from the project, about $69 million in all, the SEC alleges. An additional $84 million would be needed to build the biomedical research facility.
"The project [AnC Bio Vermont] appears in grave danger of not being built – the 166 investors who have already made their investment will not realize their promised return, will likely lose their investments, and will likely lose their opportunity to obtain permanent green cards," attorneys for the SEC write.
Meanwhile, the overall value of the Jay Peak Resort is significantly lower than an appraisal obtained by Quiros last year, according to the SEC. Quiros maintains the Jay Peak ski area is worth close to $87 million, while an economist for the federal regulator estimates the value at $41.6 million. The SEC says the resort owes $60 million to investors and third parties. Other liabilities include a $7.7 million wastewater treatment facility that was never built.
A spreadsheet of resort income versus revenue as of February 2016 showed a $6.2 million net income loss for the 2015-2016 ski season, SEC documents show. Earnings before interest, taxes, depreciation, and amortization were in the red by about $900,000.
https://vtdigger.org/2016/05/31/federal-judge-orders-preliminary-injunction-against-quiros/
Mentions
Litigation Cases
States
---
Securities Disclaimer
This website is for informational purposes only and does not constitute an offer or solicitation to sell shares or securities. Any such offer or solicitation will be made only by means of an investment's confidential Offering Memorandum and in accordance with the terms of all applicable securities and other laws. This website does not constitute or form part of, and should not be construed as, any offer for sale or subscription of, or any invitation to offer to buy or subscribe for, any securities, nor should it or any part of it form the basis of, or be relied on in any connection with, any contract or commitment whatsoever. EB5Projects.com LLC and its affiliates expressly disclaim any and all responsibility for any direct or consequential loss or damage of any kind whatsoever arising directly or indirectly from: (i) reliance on any information contained in the website, (ii) any error, omission or inaccuracy in any such information or (iii) any action resulting therefrom.