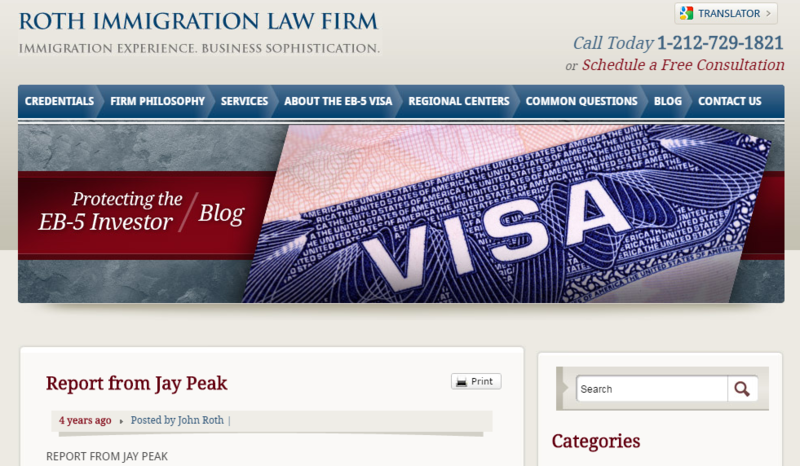 Rapid USA Visas, the former marketing agent for Jay Peak Resort's EB-5 visa projects (offered through the Vermont Regional Center), announced on February 28, 2012 that it was severing ties to Jay Peak Resort, because it "no longer has confidence in the accuracy of representations made by Jay Peak, Inc. or in the financial status of and disclosures made by the various limited partnership [sic]...". The startling news was sent as an email to over 100 immigration attorneys who had previously filed I-526 petitions for immigrant clients investing in one of Jay Peak Resort's projects. The text of the email appeared almost immediately on a popular EB-5 news blog, and spread throughout the EB-5 community, worrying immigration attorneys, investors, and virtually everyone else in the EB-5 industry since Jay Peak President Bill Stenger has been an eloquent champion of the EB-5 program before Congress and the public generally (see, for example, Jay Peak Resort CEO Bill Stenger Testifying Before Senate Judiciary Committee chaired by Senator Patrick Leahy (D-Vermont) on December 8, 2011).
My initial position in this controversy was that Rapid USA's email announcement on its face was too broad and too vague to draw any firm conclusions. Further, Rapid USA Visas' CEO, Douglas Hulme, has consistently refused to specify just what the questionable Jay Peak financial representations were, or what his claimed concerns were (I called him twice, and he didn't reply to my voice mail messages).
Still, there was cause for concern given the fact that Rapid USA was willing to sever what had been a very profitable relationship with Jay Peak Resort. Why did they do it? Was there fire under the smoke?
I traveled to Jay Peak on the weekend of March 23 to 25 along with my wife and 7-year-old son to inspect the resort and to meet with long-time Jay Peak Resort President Bill Stenger. I had an in-depth discussion with Mr. Stenger of Jay Peak's EB-5 projects on Saturday, March 24, 2012 that lasted two hours. On Sunday morning, I met with James Candido, Economic Development Specialist, Vermont Department of Economic Development, and a principal overseer of EB-5 projects for the State of Vermont. Mr. Candido and I met separately from Mr. Stenger, and our discussion lasted approximately one and one-half hours. Both Mr. Stenger and Mr. Candido spoke freely, with only two items discussed off the record, which were asked and offered for background purposes, and were not essential to an understanding of the current controversy. Mr. Stenger complied with every document and data request I made while at Jay Peak and later while preparing this blog article.
My trip to Jay Peak had been planned before the current controversy began. Indeed, one reason I was skeptical about reports that Jay Peak might be in financial trouble was that I had originally asked to visit Jay Peak in February, but had been advised that there were no vacancies at the resort until late March.
Driving up to Jay Peak I was reminded of one EB-5 project issue that has bedeviled some EB-5 projects, and which is most certainly not a problem with Jay Peak projects, and that is targeted designated area ("TEA") status. Some projects have had their TEA designations challenged by the USCIS when they have relied on census tract aggregation (or "gerrymandering," as the CIS has more pejoratively describes it) or questionable TEA designations by state officials eager to create jobs anywhere and everywhere in their state, leading to controversy both within and without the EB-5 community (see, for example, December 2011 NY Times article and editorial). Jay Peak is located in one of the poorest and least densely populated parts of Vermont, and there is no suggestion (and particularly not from a New York boy like me) that it is anything but a RURAL area.
The first thing one notices upon entering the Jay Peak Resort is the build quality of the construction. My wife observed several times that the facilities reminded her of Disneyland: everything inside and out was sturdy and of high quality, but with no traces of waste or extravagance (her words, I'm not that eloquent). The Tram Haus Lodge, where I stayed with my family, is equivalent in quality of accommodations to a four star hotel.
Another thing my wife noticed right away was that practically everything in our room was marked "Made in Vermont." This included the wood table in the living room (as well as virtually all the furniture), the wool blanket on the bed (we had passed the manufacturer, the Johnson Mill Company, on the way up), the soap in the bathroom, the steel vases, the concrete inlays of tabletops, etc.
Job creation is, of course, one of the central concerns in any due diligence evaluation of an EB-5 regional center project. Every EB-5 Pilot Program investor's principal ($500,000, or $1,000,00 for non-TEA projects) must generate at least 10 direct or indirect full-time jobs (to persons lawfully in the U.S., by the way). Persons hired by Jay Peak Resort as a result of the EB-5 project, whether they be receptionists or maids or ski instructors, are examples of "direct" jobs. Persons hired by Johnson's Mill Company as a result of Jay Peak's increased demand for wool blankets are "indirect" jobs. The conventional wisdom among immigration attorneys has been that it is better for an EB-5 project to rely entirely or predominantly on indirect jobs, because this allows the regional center to avoid the legal and administrative burden of identifying actual workers with W-2 forms or pay stubs at the time of I-829 filing. Because indirect jobs depend on an economist's projections of jobs created using a government approved (or, at least, tolerated) input-output model such as RIMS II or IMPLAN, the regional center can claim to investors "all we have to do is spend the money according to the economist's assumptions, and the USCIS will agree that your jobs have been created." As we have seen recently with the "tenant occupancy" dispute, however, the government may change the rules in the middle of the game, and announce that it will no longer count certain jobs based on an economist's projections, even though it had done so in the past. Relying on direct jobs in whole or in part certainly carries an extra administrative burden for the project managers, as well as the risk that the jobs do not materialize in sufficient numbers when I-829s are being filed, but a project that successfully creates large numbers of its own (not tenants') jobs is bound to have fewer job creation questions at the I-829 stage of USCIS review, thus increasing the likelihood that its investors' I-829 petitions will be approved.
In this regard, Jay Peak is on solid ground, since its Phase I project did not seek to include indirect jobs in the job creation calculation, and all its Phase I investors whose cases have been adjudicated thus far (35 of 36) have been approved based entirely on direct jobs created by the project. Later projects have relied on both direct and indirect jobs.
I have in the past noticed vulnerability in Jay Peak's job-creation strategy, however: the job creation plan rarely includes a substantial buffer of excess jobs to be created above the number of jobs needed for all investors in the project. This is not a problem as long as the project proceeds apace, but if the project runs into substantial delays there might not be enough total jobs to go around for all investors at the I-829 stage. The financial and legal issues are inherently connected here (as is often the case in EB-5 project due diligence analyses), as even the best legal strategy can be undermined if financial or management problems result in failure to meet milestones upon which the economist's job creation projections were predicated. So far, Jay Peak Resort has a very good record of meeting or exceeding project plans, and has often added the Resort's own funds to exceed project goals. The decision by the Resort to spend an additional one million dollars of its own money on a retractable roof for the waterpark is just one example.
Bill Stenger admitted to a "small problem" in current project development, however, as environment permits for construction planned for this summer were taking longer than expected. With only a three to four month construction window in northern Vermont, an entire year could be lost if permit problems extend into the summer. Mr. Stenger noted that Vermont state leadership had "engaged with the problem lately," and Stenger was optimistic, if still concerned, that construction will start on time in the early part of summer 2012. It's definitely an issue to watch.
The weekend we were in Jay Peak Resort the weather was unseasonably warm, with temperatures hovering in the 50s (this past week, though, temperatures were in the 30s again). The 2011/2012-winter season was short, with temperatures higher and snowfall down around 35% (although Jay Peak compensated somewhat by anticipating the warmer weather and producing 20% more manufactured snow), which led some to speculate that Jay Peak Resort was experiencing financial difficulties due to the warm winter, and this was what led Rapid USA Visas to jump ship.
I regard it as fortuitous that I visited Jay Peak Resort during such a warm weekend, because it would be a test of Jay Peak's primary strategic goal of using EB-5 money to create an all-season resort that did not depend entirely on skiing. On the weekend I was at Jay Peak, only 17 of the Jay Peak's total of 76 ski trails were open. On a good "powder day", March 10 of this year, for example, Jay Peak's records show 4750 skiers and 2200 people in the waterpark, with 100% room occupancy. There were only 2140 skiers at the resort on March 24, a Saturday, when I was there, but the rest of the place – the waterpark, the ice rink, the restaurants, the bar, the arcade, etc. were jumping with activity. The waterpark is particularly impressive.
It has features and attractions geared to various age groups, and a retractable roof – on one day it was so warm, we saw it in action – and was packed or nearly packed all three times I visited it (so much so, that I didn't elect to try it in the flesh, although my wife and son spent several hours in the pool, slides, simulated surf wave, and the AquaLoop). I was struck by the number of families, including families with young children, that were at the resort. My 7-year-old son learned both to ski and to ice skate for the first time while at Jay Peak, and he was one of the older children taking instruction. There were also, many, many Canadians at the resort (an advantage Jay Peak has when compared to it's more southerly competitors in Vermont such as Stowe and Sugarbush). Montreal is just 90 miles away, and its residents are big users of Jay Peak Resort and are expected to be important consumers of fractional shares in residences created with EB-5 money once these go to market later this year.
Other examples of diversification include birthday parties (there were several in evidence when we were there), weddings (44 booked already for this year), the new conference room and the Jay Peak Championship Gold Course (twice voted the best public course in Vermont by Golf Week magazine). This week the Women's National Hockey Teams of Canada, Sweden and Slovakia will be training at Jay Peak Resort's Ice Haus for the Women's World Hockey Championships to be held in Burlington in April.
Jay Peak Resorts Sales and Labor report for 1Q2012 compared with 1Q2011 shows Jay Peak Resort's Skier Visits up 14.25%, Rental Room Occupancy up 12.5%. It also shows 110,916 paid visits to the waterpark, which was not yet open in 1Q2011.
Total Resort Sales for the 1st Quarter increased from $9,689,484 to $14,651,589.05 in 1Q2012, for an increase of 51.21%. Labor costs increased from $1,847,201.32 to $2,712,499.83, due primarily to new hiring. Total Expenses in 1Q2012 were $3,377,416.63. For the comparable period in 2011, expenses were $2,330,109.03.
The data also show sales of $890,540 for the week of March 18 through 24 compared to $589,335 in revenue a year ago, when Jay Peak had far more snow but fewer "beds" and no waterpark.
Jay Peak Resort's internal documents predict for the current fiscal year, the first with the Hotel Jay phase amenities and suites open, that revenue will exceed $30 million.
Bill Stenger stated during his interview that the Resort is currently in the planning stage of an audit of the Resort's finances by an independent accounting firm. A likely completion and release date was not available at the time of our discussion.
It was very clear during my stay at Jay Peak Resort that Bill Stenger is a very hands-on owner/operator. I spotted him before our first meeting darting into the kitchen of one of the Resort's restaurants to solve a problem. While touring the facilities, he would address every worker by first name (he apparently interviews every new hire, from what a ski instructor told my wife), check operations, issue orders or suggestions, and even pause at one point to gather and throw out empty plastic cups that a bartender hadn't yet cleared. It's plain from conversations with the Resort's staff that morale is high and that Mr. Stenger is held in high esteem. Worker attrition is not a problem.
One concern I had now that Rapid USA has left the picture is whether Jay Peak, Inc. will be able to effectively market EB-5 projects and manage investor relations. Stenger's response was that the Resort already has a nucleus of "good people who are well experienced in the EB-5 program" and that the Resort will be hiring additional in-house help. I was surprised to find out that there was little in the way of an overseas network of agents that Rapid USA Visas might take away with it. Most referrals to Jay Peak projects apparently come from U.S. immigration attorneys, according to Stenger.
I've always been concerned about Jay Peak's exit strategy. Loan-based EB-5 investments have a clear exit point when the loan is repaid by the borrower, whereupon the general partner returns investment principal to the immigrant investors. Equity-based investments don't have the same fixed point for exit, but in virtually every project the general partner enters the project with the intention to sell the project equity in its entirety once the property becomes profitable and a market develops for resale. Jay Peak is different. The plan is for investors to sell fractional shares in the part of the resort that was developed with their money. Bill Stenger predicts that Phase I investors will be able to sell shares and secure return of their investment principal starting in September of this year. I asked Mr. Stenger if he could point to any fractional shares of comparable properties on the market now to give investors a sense that there will in fact be a market for fractional sales in Jay Peak residences, and, if so, what the market value will likely be. Stenger had to admit that there were no good comparables on the market now, mostly because, in his opinion, other ski resorts in Vermont are not readily compared to Jay Peak due to the differences in location and facilities and the fact that the other resorts do not have Jay Peak's sizable Canada market to draw from. Jay Peak currently has only 4 properties for sale. I spoke to a Jay Peak Real Estate agent who quoted me a purchase price of $365,000 for a 3 bedroom lodge, but this residence, along with the others for sale, are older residences of lower quality than the properties built with EB-5 money. Stenger claims that there is a waiting list for fractional sales for the new properties (fractional shares have not been previously offered by Jay Peak). He also claimed that local banks will provide mortgages for fractional shares for Jay Peak residences, a vital component of any future sales effort. I called two banks in northern Vermont, Union Bank and TD Bank, and both said that they offered mortgages on fractional shares in Vermont ski resorts such as the Trapp Family Lodge at Stowe, Vermont, and at Smuggler's Notch in Lamoille, Vermont.
As it happens, the exit strategy issue may be a moot point as regards Phase I investors. Stenger volunteered during our discussions that the revenue trends on Phase I residences are looking so good "that we are seriously considering buying out the Phase I investors ourselves." It remains to be seen whether Jay Peak Resort will have the funds and desire to purchase back properties funded by later phases of the development project.
The State of Vermont Regional Center functions differently from most other regional centers in one sense. Although the Regional Center controls and supervises each individual project, the projects themselves are managed by different teams of owners and managers. Jay Peak, as with all projects under Vermont's supervision, is a standalone EB-5 project, not the Regional Center itself, and is not associated with Sugarbush Resort, Seldon Technologies Clean Water Products, or any other EB-5 project in Vermont.
James Candido, the principal overseer of State of Vermont EB-5 projects, stated to me that he inspects Jay Peak's financial records at least four times per year and that he has not seen any financial irregularities or problems in Jay Peak's finances. He noted that Jay Peak Resort was selected as the first Vermont EB-5 project because of Bill Stenger's "30 years of demonstrated business acumen." He emphasized that the State of Vermont is particularly careful in overseeing Jay Peak projects because it is hoping to leverage Jay Peak Resort's success with development and job creation into promoting additional EB-5 projects in Vermont, several of which are in development or already online. Candido noted that the State turns down or discourages 95% of Vermont businessmen pitching projects to the Vermont Regional Center.
http://www.eb5fullservice.com/blog/2232/
Mentions
Litigation Cases
States
---
Securities Disclaimer
This website is for informational purposes only and does not constitute an offer or solicitation to sell shares or securities. Any such offer or solicitation will be made only by means of an investment's confidential Offering Memorandum and in accordance with the terms of all applicable securities and other laws. This website does not constitute or form part of, and should not be construed as, any offer for sale or subscription of, or any invitation to offer to buy or subscribe for, any securities, nor should it or any part of it form the basis of, or be relied on in any connection with, any contract or commitment whatsoever. EB5Projects.com LLC and its affiliates expressly disclaim any and all responsibility for any direct or consequential loss or damage of any kind whatsoever arising directly or indirectly from: (i) reliance on any information contained in the website, (ii) any error, omission or inaccuracy in any such information or (iii) any action resulting therefrom.