A visa program that lets foreigners invest their way into permanent residency is getting a new lease on life, thanks to the recession and tight credit.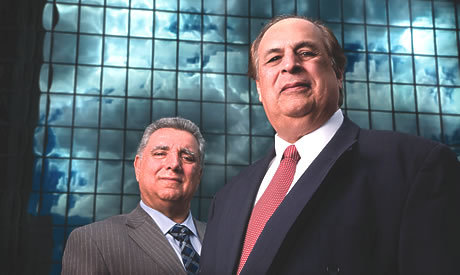 Louis Haddad (left) and Alfred Zucaro run one of four regional centers in Florida that allow foreigners to invest as little as $500,000 in Florida projects and earn their way toward permanent residency status. "There's a lot of keen interest in those investors who desire green card status ... This route makes it easier," Haddad says.
In 1990, Congress created what's known as the EB-5 visa program, writing into law the idea that entrepreneurial foreigners could buy permanent residency status — a big step toward U.S. citizenship — by investing as little as $500,000 in a business that creates 10 or more jobs in the
From its inception, the EB-5 program has led a troubled life, lurching through cycles of scandal and political disfavor and attracting only limited interest from foreigners. In 2003, for example, the program, which can grant up to 10,000 visas to foreign investors, attracted only 64. In 2007, one of its best years, the EB-5 program drew around 800 overseas investors. By contrast, a similar program in Canada processed 2,700 foreign investor visas last year that brought $8 billion into that country.
Today, however, thanks to a thirst for investment capital created by the recession and tight credit, the EB-5 program may be getting a new lease on life. The U.S. Citizenship and Immigration Services, the bureau within the Department of Homeland Security that conducts background checks of foreigners who want to participate, is encouraging the agency to change several of its policies and processes to "stabilize" and "energize" the program.
In addition, Citizenship and Immigration Services has approved requests from at least four Florida groups to set up "regional centers'' for EB-5 investments — a kind of geographic franchise for collecting foreign investment and funneling it into job-creating businesses.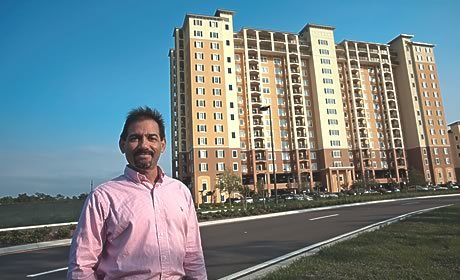 Samuel Sutton's Lake Buena Vista Regional Center developed Buena Vista Resort in Orlando. The federal government favors investors who work through regional centers in approving permanent residency.
Only one of the Florida centers has an actual development project under way, but the centers will be important magnets for foreign capital, says Steven Parnell, a Boca Raton-based relocation and immigration consultant who helps steer foreigners through the EB-5 process and connects them with investment opportunities. Foreigners can invest in any legitimate U.S. commercial enterprise to satisfy EB-5 requirements, he explains, but most prefer to channel their money through a regional center because the federal government, in approving permanent residency, seems to favor investors who work through regional centers.
Last year, Parnell and his business partner, Andrew Bartlett, placed 66 foreign investors — all with regional center programs. Lacking a regional center, Florida didn't get a dime of that money. "There wasn't anything in Florida for them to invest in," Parnell says. "All our investors have gone outside Florida."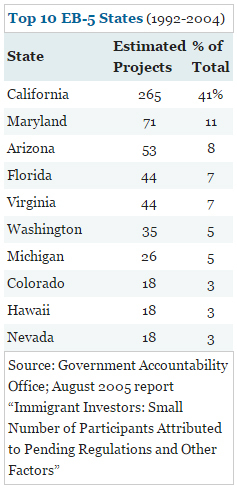 Among the four Florida groups with regional center designations is Palm Beach Investments and Finance, a company headed by Al Zucaro, an immigration attorney in Palm Beach County, and Louis Haddad, a former employee of West Palm Beach and the current president of the World Trade Center Palm Beach. The two are spearheading an effort to raise money for a number of projects in southeast Florida via the EB-5 program, including the creation of an inland port and cargo warehousing and distribution center in southwest Palm Beach County ["EB-5 Regional Centers in Florida"].
For that project, Zucaro and Haddad plan to create a partnership of foreign investors — while cutting themselves in as general partners. That pool of money could help leverage additional money raised domestically: With $10 million from foreign investors, theoretically, Palm Beach Investment and Finance could raise another $10 million in domestic matching funds. By working through a bank, partners can leverage that combined $20 million as much as five times, creating an overall investment pool of $100 million.
"Money is tight and now, all of a sudden, there is this path to money that was available but not really commonly recognized throughout the United States," says Zucaro.
Historically, around 83% of EB-5 immigrant investors have come from Asian countries such as Taiwan, South Korea and China. Zucaro and Haddad are focused on attracting investors from Latin America, Europe, Southeast Asia and to some extent, the Middle East. Says Haddad: "There's a lot of keen interest in those investors who desire green card status who are living in countries where it's difficult for them to acquire entry into the U.S. This route makes it easier."
Whether the four Florida groups succeed may depend on whether the EB-5 program overcomes some of the obstacles that have plagued it since its inception.
Some politicians and bureaucrats have never liked the program, believing it amounts to selling the national birthright. Larry Behar, a Fort Lauderdale-based immigration attorney who is working as an adviser on one Florida-based EB-5 project, the Lake Buena Vista Regional Center, says the program fell "flat on its face" after it was introduced in 1991 because the "attitude of government reviewers and officials is that they were not prepared to allow foreign investors to buy their way into the United States."
The program also has been marked by scandal. In 2000, a Baltimore Sun series chronicled how former Immigration and Naturalization Service officials and their associates cashed in as EB-5 visa brokers, using insider access to get preferential treatment of their clients' EB-5 applications and generating hefty fees for themselves. In 2001, two Virginia men were convicted of a raft of crimes in connection with their operation of an EB-5 investment business called Interbank. James A. Geisler and James F. O'Connor collected approximately $21 million from some 300 investors who were told they would receive legal green cards. Instead, the money was shuffled through offshore bank accounts and siphoned off by Geisler and O'Connor for their personal use.
More recently, the U.S. Secret Service has been investigating Derick Coles, a British man who promised foreigners help in obtaining EB-2 and EB-5 visas if they invested in his Sarasota-based businesses, but he allegedly stole their money instead. According to the British press, his victims collectively lost more than $3 million. Coles' whereabouts are unknown.
The biggest impediment to the EB-5 program these days may be bureaucracy and continuing red tape. A 2005 Government Accountability Office study of the program attributed the low rate of participation to numerous factors, including an onerous application process, lengthy adjudication periods and changing interpretations of the regulations regarding financial qualifications for the program.
To build confidence in the program among foreign investors, Behar and Parnell say the government needs to enact a five-year or permanent extension of the regional center program, a pilot program that was started in 1993 but is set to expire on Sept. 30. "While we're very grateful it's been extended, it does not give an enormous amount of confidence to a wealthy individual looking to pull the trigger," says Parnell.
He explains it can take about six months alone to properly evaluate a potential EB-5 investment opportunity. Once a foreign investor actually decides to take the plunge, background checks performed by the Department of Homeland Security can range anywhere from 26 days to 17 months.
Parnell says he would also like to see the government allow "premium processing" of EB-5 applications, letting clients pay a premium to move their applications through faster.
Behar believes the program deserves a future. The economic downturn, he says, has made many in the U.S. finally see the EB-5 program for what it is —?a valuable economic development tool. The U.S. economy benefits from the job creation, the foreign investor may get a good return on his investment and a path to citizenship, and the U.S. sponsor has a way to raise all-cash financing for a project, he says. "It's a triple-win situation."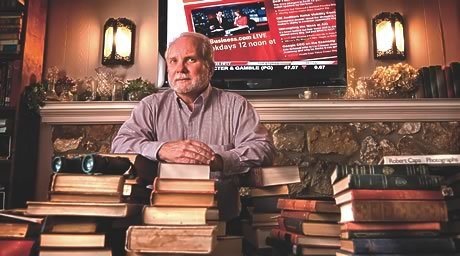 Walter M. "Marty" Cummins Jr. hopes to develop a chain of restaurant bookstores along the High Tech Corridor with money from foreign investors.
EB-5 Regional Centers in Florida
» Florida Equity & Growth Fund Regional Center
Investment: $500,000 or $1 million
Area: The Florida High Tech Corridor, which includes Alachua, Brevard, Citrus, DeSoto, Flagler, Hardee, Hernando, Highlands, Hillsborough, Lake, Levy, Manatee, Marion, Orange, Osecola, Pasco, Pinellas, Polk, Putnam, Sarasota, Seminole, Sumter and Volusia counties
Projects: Regional center owner Walter "Marty" Cummins, a Florida lawyer and real estate broker, recently teamed up with Lakeland-based real estate developers Rob Harper and Brian Philpot of Land South Holdings in Mulberry to direct strategic purchases for the center. The trio will likely establish businesses in Cypress Gardens, the Winter Haven amusement park that Land South purchased in bankruptcy in 2007. The holding company also owns more than 230,000 acres throughout the Southeast that could also benefit from EB-5 money. The regional center has received approval for a variety of projects, including hotels, restaurants and retail. Other industry focuses could include retail trade; real estate; manufacturing; performing arts; museums, historical sites and similar institutions; and professional, scientific and technical services.
» Lake Buena Vista
Investment: $1 million
Area: Orlando-Kissimmee Standard Metropolitan Statistical Area, comprising Orange, Osceola, Lake and Seminole counties.
Project: Continued development and expansion of Lake Buena Vista Resort Village and Spa, located one mile from Disney World. Foreign investors receive a 1/35th interest in a Florida limited liability company, which will own 70 furnished condo/hotel units at the Lake Buena Vista Resort.
» South Florida Investment Regional Center
Investment: $500,000, plus a $37,000 "issue expense fee" for a total cost of $537,000
Area: Miami-Dade and Monroe counties
Project: This center has received approval for projects in a number of industry sectors, including hotel tourism and development, manufacturing companies, professional firms, restaurants and major real estate developments, among others. Miami lawyer J. Eric Gould is spearheading the center along with Miami immigration lawyer David Hart. Gould previously worked in the Clinton White House and served as an aide during the 1990s to then-Rep. Karen Thurman (D-FL). Thurman, the current chairwoman of the Florida Democratic Party, and Gould operate a lobbying firm together called Thurman Gould LLC.
» Palm Beach Regional Center/Palm Beach Investment and Finance
Investment: $500,000 or $1 million
Area: Palm Beach County
Projects: Initial plans are to develop an inland port and cargo warehousing and distribution center. Future industry focuses will include intermodal traffic and cargo distribution; manufacturing and research facilities; commercial and office space; and film and TV production.
http://www.floridatrend.com/print/article/5453
Mentions
States
---
Securities Disclaimer
This website is for informational purposes only and does not constitute an offer or solicitation to sell shares or securities. Any such offer or solicitation will be made only by means of an investment's confidential Offering Memorandum and in accordance with the terms of all applicable securities and other laws. This website does not constitute or form part of, and should not be construed as, any offer for sale or subscription of, or any invitation to offer to buy or subscribe for, any securities, nor should it or any part of it form the basis of, or be relied on in any connection with, any contract or commitment whatsoever. EB5Projects.com LLC and its affiliates expressly disclaim any and all responsibility for any direct or consequential loss or damage of any kind whatsoever arising directly or indirectly from: (i) reliance on any information contained in the website, (ii) any error, omission or inaccuracy in any such information or (iii) any action resulting therefrom.