As the EB-5 Program Comes Up for Another Extension, Recent Litigation Puts the Spotlight on the Program's Flaws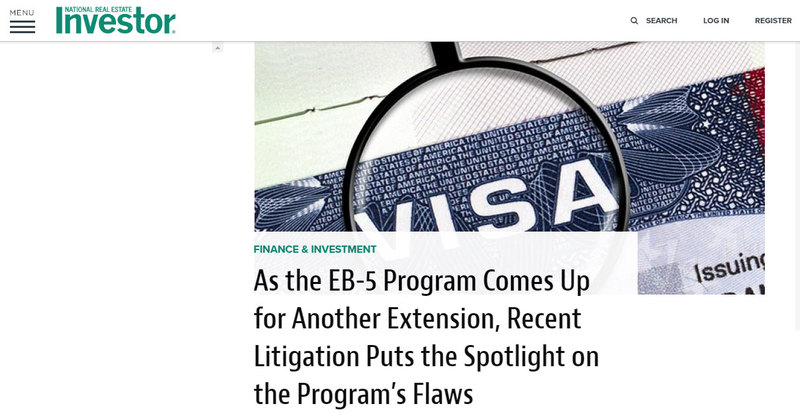 Developers and project managers sometimes misuse EB-5 investors funds, recent court cases show.
As the EB-5 Immigrant Investor program faces another extension deadline, litigation related to alleged fraud is shining a spotlight on the program's flaws.
The EB-5 program allows foreign investors to invest a minimum of $500,000 in a U.S. commercial enterprise in exchange for a visa and, eventually, permanent residency in the U.S. for themselves, their spouse and unmarried children under 21. The program has some rules, including that funds should remain invested and therefore at risk throughout an applicant's immigration process, and that the investment should create or preserve at least 10 permanent full-time jobs for qualified U.S. workers.
For the commercial real estate industry, the program provides what is often a much-needed capital source. Developers can link up with foreign investors on their own or partner with EB-5 regional centers, which then work to connect them with interested foreign investors.
While many in the commercial real estate industry feel the program has been a great way to fund much-needed projects around the country, others note that the 28-year-old program's popularity and the structure of the program itself can open opportunities for abuse. The program has seen few big changes over its nearly three-decade-long history; the minimum investment amount has stayed the same and the U.S. only accepts 10,000 investors a year through EB-5, with many of those visas going to investors' family members. (A court case is pending as to how the government counts this figure.)
Some of the issues with the program have been underscored in recent litigation and action from the Securities and Exchange Commission (SEC), which warned against EB-5 scams in 2013. Stories of the program's abuse continually pop up in the media. A group of Chinese investors, for example, sued the developer of the Lucky Dragon casino in Las Vegas after it went bankrupt, potentially hurting the investors' shot at green cards and losing their $550,000-a-piece investments in the process. In Jupiter, Fla., another group of Chinese investors is alleging that developer Nicholas Mastroianni structured the financing behind a waterfront mixed-use project called Harbourside Place so that he could control the shell companies raising and controlling the investors' money, taking advantage of and defrauding the investors. Perhaps most notoriously, in 2016 the SEC alleged that Ariel Quiros and William Stenger misused $200 million of investors' funds that were supposed to go toward developments at the Jay Peak ski resort in Vermont, but instead went to other projects or personal use.
"Whether or not the program is reauthorized, I believe that we will continue to see litigation over EB-5 financing," says Emilie Cooper, a real estate and hospitality attorney who is a partner at corporate law firm Haynes and Boone.
To start, the program features an inherently decentralized structure, often leading investors to pour funds into a limited partnership that has a different manager from the developer using the funds. This invites opportunities for fraud to occur that can have big implications, says Marcelo Diaz-Cortes, an associate at Levine, Kellogg, Lehman, Schneider + Grossman LLP, which is representing the investors in the case against Mastroianni. (Mastroianni's attorney has moved to dismiss the case. His attorney Richard Haddad in a statement said: "The evidence proves that 100 percent of the investors' capital was properly used in the project, and 70 percent of the 199 EB-5 investors have already received their permanent U.S. residency through investing in the Harbourside project … the investors got exactly what they bargained for and approved.")
There are two types of litigation in the EB-5 world, according to Stephen Yale-Loehr, an attorney at Ithaca, N.Y.-based Miller Mayer LLP and an immigration law professor at Cornell Law School. One is fraud from the outset: the project developer takes the money and runs.
The other scenario is where the developer is trying to do everything correctly, but because of a change in the project, the developer is unable to finish it on time or needs to re-deploy the foreign investors' funds in another way. And with a years-long process to get permanent residency coupled with the need to keep funds at risk and creating permanent jobs, there are more windows for problems to crop up. "That's not necessarily fraud," Yale-Loehr says.
The program has also become almost too popular, with demand outgrowing the 10,000 limit set by the government for EB-5 green cards and mushrooming wait times for investors to gain U.S. residency. For example, it could take Chinese investors 10 or 15 years to get their green cards, far over the traditional timetable for the process, Yale-Loehr says.
"The backlog has led to a necessity to re-deploy money … As these funds are re-deployed, really sometimes these investors don't want to go along with it, or they have concerns about the project," Cooper says.
It's true that projects can fail on their own, says Diaz-Cortes. But, also, when investors are expecting their funds back—and maybe it's not happening—they start to look into projects with a magnifying glass, leading them to spot issues that would otherwise go unnoticed, Diaz-Cortes says. "Projects can have issues, but at least in cases that we've seen and at least in cases that we've become involved in, there's something more there than just 'the economics weren't good,'" Diaz-Cortes says.
Aaron Grau, interim executive director of Invest in the USA, a not-for-profit industry trade association for the EB-5 Regional Center Program, says regional centers tend not to jeopardize investors' dollars any more than investors agreed to, even if there is a need to redeploy their capital because of extended wait times. "I would say that the regional centers have a pretty good grip on how to redeploy those monies correctly," Grau says.
And the EB-5 program, according to Grau, has led to necessary investments and jobs that should not be overlooked. "The dollars that are invested are not invested poorly," Grau says. There are EB-5 investments that improve downtown areas and reinvigorate communities: "Things that would not have happened if not for EB-5 investments," he notes.
Regardless, experts agree that that more vigilance, enforcement and reforms are needed to make the program more viable for the long-term.
One way this could be done is to add more project adjudicators. "It's frustrating," says Marty Cummins, president of New Smyrna Beach, Fla.-based Florida EB-5 Investments LLC, an EB-5 regional center. "I think a lot of the fraud can be prevented by professional, quick adjudication."
There is also currently no way to check online if a project is being processed, a mechanism which, if it existed, could help to make the system more transparent, Cummins says.
Still, many are doubtful that Congress will be able to put together a reform package for long-term change to the program by the deadline of Dec. 7. "I predict that Congress will extend EB-5 again without any changes … maybe in the spring everybody can agree on a reform package that Congress can enact," Yale-Loehr says.
https://www.nreionline.com/finance-investment/eb-5-program-comes-another-extension-recent-litigation-puts-spotlight-program-s
---
Securities Disclaimer
This website is for informational purposes only and does not constitute an offer or solicitation to sell shares or securities. Any such offer or solicitation will be made only by means of an investment's confidential Offering Memorandum and in accordance with the terms of all applicable securities and other laws. This website does not constitute or form part of, and should not be construed as, any offer for sale or subscription of, or any invitation to offer to buy or subscribe for, any securities, nor should it or any part of it form the basis of, or be relied on in any connection with, any contract or commitment whatsoever. EB5Projects.com LLC and its affiliates expressly disclaim any and all responsibility for any direct or consequential loss or damage of any kind whatsoever arising directly or indirectly from: (i) reliance on any information contained in the website, (ii) any error, omission or inaccuracy in any such information or (iii) any action resulting therefrom.