Investor green card program that has greenlit Philly's building boom faces uncertain future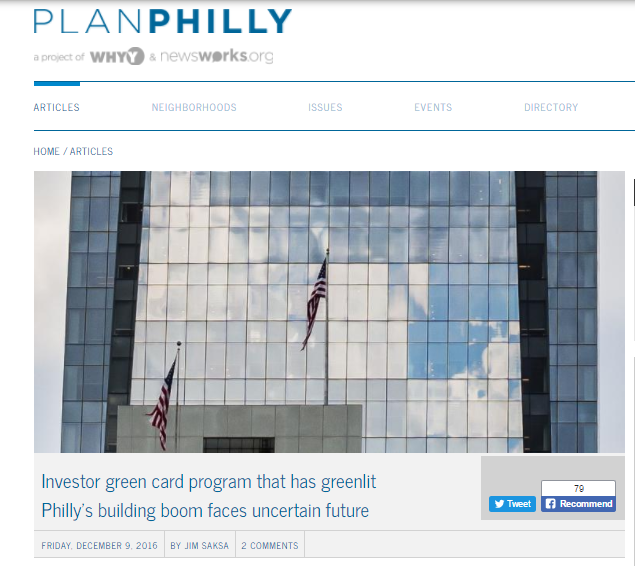 Not all immigrants arrive tired, poor, or huddled in masses. Some are quite wealthy and rely on a program that trades green cards for massive investments—foreign dollars that have helped spark and sustain Philadelphia's current building boom.
Over the years, the EB-5 immigrant/investor visa program brought Philadelphia more than $700 million in direct foreign investment, facilitating the construction of at least 50 significant projects.
But now the successful federal program—which helped pay for the Comcast Center, the Pennsylvania Convention Center, the Francis House of Peace, SEPTA's new fare payment system, and the redevelopment of the Navy Yard—faces uncertainty thanks to some critical Senators and an unpredictable President-elect.
The EB-5 Regional Center program is slated to expire on Friday, December 9th. If Congress fails to include it in an omnibus continuing resolution this month to fund the federal government into the spring, Philadelphia's current skyscraper construction frenzy may lose steam. Even if Washington keeps the Regional Centers alive, proposed legislative reforms could still kneecap the program's efficacy in Philly.
HOW AN OBSCURE IMMIGRANT/INVESTOR VISA PROGRAM TOOK OFF
Created in 1990, the EB-5 program offers green cards to foreign nationals (and their spouses and minor children) who invest at least $500,000 in a project that creates at least 10 direct jobs in either a rural area or a targeted employment area where unemployment is at least 1.5 times the national level. Most of Philadelphia falls under the latter designation.
At first, barely anyone used it. Then in 1992 Congress passed an ancillary law known as the Immigrant Investor Program, which allowed those EB-5 investors to invest through Regional Centers instead of directly into a particular enterprise and count the indirect jobs created. Acting as a middleman, Regional Centers pool investments from dozens of would-be immigrants and offer it as a tranche of financing to developers, making it easier for the investors to find projects and easier for developers to find investors. Even with that change in place barely anyone used it.
Until 2008.
The housing market collapse and the recession that followed tightened lending across the U.S. Suddenly, developers had to scramble to find new funding sources. Many of them found the EB-5 Regional Center program, the largely-forgotten, temporary supplement to the permanent EB-5 visa. Even though few used it, Congress continued to reauthorize the Regional Center program, extending its expiration date a few years at a time.
Philadelphia investors had a leg up on their peers. In 2003, a Canadian company that ran similar immigrant visa regional centers in the True North partnered with PIDC to open an EB-5 Regional Center, using foreign cash to convert some old Navy Yard buildings into a new headquarters for Urban Outfitters.
In the ensuing years, PIDC and CanAm Enterprises funded 27 projects with $645 million in direct foreign investment from EB-5 visa seekers.
"From the beginning of the program, Philly was probably the single biggest recipient of EB-5 money because of the active involvement of PIDC," says Ron Klasko, manager partner of the eponymous 15-lawyer immigration law firm.
In recent years, flourishing cities like New York, Los Angeles and Miami have caught up and surpassed Philadelphia in the number of projects financed in part by EB-5.
As the economy improves, the program's popularity continues to grow. It offers developers an extremely cheap source of financing. "We've invested our capital in the EB-5 program anywhere in [the area of] 1.75 percent to 3 percent interest," said John Grady, president of PIDC. "In the market, you might see interest rates [from] 3 [percent] to as much as 10 or 12 percent."
Most of the time, EB-5 funds only cover a part of a project's cost. According to Grady, that often is enough to make an otherwise unaffordable project make sense, in essence dropping a building's mortgage payments below the rents it will collect. For some projects, EB-5 financing is a "but-for" source of funds.
"Without that funding, SEPTA would have been unable to advance the modernization of our fare collection system," said Rich Burnfield, SEPTA's Deputy General Manager.
SEPTA used $175 million in EB-5 funds to start the slow payment system overhaul in 2011, back before Act 89's nearly doubled the authority's capital budget. Without the EB-5 financing through PIDC's Regional Center and the gas tax increase, SEPTA wouldn't be struggling to introduce SEPTA Key right now; It would be struggling to decide which Regional Rail lines to shut down.
EB-5 remains popular in Philly, even as the region must increasingly compete with other cities for investors. In 2015, the program hit its annual 10,000 visa limit for the first time ever. That number includes investors' families, which means the number of investors is closer to 3,000 or 4,000. United States Citizenship and Immigration Services, which runs EB-5 and the Regional Center programs, does not publicly provide summary data on the number of investors or the size of their investments. Some estimates suggest that Philadelphia's $700 million (itself a low-ball estimate from counting PIDC's investments and an incomplete list of other projects) may make up somewhere between 5 and 15 percent of all direct foreign investment through EB-5.
SEPTA expects to pursue $300 million in EB-5 funds over the next few years to fund a number of Regional Rail capital projects, said Burnfield. PIDC doesn't have any active construction projects funding by EB-5, but a handful of other Regional Centers in Philadelphia do, fueling the ongoing construction of Chinatown's Eastern Tower, Society Hill's 500 Walnut super-luxe condominiums, and the W/Element Hotel in Center City.
The increased competition for investor visas means the size of a project's EB-5 financing relative to other capital sources will decline, making the program less attractive to developers. The competition also risks upsetting investors. "If you're an investor from China, you may have to wait 7, 8 years to get into the US," said Klasko. "At some point, it'll collapse from its own weight; people won't wait that long."
The 10,000 visa limit makes EB-5 one of America's tiniest immigration programs. An analysis by the Bipartisan Policy Center suggested just 0.6 percent of lawful permanent residents used EB-5 for their green cards. That's why Klasko and other proponents want to see EB-5's visa cap raised. But on Capitol Hill, some Senators are eyeing different reforms, which may end up redirecting the flow of EB-5 money away from large cities like Philadelphia.
CHANGES EXPECTED IN 2017
Senator Patrick Leahy (D-Vt.) was one of the EB-5 program's earliest champions, but in recent years he started pushing for reforms with Senator Chuck Grassley (R-Ia.) to incentivize more EB-5 investments in rural regions.
Sen. Leahy's gentle push for reform sharpened to cutting criticism earlier this year after it was revealed that a Vermont-based Regional Center defrauded hundreds of foreign investors. Now Leahy goes so far as to prefer the program's demise over another expiration extension without reform, said his spokesman David Carle.
In addition to combatting fraud, the reforms pushed by Sens. Grassley and Leahy would increase the minimum investment in rural and high-unemployment areas from $500,000 to $800,000, add additional background checks to the visa process, and encourage more investors to look to rural projects, said Klasko. "There's no doubt, whatever the changes in legislation will be, there will be incentives built in for people to invest in rural areas."
According to a recent Government Accounting Office report, 97 percent of EB-5 petitioners intended to invest in "high unemployment targeted employment areas," meaning big cities. Just three percent said they would invest rurally.
The Targeted Employment Areas (TEAs) are areas where unemployment is at least 150 percent higher than the national average. Because Regional Centers themselves pick what their TEA is, they can gerrymander or expand the coverage to fit both struggling and booming areas. Philadelphia's unemployment rate is 7 percent as of September, just a shade under 150 percent of the United States' 4.8 percent. But with a few tweaks—keeping a struggling census tract while dropping one like Chestnut Hill, or adding tracts in towns like Chester or Camden—a Regional Center could invest in a project in booming Center City.
"Regional Centers tend to construct these boundaries in other to suit their needs," said Audrey Singer, a nonresident senior fellow at the Brookings Institution. "And so projects are often built in areas that aren't necessarily distressed and the intent of the program is not being served well." Reforms of how TEAs are determined could also help encourage more rural investment.
The Regional Center program in its current form still has its defenders. Senators Chuck Schumer (D-NY) and Jeff Flake (R-AZ) are outspoken advocates. Klasko thinks some sort of workable compromise will happen, but worries that changes by Congress may tip the scales too far away from cities.
"I think almost everybody I know in this industry would be willing to say 'Yes, it's fine to give some motivations to invest in rural areas,' but you don't want it done in such a way where there is such a disincentive for people to invest where they want to invest," said Klasko. "Is there a real need for a W Hotel in rural Iowa? Maybe not."
The Regional Center authorization doesn't specifically incentivize urban development. That's just where the real estate projects are: Almost all of America's population growth is concentrated in our largest metropolitan regions—the biggest cities and their suburbs—including Philadelphia. Rural towns and small cities are more often stagnant or shrinking.
Because the investors are motivated more by the visas than return on capital, they prefer safer investments like real estate and government infrastructure, both of which are concentrated in large metro regions.
Even with rural-focused incentives, cities will retain that advantage over their small town peers. And, Regional Center program or not, the developers, financiers, and lawyers familiar with EB-5 will still be concentrated in urban areas, lending another lingering advantage.
"Without the Regional Center designation, it's more cumbersome to attract capital, so it'll be more costly for urban centers like Philadelphia and our program in particular," said PIDC President John Grady. "But it doesn't mean that the program ends, it just means it would change."
PIDC, along with CanAm, would find a way to make it work. They'd still have CanAm's network of wealthy Chinese investors. Without the Regional Center designation, the investment structures would become significantly more complicated, driving up transactional costs. But it would still be worth it to save a few percentage points of interest on investments running into the tens or even hundreds of millions of dollars. The kind of projects you just don't see in Smalltown, U.S.A.
Klasko expects the Regional Center reauthorization to get included in an omnibus continuing resolution that will fund the federal government through the spring, when a deal packaging some reforms with a five or six-year reauthorization will be negotiated. On Thursday, the House passed the continuing resolution, Regional Center reauthorization included. The Senate is expected to pass the resolution late Friday.
Neither Sen. Pat Toomey nor Sen. Bob Casey responded to PlanPhilly's request for comment, although Casey's staff did note that reauthorization of the Regional Center program was included in the latest draft of the continuing resolution.
But all program watchers offered the same caveat to their predictions: President-elect Donald J. Trump.
"I don't pretend to be able to tell you what the administration—that doesn't even exist yet—view of EB-5 will be," said Klasko with a laugh.
Trump largely eschewed policy specifics on the campaign trail, and the obscure EB-5 program is no excpetion. The transition team did not respond to request for comment.
"We do know that one of the biggest things that the President-elect is trying to accomplish is job creation, and the only immigration program I know that creates jobs is EB-5," said Klasko.
Singer and Klasko also note that Trump has literally affixed his name to EB-5 development. Trump Bay Street, a 53-story condo tower in Jersey City, was developed by son-in-law Jared Kushner's real estate company with EB-5 funds. In recent years, Chinese investors have dominated the program, snatching up around 85 percent of the visas available. China has also been a favorite target of the President-Elect's scorn. (While some ultimately emigrate, many Chinese investors often use the program to secure visas for their children, to help them pursue secondary education in American universities, which are still widely considered the best in the world.)
While Kushner used EB-5 to build a Trump-branded luxury tower in a flourishing city full of young commuters who work on Wall Street, Trump himself found his biggest support in struggling small town America. Trump's promise to Make America Great Again resonated strongest in struggling counties like Luzerne and Erie, places where Obama's own pledges of Hope and Change carried the day in 2012 and 2008.
Regional Centers like PIDC will learn their short term fate sometime next week, when the Senate is expected to vote on the continuing resolution. If they are reauthorized, then the real fight will begin in the spring. In the grand scheme of U.S. immigration policy or overall direct foreign investment, EB-5 is small. But in Philadelphia, it's been literally transformative, helping reshape the city's skyline and drive investment at Navy Yard.
http://planphilly.com/articles/2016/12/09/investor-green-card-program-that-has-greenlit-philly-s-building-boom-faces-uncertain-future
Mentions
States
---
Securities Disclaimer
This website is for informational purposes only and does not constitute an offer or solicitation to sell shares or securities. Any such offer or solicitation will be made only by means of an investment's confidential Offering Memorandum and in accordance with the terms of all applicable securities and other laws. This website does not constitute or form part of, and should not be construed as, any offer for sale or subscription of, or any invitation to offer to buy or subscribe for, any securities, nor should it or any part of it form the basis of, or be relied on in any connection with, any contract or commitment whatsoever. EB5Projects.com LLC and its affiliates expressly disclaim any and all responsibility for any direct or consequential loss or damage of any kind whatsoever arising directly or indirectly from: (i) reliance on any information contained in the website, (ii) any error, omission or inaccuracy in any such information or (iii) any action resulting therefrom.