Congress soon could make it harder for rich people to move to the U.S.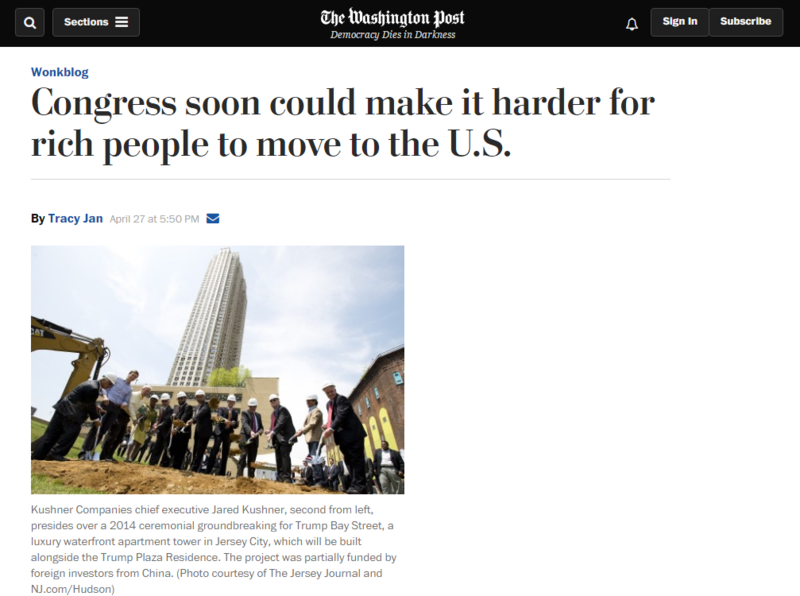 The original plan was to attract foreign investment to blighted neighborhoods. But instead, the controversial EB-5 investor visa enabled affluent Chinese to park their cash in high-end real estate in Beverly Hills, Calif. and Manhattan — benefiting developers such as President Trump and his son-in-law Jared Kushner.
Now the visa program criticized as "green cards for cash" faces a questionable future Friday, with some members of Congress refusing to reauthorize the expiring program unless there is significant change.
Proponents of the program argue that the investor visas provide much-needed capital for economic development. Critics say it encourages a two-tier immigration system favoring the rich over those fleeing wars, persecution and poverty.
"These are wealthy investors whose main goal is to secure the visa as quickly as possible," said Gary Friedland, a New York University scholar in residence whose research focuses on EB-5 capital. "The way to do that is to invest in the safest projects that are most likely to be completed in the shortest period of time."
Some lawmakers, as well as the White House, say lax government oversight has resulted in a visa program that is rife with fraud and abuse.
Sens. Charles E. Grassley (R-Iowa) and Patrick Leahy (D-Vt.) — the chairman and former ranking Democrat on the Senate Judiciary Committee — have proposed changes, along with their counterparts in the House. So too has the Department of Homeland Security.
Some members of Congress have threatened to let the program expire on Friday if their colleagues do not agree to immediate changes.
In January, Grassley and Sen. Diane Feinstein (D-Calif.) introduced a bill to eliminate the program.
"It says that U.S. citizenship is for sale," Feinstein said in a statement. "It is wrong to have a special pathway to citizenship for the wealthy while millions wait in line for visas."
Industry observers say the program is likely to be reauthorized under a short-term budget bill, separate from large-scale immigration reforms being hashed out with industry and the Trump administration.
The pending deadline presents a tricky political test for Trump. Both he and Kushner, a top White House adviser, have benefited directly from the visa program. Trump, who last week signed an executive order calling for an overhaul of high-skilled worker visas, has not spoken out much on EB-5 visas.
"It's a third-rail issue for the White House. They don't want to be seen as obstructionists to reform," said William Cook, former general counsel of the U.S. Immigration and Naturalization Service under George H.W. Bush when the EB-5 program was created. His law practice, Global Migration Law Group, represents foreign investors.
The White House issued a statement to The Washington Post this week saying that the Trump administration is weighing changes to the foreign investor visa program.
"There are serious concerns held by the administration regarding the EB-5 visa program, in part because it is not being used as it was primarily intended," said Michael Short, a White House spokesman. "The administration is continuing to evaluate reforms to the program, which we believe is in need of substantial repair."
Congress created the EB-5 citizenship pathway in 1990 as a way to provide jobs during a recession. The visa program guidelines require aspiring immigrants to invest either $1 million in a new business anywhere in the country that would create at least 10 full-time jobs — or put in half a million dollars in projects located in needy areas such as rural or urban communities with unemployment rates well above the national average. In exchange, the investor and immediate family members receive a two-year conditional green card.
The law does not define economically needy areas, and developers themselves often draw the boundaries, resulting in "gerrymandered" areas in which their projects are located in affluent communities, researchers said.
That is how the Beverly Hills Waldorf Astoria ended up as an EB-5 funded project, with $150 million in foreign investment by 300 investors at $500,000 each, according to a report by Friedland for the NYU Stern Center for Real Estate Finance Research.
It's also how Trump Bay Street, a 50-story luxury apartment complex built by Kushner Companies in Jersey City, was financed, according to a 2016 Bloomberg News report. A quarter of that project's funding — $50 million — came from EB-5 investors.
"The original intent was to establish an incentive for immigrants to invest in areas that can't otherwise attract conventional capital," Friedland said. "Instead, virtually all projects qualify. It's merely serving to enhance the returns for those developers."
Virtually all of the investors — 99 percent — choose the cheaper $500,000 route, according Rebecca Gambler, director of homeland security and justice issues at the Government Accountability Office.
The vast majority of the projects were located in urban communities that technically qualified as "high unemployment" because of the way the boundaries were drawn; only 3 percent were in rural communities, Gambler said.
About 10,000 EB-5 visas are issued each year; 85 percent go to Chinese nationals, according to federal data compiled by Invest in the USA, an EB-5 trade association. Vietnam, India, Brazil, Taiwan, South Korea, Iran and Venezuela follow as the next- largest contributors.
The foreign investment dollars are concentrated most heavily in California, New York and Florida, according to a January U.S. Department of Commerce report.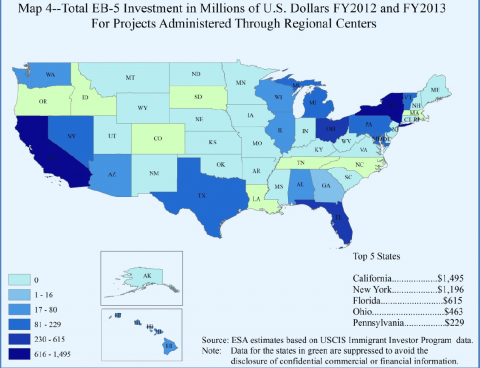 Source: U.S. Department of Commerce 2017 report
"It's immoral to be selling green cards," said David North, a fellow at the Center for Immigration Studies. "This is an income transfer program from rich Chinese to rich urban Americans. But there is very strong political interest in keeping this program alive."
Cook, of Global Migration Law Group, defends the program as just one of many ways immigrants come to the U.S., from family reunification to high-skilled worker visas. "I don't find anything wrong with a program whose central focus is investment in America."
In January, just a week before Trump was sworn into office, the Department of Homeland Security under President Barack Obama proposed new rules to preserve the visa program's original intent. Among them: Homeland Security, not states, would decide which areas qualify as economically distressed. The minimum investment amount in these areas would also increase to $1.35 million, up from $500,000. But Trump, upon assuming the presidency, immediately imposed a temporary freeze on all pending regulations.he
Grassley and Leahy have proposed similar changes. Minimum investment under their bill would rise to $800,000. A portion of EB-5 visas would be reserved for rural areas. And the bill would impose stricter criteria for how needy areas are defined.
But some industry representatives say the proposed regulations and legislative reforms would hurt economic redevelopment projects already underway.
In Miami, construction has begun on a 60-story luxury residence featuring a tai chi deck and feng shui design elements to attract Chinese investors. The skyscraper, nearly 10 percent of which was funded by foreign investors, is supposed to revitalize the city's Overtown neighborhood.
Daniel Kodsi, chief executive and developer of Paramount Miami Worldcenter, emphasized the economic ripple effects of entrepreneurial immigrants choosing to settle in this country. The EB-5 visa is simply the first step to other business ventures, he said.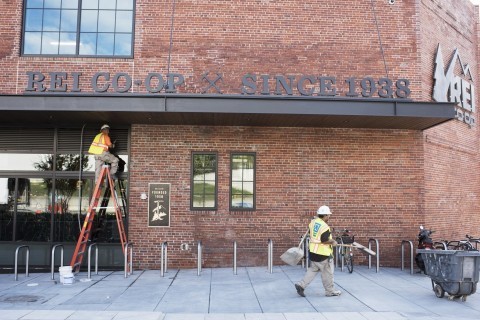 REI opened its flagship store in the District in 2016 in a real estate development project partially funded by foreign investors.
"Aren't these the types of immigrants we actually want in the United States?" Kodsi said. "Our good president talks about people stealing our jobs. These are immigrants who are actually creating jobs in America."
Washington has benefited from more than $250 million in EB-5 investments since 2011, said Angel Brunner, founder and president of EB5 Capital, which connects investors with development projects in 10 states plus the District — from the Sugarbush ski resort in Vermont to the Marriott Marquis hotel near the Walter E. Washington Convention Center.
More than half of that money has gone into the NoMa neighborhood north of Union Station, she said, where there was nothing but warehouses lining railroad tracks. An REI flagship store has sprung from a onetime trash-sorting depot and then parking garage on the site of the former Uline Arena.
"None of these projects would qualify under the proposed changes," said Brunner, who is also the spokeswoman for the EB-5 Investment Coalition. "This is an essential economic development tool. The availability of EB-5 money is critical to these projects because we are often in neighborhoods that are not investors' first choice or a bank's first choice."
Of the various visa programs, she said the EB-5 in particular can be more effectively deployed to bolster Trump's agenda, both in funding his infrastructure goals as well as revitalizing the rural and distressed urban communities he spoke so much about on the campaign trail.
"This is 100 percent aligned with Donald Trump's job creation rhetoric," Brunner said.
https://www.washingtonpost.com/news/wonk/wp/2017/04/27/on-friday-congress-could-make-it-a-lot-harder-for-rich-people-to-move-to-the-u-s/?utm_term=.7a29152f27c5
Mentions
States
---
Securities Disclaimer
This website is for informational purposes only and does not constitute an offer or solicitation to sell shares or securities. Any such offer or solicitation will be made only by means of an investment's confidential Offering Memorandum and in accordance with the terms of all applicable securities and other laws. This website does not constitute or form part of, and should not be construed as, any offer for sale or subscription of, or any invitation to offer to buy or subscribe for, any securities, nor should it or any part of it form the basis of, or be relied on in any connection with, any contract or commitment whatsoever. EB5Projects.com LLC and its affiliates expressly disclaim any and all responsibility for any direct or consequential loss or damage of any kind whatsoever arising directly or indirectly from: (i) reliance on any information contained in the website, (ii) any error, omission or inaccuracy in any such information or (iii) any action resulting therefrom.