H-1B visa holders in the US can invest $500,000 in an EB-5 entrepreneur visa, and get an immediate Green Card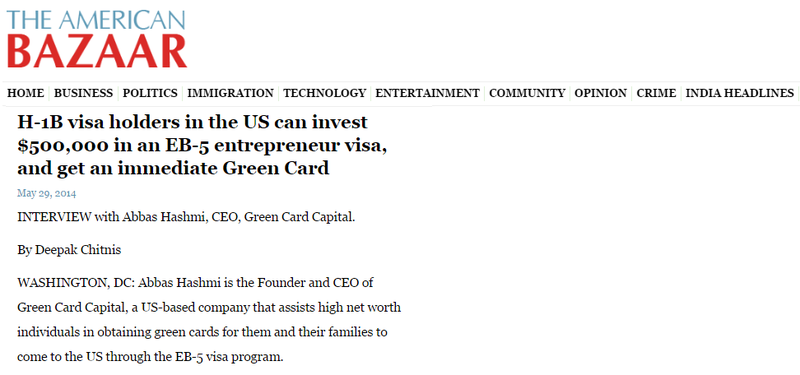 Abbas Hashmi is the Founder and CEO of Green Card Capital, a US-based company that assists high net worth individuals in obtaining green cards for them and their families to come to the US through the EB-5 visa program.
An investment banker by trade, Hashmi was born in Damman, Saudi Arabia, and began his career as a television host at the age of 17. He later obtained his M.B.A. from Karachi's Institute of Business Administration, and eventually became the Middle East Regional Manager for AIG Investment Bank.
From 2007-2010, Hashmi was the Associate Director of Private Banking for Ithmaar Bank. For a year after that, he was the Head of Institutional Relationships for a Royal Family Office in Qatar. In 2012, Hashmi decided to focus on his entrepreneurial ventures, opening up his Q&A Consulting, which focused on corporate and private businesses, as well as wealthy individuals, who looked to expand their businesses into the regions of South Asia, the Middle East, and North Africa.
Last year, Hashmi launched Green Card Capital, which he is currently operating full-time. His knowledge of banking and immigration is highly sought after, as Hashmi has been featured on CNN, The Huffington Post, The Examiner, and The Washington Times.
In an exclusive interview with The American Bazaar, Hashmi discusses the genesis of Green Card Capital, how to navigate the pitfalls of obtaining an EB-5 visa and starting a business in the US, and shares his thoughts on immigration reform.
Excerpts from the interview:
How did the idea for Green Card Capital come about?
Back in 2013, I was working with a family office based in Qatar, and a friend of mine mentioned that there is a program in the US that allows high net worth individuals to start a business in the US, and get a green card in the process. And when I first heard this, to be honest, I thought it was a sham, because the amount they were talking about at that time was half a million dollars. To come to America and build a business and live the American dream for just that much sounded too good to be true, so I didn't pay it too much thought.
About three months later, I was back in New York, and the same friend from Qatar phoned me up and said "Hey, I'm in the US, I got a green card, I told you the program really works." And then he started telling me that I should start a business that deals with this kind of thing, because I'm an investment banker and I understand the financial side of these things that many people who come to the US under this program don't.
Once he got me thinking about this business idea, then came the idea of collaborating with immigration attorneys, and how bringing people into the US to create businesses would help the economy. I was still a bit hesitant, but my friend just pushed and pushed and pushed until I finally realized he was probably right. So the long and short of it is that the idea for Green Card Capital really came from this friend.
GCC officially started in December [of 2013], and within a month we were getting inquiries from potential clients all over the world – India, Bangladesh, Malaysia, Indonesia, the Middle East, Pakistan, Egypt.
Talk us through a typical relationship with a GCC client, in terms of how GCC and a client first get in touch, to when the client successfully obtains a green card and is settled in the US.
There are three different ways that GCC obtains clients. The first is our referral program, which is very strong. People who are our existing clients, or previous clients, or who want to be our clients, we service these individuals and then they go out and tell others about us, which brings in a significant amount of business.
The second way is that we try to sponsor and attend events where there are a lot of high net worth individuals. These can be at places like fundraisers, country clubs, chambers of commerce, and so on. We also like to sponsor events like golf tournaments, thing like that.
The third way is just advertising. We look at industry-specific magazines and publications, and we advertise in those to make sure our name gets out to the people that we most want to reach. So it really works both ways, in terms of us reaching out to potential clients, and them coming to us.
In terms of the process itself, that typically takes anywhere from eight to 12 months. The first step is for the client to schedule an appointment with us. We host seminars in major cities around the world, and these individuals attend these seminars to get more information about GCC and what we do. If they're unable to attend one of these, we try to schedule something over Skype or I meet with them individually, if I can.
These meetings take 15-20 minutes, and we ask them questions about what they want to accomplish by coming to the US, their net worth and how much they're able or willing to invest, and so on. The client completes an assessment form, and once they're pre-approved, we send them an invoice and begin the process once that invoice is paid.
So what GCC does, at that point, is connect the client with people and parties in the US that can help them with their investment goals. Each person's case is unique, so we advise our clients based on their specific attributes. We help them figure out the smartest and safest investment choices. And there's two main things GCC looks at in all this: how entrepreneurial the client is, and the immigration side of it, meaning where do they want to live in the US.
We take into consideration what their idea of the US is, in terms of what they want their lifestyle here to be, what their English proficiency is, and so on. We file their documentation, help them navigate the immigration and EB-5 process, and about eight months later they obtain a green card. And then, of course, once they land in the US, they have access to our other resources to help them re-locate, find good schools, and so on.
For GCC to consider a potential client a "high net worth individual," what is the benchmark amount they need to have in order for GCC to look at them?
Typically, $500,000 is the minimum the client must be willing to invest in the US.
For the US government, particularly the Securities and Exchange Commission, their definition is: anyone who has an individual net worth, or joint net worth with the person's spouse, that exceeds $1 million at the time of the purchase, excluding the value of the primary residence of such person; or a person with income exceeding $200,000 in each of the two most recent years or joint income with a spouse exceeding $300,000 for those years and a reasonable expectation of the same income level in the current year.
There are some people who try to get around these things, and we've dealt with potential clients like that. For example, if someone from New Delhi wants to come here, but their only way of securing enough money is to sell off all their property in India, as a financial advisor we sit with them and tell them that that's not smart, that they're putting all their eggs in one basket, and that this really isn't the right program for them.
Anyone coming to the US to start a business is taking a huge financial risk, so we make sure that our clients not only understand that, but are able to continue on with their lives in the event that their business doesn't work out, for whatever reason. So clients need to understand that risk, and be willing to work with our professionals to manage those risks.
What kinds of tax implications do your clients face by coming to the US and obtaining green cards through the EB-5 program?
Well, there are several countries that have tax treaties with the US, and then there are other benefits like avoiding double taxation. But generally, US permanent residents are exposed to some of the highest amounts of taxes in the US, so that's naturally a consideration for a lot of our clients.
But for our clients, things like taxes are not too important when they're making their decision to come to the US. While the business is certainly a large part of it, most often their reasons for coming are for the lifestyle, getting high-quality education for their children, healthcare for their parents, things like that.
GCC works with one of the leading mortgage fund companies in the world, Mazars, which has offices in 110 countries. Our clients work with Mazars advisers in their own countries learn about the tax impact of moving to the US, and determining the best financial routes for them to take.
There's been a recent push, especially from China and Russia, of people buying land in the US to help facilitate their eventual immigration to the States. Is that a common practice in the countries you typically work with, especially in India and South Asia?
Buying property, in and of itself, will not help in any way to obtain a green card. When people do this, from China or Russia or any other country, they're typically doing it to facilitate their lifestyle here. For example, they have a child studying in the US, and rather than having them stay in a hostel, they just buy a place for them to stay in for however many years they're studying in the US. But this doesn't help them with immigration at all.
I see a lot of Chinese EB-5 holders, or EB-5 investors, putting money into funds and things of that nature. But typically there isn't a lot of investing in property or land in the US, especially with individuals from South Asia.
If someone wants to come to the US to start a business from the ground-up, they get the EB-5 and green card and they're here building the business, and then it folds – what happens to them and their green card/visa status in that situation?
The green card doesn't get affected. Under EB-5, the holder has a two-year window to make sure that their business is up and running, and is sustainable. After two years, if you want to get another job or work somewhere else, that's obviously completely dependent on your visa and green card status. There are some situations in which, after two years, the green card could get affected based on compliance standards and such things that may or may not have been met, but generally such things won't affect green cards.
In my experience, I try to advise my clients to start small, so that they avoid situations like this. For example, if money is relatively low and English is not their strength, I advise them to open franchises, like a Dunkin' Donuts. The hours are long but they have family to help them out, and the franchise model is generally low-risk, high-yield. Once they get the hang of operating a franchise and they start making good money, they can expand from there.
Do the provisions for a business change at all if the EB-5 holder settles down in an urban area versus a more rural area? And do your clients typically want to go to more urban areas, or are they willing to settle down in suburban or rural places if necessary?
Generally when people are coming from emerging markets, they already have family and friends in the bigger cities, so that's where they want to go. These cities tend to be New York, Los Angeles, Houston and Miami; these are the big immigrant markets.
Some people, however, come to these cities and realize that their businesses just aren't working; they're not servicing the niche they wanted to, the cost structure does not justify being in a big metro like New York, so they move out. But they don't really move out to completely rural areas, but the suburban areas just outside of these major cities.
With regards to differences in investing in rural areas instead of urban – that's correct. If you invest in a more rural area, you're allowed to invest a lower amount of around a half-million dollars. But if you go to New York City and invest, you're going to have to invest around $1 million to get the same green card. Or, if you invest through a fund, you get the same benefits as having invested a half-million dollars.
But it all boils down to lifestyle. Some people don't mind investing the lower amounts and starting out in the rural areas, but many people come here for the lifestyle. They want to be in an active area, be involved with their business, and settle down in a major city – they just have to be willing and able to put up the requisite money.
If someone is in the US already on an H-1B visa, and decides they want to invest $500,000 or more in a fund or to start a small business, would they be eligible to switch from an H-1B to an EB-5 visa under the provisions of the investment visa program?
Yes, this is possible. However, one has to be careful as to not violate the terms of the H-1B visa while actively involved in the EB-5 business. The [USCIS] Regional Center program provides a solution for this, but you would not be managing any business actively under such an option. An expert immigration attorney can look into your case and suggest a course of action best suited for you.
Just a couple of general immigration questions – President Obama has made a recent push for increasing investment visas to gain capital inflow to the US. What are your thoughts on that?
I think it's great. A new economic impact study commissioned by the Association to Invest in the USA ( IIUSA ) finds that the U.S. EB-5 immigrant investor visa program contributed $3.39 billion to U.S. GDP and supported over 42,000 U.S. jobs during fiscal year 2012. This is more than a 2-fold increase from the average annual impact result reported in 2011.
Then there are other program like the E-2 and E-1; if you add them up, the total comes out to even more, with 130,000-140,000 jobs created right there. And that doesn't even count the applications that are still pending at the moment with the USCIS; once those applications are approved, tens of thousands of jobs will be created. So it's job creation – so that's good reason number one.
Number two is that people think foreign investors come in and take away jobs. That's false – they actually create jobs. Immigrants coming to this country and starting businesses only boosts the economy, because they need to hire employees for these companies they create.
This [investment visa] program has been around for about 20 years, and the good definitely outweighs the bad. Looking at the future of the program, I think we'll continue to see great things come from it.
Looking at the immigration reform bill – it has provisions that will raise the H-1B quota for India, but several analysts have said that such a measure would hurt the US because Silicon Valley and these major IT companies are just using these visas for cheap labor. What are your thoughts on that?
These H-1B visas are being used because there's a shortage of high-skill workers here in the US. I run a successful business here in the US, and in other countries, too. If I'm going to hire someone for my offices in the US, I'm going to hire someone in the US – it's just easier. People might sponsor a cousin or a brother or whomever, but it doesn't make sense for these companies to go to the trouble of hiring foreigners on H-1B visas and dealing with all of that unless they really need to. For me, I'm not going to sponsor someone to come to the US and work for me unless I really see a value in doing so.
But what about reports that say the average salaries in Silicon Valley have not gone up since the 1990s, or that there are twice as many STEM graduates in the US as there are jobs available to them? What accounts for that discrepancy? Is H-1B really being used for cheap labor? I find it hard to believe that US schools can't produce these high-skilled workers…
You're absolutely right. And the problem is, if you're an H-1B holder, you really don't have a lot of flexibility in terms of choosing who you work for. You're kind of stuck where you are until you can find another employer who is willing to sponsor your visa. And if you can't, then your chances of staying in the US diminish.
So yes, the reform should address all of the problems you outlined. If employers are exploiting these workers, that needs to be resolved. But if I'm an IT company, and I need some kind of developer that I can't readily find here in the US, I should be able to look elsewhere for such talent. Why is the government trying to stop me from doing what I need to do to make sure my business stays competitive? It's a very tricky issue.
Do you think that immigration reform will get passed in 2014?
Yes, I think so. I won't say that it definitely will, but at the very least, we will start to see some traction in the coming months.
https://www.americanbazaaronline.com/2014/05/29/h-1b-visa-holders-us-can-invest-500000-eb-5-entrepreneur-visa-get-immediate-green-card/
Mentions
States
---
Securities Disclaimer
This website is for informational purposes only and does not constitute an offer or solicitation to sell shares or securities. Any such offer or solicitation will be made only by means of an investment's confidential Offering Memorandum and in accordance with the terms of all applicable securities and other laws. This website does not constitute or form part of, and should not be construed as, any offer for sale or subscription of, or any invitation to offer to buy or subscribe for, any securities, nor should it or any part of it form the basis of, or be relied on in any connection with, any contract or commitment whatsoever. EB5Projects.com LLC and its affiliates expressly disclaim any and all responsibility for any direct or consequential loss or damage of any kind whatsoever arising directly or indirectly from: (i) reliance on any information contained in the website, (ii) any error, omission or inaccuracy in any such information or (iii) any action resulting therefrom.