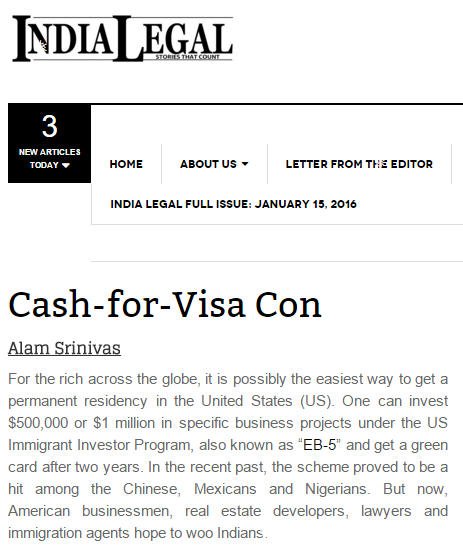 For the rich across the globe, it is possibly the easiest way to get a permanent residency in the United States (US). One can invest $500,000 or $1 million in specific business projects under the US Immigrant Investor Program, also known as "EB-5" and get a green card after two years. In the recent past, the scheme proved to be a hit among the Chinese, Mexicans and Nigerians. But now, American businessmen, real estate developers, lawyers and immigration agents hope to woo Indians.
WARNING bells: US Senator Charles E Grassley had investigated into fraud in EB-5 visa program by regional centers in 2012 and 2013.
Aginsky Consulting, a boutique investment advisory, hopes to raise $50 million from Indian high net worth individuals. The firm has entered into a marketing deal with Liberty Regional Center (LRC), which plans to construct Hyatt House and Hyatt Place Hotel in San Diego (California) and Capital District Marriott Hotel in Omaha (Nebraska). Aginsky says the center has helped more than 40 global investors to obtain permanent residency in the US.
But before you reach out for the phone to wire transfer the amount, wait a while. Although LRC may be a genuine investment, scores of fly-by-night operators and conmen have fooled hundreds of foreigners in the past. In most cases, they transferred the money into their personal accounts or spent them on their own projects. In others, the conditional visas given to the foreign investors and their families were revoked and they were asked to leave America.
In October 2013, US stock market regulator Securities and Exchange Commission (SEC), issued a joint alert with US Citizenship and Immigration Services (USCIS). It warned "individual investors about fraudulent investment schemes that exploit" the immigration program. It suggested a set of steps that an investor needs to follow in order to ensure the safety of his money. It concluded that "if your investment through EB-5 turns out to be fraudulent… you may lose both your money and your path to lawful permanent residency…."
Six months ago, the US Department of Homeland Security (DHS) pointed out other problems with EB-5. It found loopholes in the schemes related to the program, and weaknesses in the working of USCIS, which manages EB-5. The department's report stated that "USCIS is limited in its ability to prevent fraud or national security threats that could harm the US." Senator Charles E Grassley had initiated EB-5 related investigations against USCIS and senior officials in 2012 and 2013.
The US Congress created the immigration investor program, also known as Employment-based Fifth (EB-5) Preference Program, in 1990. Three years later, a new concept—regional centers—was added. These centers allowed American promoters to pool money from foreigners, who wished to get a Green Card, and invest in new projects in defined geographies and industries. It is the regional centers that have largely been prone to scandals and manipulations.
As per the policy, a foreigner can put in $1 million in a center, or $500,000 in one located in specified high-unemployment areas, to apply for a conditional permanent residency. Even spouses and minor unmarried children are allowed to apply. The USCIS grants the residency after checks related to security and source of money. However, after two years the investor has to prove that the center created a minimum of 10 new jobs for US citizens. If there are 10 foreigners, who pooled their money in a center, the latter has to create at least 100 jobs. Only when this is conclusively proved does the USCIS remove the conditions imposed on permanent residency. If the investor is unable to prove it, the investor and his or her family are deported.
Fraudulent Centres
Anshoo Sethi raised over $150 million from 250 investors, mostly Chinese, for Chicago Convention Center and International Regional Center Trust. He promised to build the world's first zero carbon emission hotel and conference center. He submitted false documents to the USCIS; these claimed that Hyatt, Intercontinental Hotel and Starwood Hotels would participate in the project. He funneled $2.5 million to his personal bank accounts in Hong Kong.
US promoters used the immigration program to funnel money into their personal accounts or projects. Foreigners given conditional visas were later asked to leave the country.
A Texas-based couple, Marco and Bebe Ramirej, promoted USA Now regional center and falsely promised investors an annual return of 5 percent. However, the money was partly used to start personal business, a Cajun-themed restaurant. The duo, who wooed Mexicans, Egyptians and Nigerians, also used the money to run a ponzi-like scheme to pay existing investors.
South Dakota Regional Center went bankrupt in July 2013 after it had wooed 160 investors to start a beef-processing unit.
The worst case was that of Beverly Hills' lawyer Bruce Cole, who wanted to build a sucralose (artificial sweetener) unit in Moberly, Illinois. Missouri's Governor, Jay Nixon, stood on stage with the lawyer to announce the public-private partnership. However, Cole wanted to use the EB-5 money to repay the $39 million he had borrowed from the town of Moberly. Construction ceased in September 2011, and SEC filed a suit against him a year later.
Most of the foreigners, who were duped in such centers, were Chinese. American lawyers contend that the Chinese market is attractive "not just because of the large demand there, but also because it is possible to simply buy investors regardless of whether you have a sound project or not." Chinese investors look to their personal network of friends and acquaintances for advice. This gives the local emigration agents, which have expanded exponentially, a huge advantage in recruiting investors.
The rot within : According to Yurop Shrestha, vice president (south asia), Aginsky Consulting, of the 450 regional centers the majority are defunct or promoted by newcomers who wish to get rich fast.
Says Yurop Shrestha, Vice President (South Asia), Aginsky Consulting: "Around 450 regional centers were approved by USCIS. Of them, almost half are defunct, i.e. they have the approvals but have not started any work. Of the remaining 200-250 centers, 10 percent are managed by reputed firms with 30-40 years of experience, 40 percent by mid-tier promoters with 10 years of experience, and the remaining ones are newcomers, many of whom possibly wish to get rich fast."
He adds that 70-80 percent of the centers wish to construct real estate projects, such as malls, hotels, and residential and commercial complexes. There may be some innovative ones like solar energy. Most of the promoters of the centers are obviously real estate developers; but some were started by lawyers, who provide immigration services to the investors.
National Security
One of the main issues that Grassley's investigations raised related to security, terrorism and tainted money in the EB-5 immigration program. For instance, in one of the emails, the senator said that the USCIS did not inform the Federal Bureau of Investigation (FBI) that its "newly-constructed San Diego field office was built with funds from Chinese investors through the EB-5 Regional Center program." Molasky Group, the Las Vegas-based real estate firm that built this office, constructed other FBI field offices in Cincinnati, Minneapolis and Portland.
What was more worrisome was a multi-agency memo that the senator received from a whistleblower. In one case, "there were concerns that a company receiving EB-5 regional center funds could use the program to allow 'Iranian operatives to infiltrate the United States', and these Iranian agents "did transfer 'sensitive electronics from US firms with a suspected ultimate destination of Iran'…." Two employees, who worked for a regional center, were arrested for smuggling opium and proposed terrorist operations in Sri Lanka, Thailand and Georgia.
Bebe and Marco Ramirej
The couple promoted the USA Now regional center. They cheated Mexicans, Egyptians and Nigerians to run a ponzi-like scheme.
This was not it. Mafia and underworld had expanded its tentacles into the EB-5 program, as USCIS did not "expressly prohibit persons with criminal records from owning, managing and recruiting for regional centers". The memo highlighted other security concerns in the program that extended from "money laundering and tax evasion to investor fraud and document fraud". Political influence was evident; in the case of Gulf Coast Funds Management, the main promoter was the brother of Hillary Rodham Clinton, the former First Lady and former Secretary of State.
Incompetent USCIS
DHS concluded that the USCIS had little idea about the impact of the program. The latter claimed that since 1990, it had attracted $6.8 billion investments and created 49,000 jobs. According to DHS report, "USCIS was only able to speculate about how foreign investments are affecting the US economy and whether the program is creating US jobs as intended." There was no mechanism within USCIS to ensure that the funds were used to create new US jobs.
USCIS internal policies can be vague. The Victorville Regional Center completed 90 percent of the construction of a waste water treatment facility before it got foreign funds. The immigration agency ruled it could not claim these jobs on behalf of foreigners, as this was a case of "job preservation" and not "job creation". Lake Buena Vista regional Center's claim and methodology on job creation was questioned by USCIS, and its approval was terminated.
Anshoo Sethi
He raised over $150 million from 250 investors, mostly Chinese, to build a hotel and convention center. $2.5 million went into his account.
Grassley found evidence that USCIS officials "facilitated and assisted an (EB-5) applicant… after the petitioner was initially found to be ineligible for the program." After Gulf Coast Fund Management's application was denied by USCIS, its director Alejandro Mayorkas wrote an email that "from a political standpoint this R(egional) C(enter) is 'well connected'." The center's promoter and project's chairman were connected to the Clinton family and Democratic Party.
So, if you are approached by an immigration agent who guarantees a Green Card if you invest in a regional center, go to http://www.sec.gov/investor/alerts/ia_immigrant.htm to find out how to check the credentials of a center and its promoter.
http://indialegalonline.com/cash-visa-con/
Mentions
States
---
Securities Disclaimer
This website is for informational purposes only and does not constitute an offer or solicitation to sell shares or securities. Any such offer or solicitation will be made only by means of an investment's confidential Offering Memorandum and in accordance with the terms of all applicable securities and other laws. This website does not constitute or form part of, and should not be construed as, any offer for sale or subscription of, or any invitation to offer to buy or subscribe for, any securities, nor should it or any part of it form the basis of, or be relied on in any connection with, any contract or commitment whatsoever. EB5Projects.com LLC and its affiliates expressly disclaim any and all responsibility for any direct or consequential loss or damage of any kind whatsoever arising directly or indirectly from: (i) reliance on any information contained in the website, (ii) any error, omission or inaccuracy in any such information or (iii) any action resulting therefrom.