10 things you didn't know about 'immigration for the 1 percent'

An EB-5 visa means that $500,000 can buy U.S. citizenship.
A little-known employment-based visa program has soared in popularity in recent years. The EB-5 Immigrant Investor Program gives green cards to wealthy foreigners who invest in commercial enterprises and create 10 full-time U.S. jobs.
In a two-part series, airing this Tuesday and Thursday, Making Sen$e reports on how wealthy individuals can emigrate to the United States. You can watch the first report at the bottom of this page. But first, here are 10 things you didn't know about EB-5:
1. You can jump to the front of the line if… you have $500,000 or $1 million to invest.
For wealthy foreigners looking to come to the U.S., the EB-5 immigration visa is an easy solution. In return for investing $500,000 in any new U.S. commercial enterprise in a "targeted employment area," the U.S. government will grant green cards to the investor and his or her family, provided the investment creates 10 U.S. jobs.
The investor also has the far less popular option of investing $1 million in any new U.S. commercial enterprise regardless of its location.
2. Where do these EB-5 investments go? Nearly everywhere: 44 states, the District of Columbia and Guam.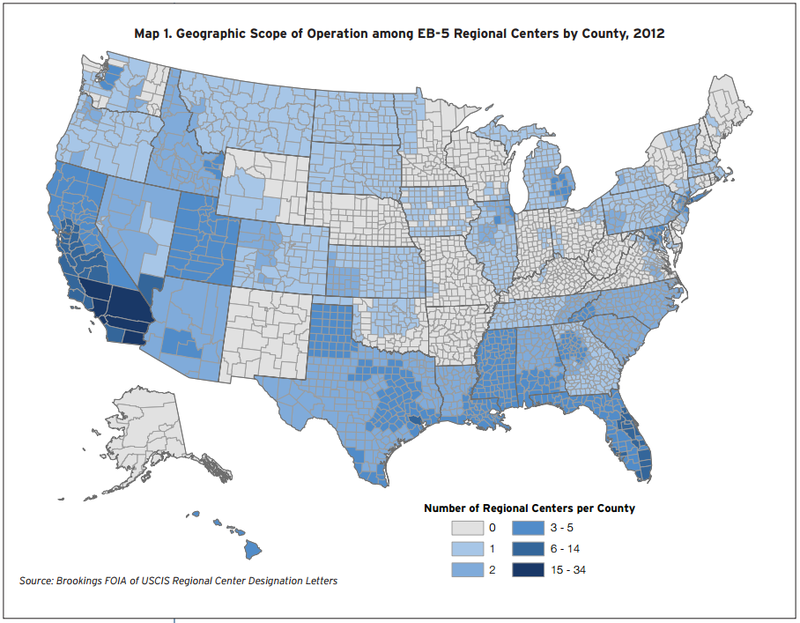 This map from a Brookings-Rockefeller report shows that nearly every state in the U.S. has profited from EB-5 investments. (Note that the data end in 2012.) Through "regional centers" in these 44 states, the District of Columbia and Guam, wealthy foreigners can invest in targeted employment areas.
3. A "targeted employment area" can include parts of high-rent midtown Manhattan.
That's because the area can be drawn in creative ways.
"This has been done by 'gerrymandering' the boundaries of the Targeted Employment Area to include, at one end, the affluent census tract in which the building project is located, and at the other end, perhaps many miles away, a census tract with high unemployment," said Sen. Chuck Grassley (R-Iowa) in a statement to Congress.
"The statute, for better or for worse, leaves it up to each state to decide how to designate these high unemployment areas," said Stephen Yale-Loehr, an immigration law professor at Cornell University and founder of Invest In the USA, an industry trade association for the EB-5 Regional Center Program. "It's up to states to decide how liberal or restrictive they want to be in terms of where they want to draw the lines."
Technically, the EB-5 targeted employment area must have an unemployment rate of at least 150 percent of the U.S. national average.
As a result, New York City can end up with a targeted employment area that includes Manhattanville Houses, a public housing project in West Harlem, and the ritzy Hudson Yards in midtown, the biggest real estate development in U.S. history, which is partly funded by EB-5 investments. The Wall Street Journal reported that in 2012, the unemployment rate in the census tract that includes Hudson Yards was 4.5 percent — that is, below the national average. By combining four more census tracts, including part of West Harlem, the unemployment rate of the new targeted unemployment area shot up to 18.1 percent.
4. EB-5 visas became wildly popular after the 2008 market crash.
First, a little background: The program was created in 1990 to "stimulate the U.S. economy through job creation and capital investment by foreign investors," according to the Department of Homeland Security. In 1992, a pilot program was introduced, in which applicants could invest in "regional centers" — government-certified, but privately-run operations — that pool EB-5 money for development projects. The program has regularly been reauthorized.
For the first 18 years of its life, the EB-5 program was rarely utilized. With the advent of the Great Recession in 2008, things changed. Banks weren't lending money as they previously had, and businesses were grasping for capital.
By 2008, businesses and developers in particular began turning to EB-5 investments for a cheap source of capital. In 2003, 64 EB-5 visas were issued. In 2008, that number jumped to 1,300.
And in April of this year, the EB-5 visas hit their annual quota of 10,000 visas for the second year in a row. The wait for an EB-5 visa has now stretched to an estimated two to three years.
5. Chinese nationals make up the great majority of those coming to the U.S. via EB-5 visas.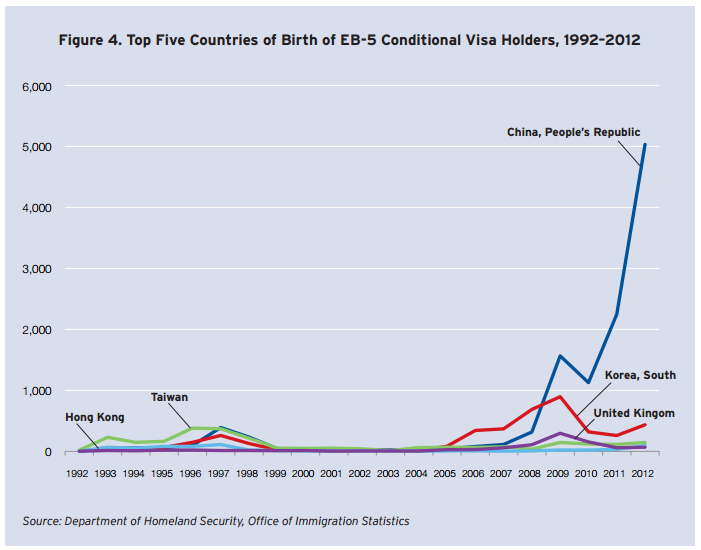 About 90 percent of EB-5 visas granted in 2014 — a total of 8,308 visas — went to Chinese nationals.
Among the leading reasons Chinese millionaires apply to the EB-5 program in large numbers: desire to escape rampant pollution and to provide an American education for their children. NewsHour's P.J. Tobia talked with supporters and critics of the EB-5 program in his Shortwave podcast earlier this year:
6. It's overseen by the U.S. Citizenship and Immigration Services agency.
Critics have questioned whether the U.S. Citizenship and Immigration Services, an agency that's meant to issue visas, not money, is equipped to effectively monitor business investments.
This fear is not unfounded. In July 2014, this investigative piece by Fortune Magazine on the EB-5 program detailed the case of a man who fraudulently raised $160 million from nearly 300 Chinese investors in Chicago. The man siphoned off a portion of the funds for himself, which he spent on luxury goods and to fund a cosmetic surgery business. It took a whistleblower to raise the red flag on this case.
Yale-Loehr notes that the U.S. Citizenship and Immigration Services now has economists on staff and has been working with the Securities and Exchange Commission to stop fraudulent securities offerings.
7. It was created to compete with Canada's immigrant investor program.
The U.S. government created the EB-5 program in 1990 to compete with Canada's immigrant investor program, which had been around for four years already. It, too, was immensely popular with wealthy Chinese businessmen.
There were a few key differences in the programs, however. Canada's program required wealthy foreigners to loan money to the government and did not require that the investment create any jobs. Critics felt that the government did not use the funds appropriately.
Citing little economic benefit, Canada decided to discontinue it in 2014. Later in 2015, the government decided to begin a new pilot program that required investments of $2 million in Canadian-based startups.
8. If a wealthy foreigner invests in an EB-5 regional center, it suffices to show that they have indirectly created 10 full-time, U.S. jobs.
In 2014, the U.S. Citizenship and Immigration Services estimates that the EB-5 program created 49,000 jobs since 2012. Yale-Loehr contends that while some doubt the estimates of EB-5 program job creation, the calculation methodology is valid.
"But," said David North, a Fellow at the Center for Immigration Studies and longtime critic of the program, "you can, using any reasonable methodology, add in indirect creation of jobs. That's a loophole that allows the program to go forward."
What are "indirect jobs"? Those "shown to have been created collaterally or as a result of capital invested in a commercial enterprise affiliated with a regional center by an EB-5 investor." In other words, if you as an investor helped put up a building and a supermarket opens up next door and hires 10 people, you can say that your investment is responsible for those 10 jobs.
9. It's up for reauthorization on Dec. 11.
The EB-5 program was originally up for reauthorization in September. After being temporarily extended, Congress is looking to take up the EB-5 reauthorization before it expires on Dec. 11.
Which bring us to this next point…
10. EB-5 is popular on both sides of the aisle.
Despite criticism of the program, EB-5 is one of the few immigration programs that has received bipartisan support. As Yale-Loehr notes, everyone likes seeing jobs created in their district at no expense to the U.S. taxpayer.
Senators Chuck Grassley (R-Iowa) and Patrick Leahy (D-Vt.) have introduced a bill to amend the program and increase transparency and oversight to prevent fraud. The bill would raise the minimum investment from $500,000 — where it's been since the early 90s — to $800,000 and prevent future gerrymandering of targeted employment areas. The EB-5 program would be reauthorized for five years.
But, says Sen. Dianne Feinstein (D-Calif.), citizenship should not be for sale. In a Roll Call op-ed, Feinstein stated: "The bottom line is that the EB-5 regional center program sends a message that American citizenship is for sale…. When the program comes up for renewal in December, Congress should allow the program to die."
It is, however, unlikely that Congress will let the program die. Grassley-Leahy's bill will likely be attached to the omnibus appropriation bill due Friday, according to informed sources. Whether Congress will be able to address it this Friday or not remains a question, and there may be another one-week extension.
http://www.pbs.org/newshour/making-sense/10-things-you-didnt-know-about-immigration-for-the-1-percent/
Mentions
States
---
Securities Disclaimer
This website is for informational purposes only and does not constitute an offer or solicitation to sell shares or securities. Any such offer or solicitation will be made only by means of an investment's confidential Offering Memorandum and in accordance with the terms of all applicable securities and other laws. This website does not constitute or form part of, and should not be construed as, any offer for sale or subscription of, or any invitation to offer to buy or subscribe for, any securities, nor should it or any part of it form the basis of, or be relied on in any connection with, any contract or commitment whatsoever. EB5Projects.com LLC and its affiliates expressly disclaim any and all responsibility for any direct or consequential loss or damage of any kind whatsoever arising directly or indirectly from: (i) reliance on any information contained in the website, (ii) any error, omission or inaccuracy in any such information or (iii) any action resulting therefrom.