Need a fast track to citizenship? Invest in these Orange County luxury hotels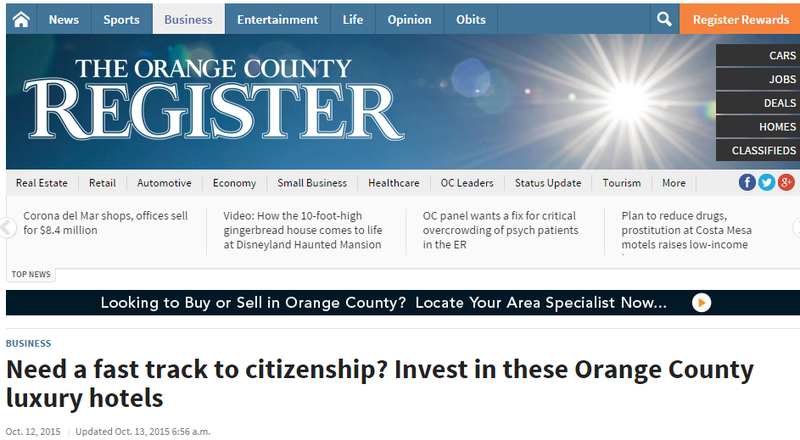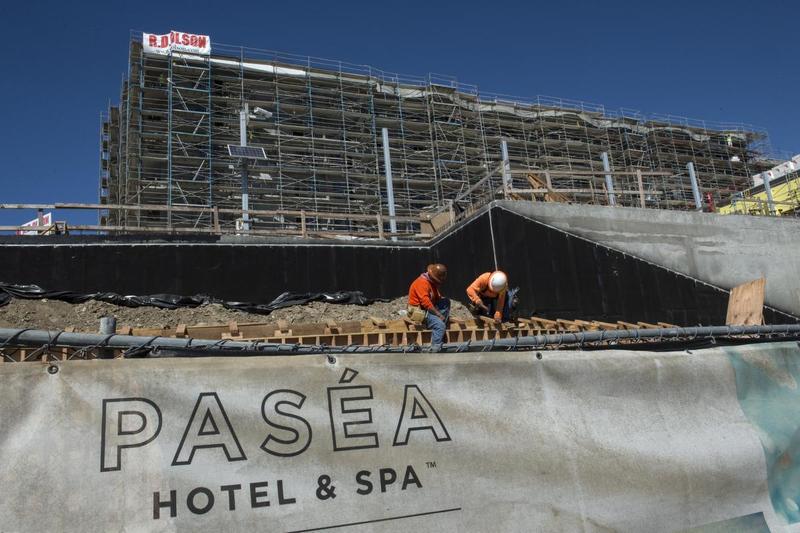 The Pasea Hotel, rising just "steps from the Huntington Beach pier," offers the ultimate in luxury.
Restaurants, bars and suites feature ocean views. Guests paying more than $300 a night can relax in a Balinese-inspired spa. Surf instructors are waiting "at the touch of a button."
The hotel, under construction at the new Pacific City mall, sits in one of the swankiest spots on the coast.
On paper, however, it's part of a high-unemployment zone, worthy of special federal treatment originally reserved for rural and blighted areas that struggle to attract development dollars.
The Pasea Hotel is one of five Orange County developments qualifying as "targeted employment areas," or TEAs, under the federal EB-5 program. The controversial program gives green cards – and a fast track to citizenship – to foreigners who invest in job-creating projects in the U.S.
And, visa reform proponents maintain, it's one of two high-unemployment zones in the county created through gerrymandering of census tracts.
The TEAs formed to support the Pasea Hotel and a Buena Park mall called The Source both string together census tracts that stretch 9miles across several cities to connect luxury lodging and shopping with ZIP codes that have high unemployment.
The Pasea Hotel TEA sports an additional oddity: It reaches across Costa Mesa and Newport Beach to take advantage of the census tract that, on paper at least, had Orange County's highest unemployment rate in 2012 – UC Irvine.
Due to a glitch in how unemployment was calculated for the campus – since fixed – state officials listed UCI's jobless rate at 27.8 percent in 2012, four times higher than the rate listed for that area by the U.S. Census Bureau. The rate for the area, whose surrounding suburbs boast an average median home price of $1.5 million, fell the following year to 5.3 percent after state officials revised their method of compiling data. (See UCI oddity a gift for developer.)
In Buena Park, The Source TEA hopscotches through Fullerton to high-unemployment areas near Disneyland Resort. Although the census tracts are supposed to be contiguous, several only touch at a single point where their corners meet.
'LETTER OF THE LAW'
That pattern is "typical" of EB-5 gerrymandering, said David North, a senior fellow with the Center for Immigration Studies who has written extensively about the issue.
"It's within the letter of the law," he said. "It's within the letter of the regulations. But the Department of Homeland Security (which administers the program) has no interest in having these programs in depressed areas."
Supporters, however, say they've done nothing wrong, adding that EB-5 investments are a boon to the overall economy – benefiting residents in high- and low-unemployment areas alike.
"There are workers coming in to work at the Pasea Hotel … from inland Orange County," said Drexell Owusu, managing director for the Civitas Capital Group, the Dallas-based EB-5 operator that set up the Pasea Hotel program.
"It's not gerrymandered because it's drawing from a wide base of people. The plumber may be coming from Irvine, and the Sheetrock guy may be coming from somewhere else," he added. "Economic development is, in fact, a regional dynamic."
The EB-5 program was conceived as a two-tier system when enacted in 1990. The minimum investment for permanent resident status is $1 million – unchanged since the program's inception 25 years ago. But a $500,000 minimum is allowed as incentive to send dollars to rural areas and to areas with jobless rates 1½ times the national average.
Over the years, investment has gravitated toward the lower investment tier. In 2000, for example, 44.2 percent of the EB-5 visas were issued for investments at the $500,000 level, State Department figures show. In 2014, 98.5 percent – 10,530 visas – were for investments at the lower tier.
Orange County currently has eight EB-5 projects getting $404 million from EB-5 investors. Ninety percent of that investment is at the $500,000 level.
That makes sense: If your choice is to invest $500,000 or $1 million to get the same green card, you're going to choose the smaller investment, said Gary Friedland, a lecturer and research scholar at New York University who co-authored a study of EB-5 projects.
"It's a no-brainer," he said. "That's why the developers do cartwheels to make sure their development qualifies as a TEA."
TEAs can consist of high-unemployment cities, counties and metro areas. The federal government defers designation of census tract-based TEAs to the states.
If unemployment rates are too low in established jurisdictions, special TEAs can be created by combining census tracts – up to a dozen in California and dozens in other states.
LUXURY HAS EDGE
Two Orange County projects – the Great Wolf Lodge water park resort in Garden Grove and the Orange Medical Plaza in Orange – are located in single census tracts that qualified as TEAs on their own.
A third, the Jefferson Platinum Triangle luxury apartments near Angel Stadium, qualified with just four census tracts clustered in a compact space 3 miles across.
In the more egregious cases, developers in New York City have used waterways to link distant neighborhoods.
Since the number of green cards are capped at 10,000 a year, critics contend that gerrymandered projects are diverting EB-5 investment away from rural and underserved areas to bolster developer profits in wealthier areas.
Foreign investors see glitzy projects in gateway cities as more secure investments, both for getting their money back and for getting their green cards, said Pat Hogan, president of CMB Regional Centers. CMB is an Illinois operator funneling EB-5 investments to The Meridian condos in Newport Beach and the Great Wolf water park in Garden Grove.
"You're not going to get a lot of people to plop their money in East St. Louis. You got to have collateral," Hogan said. "People are not going to throw away their money."
Michael Gibson, managing director for USAdvisors.org, a Miami-based investment advisory firm, said 80 percent of the projects his office sees wouldn't qualify without gerrymandering.
"This program has been hijacked by people who are manipulating census tracts to qualify for the high-unemployment" investment levels, said Gibson, who advises immigrants on which EB-5 programs to invest in.
"It's not what Congress intended," he said. But federal immigration officials "don't seem to have a problem" with it.
The recession and tight bank lending practices that followed spurred EB-5 programs to new heights. Investment jumped by 700 percent from 2008 through 2014, according to the U.S. Citizenship and Immigration Services, which administers the program.
REFORM EFFORTS
The EB-5 law now is up for reauthorization. Congress extended the deadline to renew the program until Dec. 11.
Five bills have been filed, with reforms ranging from increasing minimum investments to requiring increased audits, site visits and background checks to eliminate fraud and national security threats. The bills also take divergent approaches to reforming TEAs.
Sens. Chuck Grassley of Iowa and Patrick Leahy of Vermont, the ranking Republican and Democrat on the Senate Judiciary Committee, have teamed up on a bill that would limit TEAs to a single census tract.
"The two-tier investment structure ... has been reduced to practically nothing because of gerrymandering," Grassley said in a statement.
Leahy concurred, saying incentives for investment in rural and high-unemployment areas "have been abused."
Sen. Jeff Flake, R-Ariz., is taking a different tack. He introduced a measure Oct. 1 to base TEAs on commuter flow patterns, linking jobs to workers.
"You really have to create the high-value jobs for your workforce, and that's not always where your workers live," said Angelique Brunner, founder and president of EB5 Capital, a Bethesda, Md., firm that manages EB-5 regional centers in California, New York and the Washington, D.C., area.
Limiting TEAs to a single census tract "would drastically curtail the use of EB-5," she said.
TWO SNAKES
Although the area around the 250-room Pasea Hotel had an unemployment rate of 6.4 percent in 2012, the year upon which designation was based, the 12-tract TEA had a combined unemployment rate of 13.3 percent.
The anomalously high unemployment rate at UCI single-handedly raised the average to the required 12.1 percent level, qualifying Pasea's 29 EB-5 investors for green cards with an investment of $500,000 apiece.
Fifteen miles north of Pasea, The Source has three EB-5 projects rising at the corner of Beach Boulevard and Orangethorpe Avenue. They include a 400,000-square-foot mall, a seven-story office building and a 173-room hotel.
Together, 394 EB-5 investors raised $196.5 million for The Source at $500,000 each.
The unemployment rate for the census tract that includes The Source was 5percent in 2014, the year upon which the designation was based. But the combined TEA unemployment rate was 9.35 percent – 1½ times the national unemployment rate, which had declined since 2012.
"It's a snake," Gibson, the Miami investment adviser, said of the two Orange County TEAs. "This is a clear manipulation. But it's not illegal. It's what everybody does."
http://www.ocregister.com/lansner/unemployment-687023-investment-census.html
Mentions
States
---
Securities Disclaimer
This website is for informational purposes only and does not constitute an offer or solicitation to sell shares or securities. Any such offer or solicitation will be made only by means of an investment's confidential Offering Memorandum and in accordance with the terms of all applicable securities and other laws. This website does not constitute or form part of, and should not be construed as, any offer for sale or subscription of, or any invitation to offer to buy or subscribe for, any securities, nor should it or any part of it form the basis of, or be relied on in any connection with, any contract or commitment whatsoever. EB5Projects.com LLC and its affiliates expressly disclaim any and all responsibility for any direct or consequential loss or damage of any kind whatsoever arising directly or indirectly from: (i) reliance on any information contained in the website, (ii) any error, omission or inaccuracy in any such information or (iii) any action resulting therefrom.