EB-5 Mainly Helps Democrats, So Why Is the GOP-Led Congress Going to Extend It?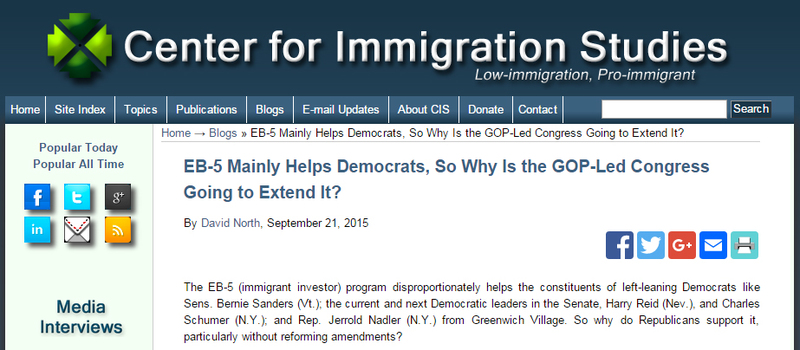 The EB-5 (immigrant investor) program disproportionately helps the constituents of left-leaning Democrats like Sens. Bernie Sanders (Vt.); the current and next Democratic leaders in the Senate, Harry Reid (Nev.), and Charles Schumer (N.Y.); and Rep. Jerrold Nadler (N.Y.) from Greenwich Village. So why do Republicans support it, particularly without reforming amendments?
This puzzling trend seems likely to lead to extension of the key part of the program, which will otherwise expire on October 1. Why haven't the Republicans noticed?
One reason is that the Obama administration refuses to publish data on where the EB-5 program spends the aliens' money, so the urban bent of the program is hidden from easy view. Meanwhile, a group of middlemen who have benefited — or want to benefit — from the low-interest capital of the primarily Chinese investors keep calling their representatives in Washington saying that they want the program to continue.
So there is some constituent pressure on the members, on one hand, and absolutely no government data on the other, which may well lead the Republicans on the Hill to extend a program that rarely helps their own constituents. Odd.
The EB-5 program grants a family-sized set of green cards to aliens investing half a million dollars in a Department of Homeland Security-designated, but not assured, investment. Through clever manipulations of the program's loose rules, these investments, often pooled with other EB-5 moneys, usually wind up in prosperous parts of the nation's big cities (Las Vegas, Wall St., Brooklyn, L.A., etc.) rather than in rural and high-poverty areas, as set forth in legislation. Has it led to the establishment of new mines and factories in Appalachia? Created lots of jobs in the rural South or Midwest? No. Each half-million investment is supposed to produce 10 jobs, but economists are paid to show how jobs are indirectly created by the investments, which is a sham.
Hundreds of DHS-licensed regional centers serve as brokers between aliens and developers. These entities routinely take (unregulated) fees from the aliens, and often from the builders as well.
The aliens involved are much more interested in getting the visas than in the appropriate placement of their investments and the rural and urban unemployed are not consulted, so the middlemen put the money where they choose while the Obama administration stands idly by.
How does this play out for specific members of Congress? Like a Border Patrol agent tracking an illegal alien across the desert ("sign cutting"), we are forced to sort out the facts from clues, not published reports. So what follows are approximations based primarily on media reports, not government statistics.
The Winners. The congressional delegation whose constituents have likely benefitted the most per capita from EB-5 is the solidly Democratic Vermont. It includes, in addition to self-identified socialist Sen. Sanders, Sen. Pat Leahy, ranking Democrat on the Senate Judiciary Committee (which handles this legislation) and Rep. Peter Welch. Vermont, perhaps tied with Hawaii as the most Democratic state in the nation, also has a Democratic governor (Peter Shumlin) and solid Democratic majorities in both houses of the state legislature.
Bearing in mind that Vermont is one of the least-populated states in the Union, according to one account it has gathered $545 million in EB-funds, primarily for fixing up ski resorts and associated properties.
The state that probably has collected the most in EB-5 funds, billions in fact, is New York, which has a Democratic governor and two Democratic senators (Schumer and Kirsten Gillibrand), with the predominant majority of the money going to New York City (which of course has a Democratic mayor (Bill DeBlasio) and a solidly Democratic city council). The fancy EB-5 projects in or near Wall Street, incidentally, are all in Nadler's district. He's one of the most liberal members of the House.
Some of the heavily funded EB-5 projects in New York City include $150 million toward a sumptuous building in Manhattan's Diamond District and $600 million for the elegant Hudson Yards project in Manhattan, which is not to be confused with the Atlantic Yards development in Brooklyn, the recipient of some $477 million in EB-5 funds.
In connection with EB-5 projects in Manhattan, the not-very-leftist Wall Street Journal ran this headline recently: "How a U.S. Visa-for-cash Plan Funds Luxury Apartment Buildings".
The Losers. On the other end of the scale, with no EB-5 projects that can be seen with the naked eye, is West Virginia — a place to which moneys for depressed areas ought to be flowing freely.
Three of its three House members (Evan Jenkins, David McKinley, and Alex Mooney) are Republicans, as is Sen. Shelley Moore Capito; odd man out is a conservative Democrat (Sen. Joe Manchin).
Then there's Alaska, which is represented in Washington by an all-GOP delegation: Sens. Lisa Murkowski and Dan Sullivan and Rep. Don Young, the most senior Republican in the House. I could find no indication of an EB-5 project in the state; the only regional center for promoting EB-5 ventures in the state is Alaska Gold & Mining Regional Center, LLC, which does not seem to have a website, but does have a postal address that shows its only office is in Brooklyn!
Perhaps the most forlorn state of them all when it comes to EB-5 projects is Wyoming, which has another all-GOP delegation in Washington. It is also the home state of the most recent of our former vice presidents, Dick Cheney. The senators are Michael Enzi and John Barrasso, the House member is Cynthia Lummis.
There are not only no EB-5 projects in the state, there are no regional centers to start such projects and the one that tried to be active in the state was terminated by DHS. That center was named Invest US Regional Center, and it had (or maybe still has) an office in Golden, Colo. (For the full list of terminated centers see here.)
The Exceptions. As in any such distribution among the 50 states (and D.C. and the territories) there are some exceptions to the overall picture shown above. Staunchly Democratic Rhode Island, for example, seems to have one EB-5 project at the most and solidly Republican South Dakota has been, at least until recently, a target for a lot of EB-5 investments.
The rest of the EB-5 picture in the latter state, however, is anything but pretty, complete with multiple EB-5 bankruptcies, many charges for many kinds of corruption and cover-up, and the grisly death — ruled a suicide by the Republican state attorney general — of Richard Benda, a former Republican state cabinet member and EB-5 middleman. He is said to have shot himself in the stomach with a shotgun.
Note. I have nothing against most of the Democrats noted above — and will vote for Bernie Sanders if I have a chance in Virginia's Democratic primary — but I find it ironic that their constituents are getting many more benefits from the program than those of the Republicans who are currently supporting the program's extension.
http://cis.org/north/eb-5-mainly-helps-democrats-so-why-gop-led-congress-going-extend-it
Mentions
States
---
Securities Disclaimer
This website is for informational purposes only and does not constitute an offer or solicitation to sell shares or securities. Any such offer or solicitation will be made only by means of an investment's confidential Offering Memorandum and in accordance with the terms of all applicable securities and other laws. This website does not constitute or form part of, and should not be construed as, any offer for sale or subscription of, or any invitation to offer to buy or subscribe for, any securities, nor should it or any part of it form the basis of, or be relied on in any connection with, any contract or commitment whatsoever. EB5Projects.com LLC and its affiliates expressly disclaim any and all responsibility for any direct or consequential loss or damage of any kind whatsoever arising directly or indirectly from: (i) reliance on any information contained in the website, (ii) any error, omission or inaccuracy in any such information or (iii) any action resulting therefrom.