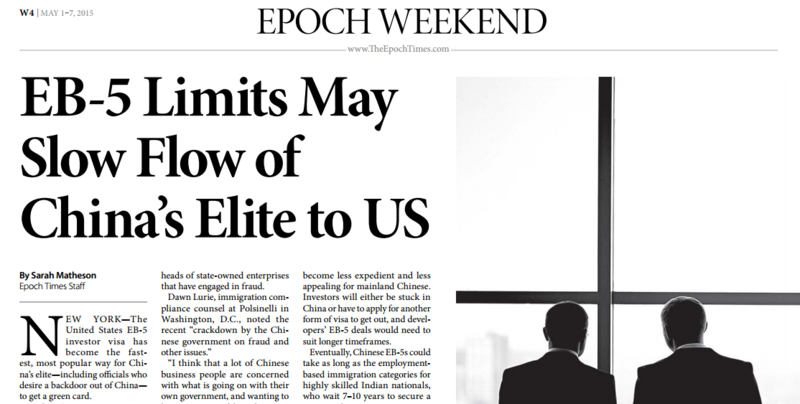 The United States EB-5 investor visa has become the fastest, most popular way for China's elite—including officials who desire a backdoor out of China— to get a green card. With a $500,000 investment required, the visa category also serves as a welcome source of fast-track money for U.S. property developers, one that has grown in volume and importance in recent years. However, the enormous popularity of EB-5s among Chinese in particular, along with growing concerns in the United States involving applicant fraud, now threatens to slow this lucrative two-way flow.
Starting May 1, only Chinese-born investors who submitted the first step I-526 petitions before May 2013 will be processed immediately. Those who miss the deadline may now face years long delays. This is the second quota retrogression delay for the EB-5 mainland Chinese-born immigration category. The first was in August last year. The Department of State has indicated that the backlog and processing times for Chinese EB-5s will continue to worsen. Chinese are by far the most prolific users of the EB-5 visa. Other notable countries of origin for investors are few, and include Russia, Mexico, Venezuela, Brazil, and Canada. In fiscal year 2014, Chinese investors and their immediate family members received 85.3 percent, or 9,128 of the 10,692 EB-5 immigrant visas issued, according to Department of State statistics. This was an increase of roughly 30 percent for visas issued to Chinese applicants over the previous year.
EB-5s allow affluent Chinese an escape route out of the perilous political environment in China. China's leader Xi Jinping's anticorruption campaign has purged hundreds of high-ranking officials, low profile bureaucrats, and heads of state-owned enterprises that have engaged in fraud.
Dawn Lurie, immigration compliance counsel at Polsinelli in Washington, D.C., noted the recent "crackdown by the Chinese government on fraud and other issues." "I think that a lot of Chinese business people are concerned with what is going on with their own government, and wanting to have some sort of, how do I want to say this? An outlet, if you will, in order to come into the U.S.," said Lurie.
Meanwhile, American developers have offered thousands of affluent Chinese the opportunity to gain conditional green cards in around two years by applying through USCIS-approved EB-5 regional centers. Once conditional residency is gained, money that supports major development projects such as the Pacific Park and Brooklyn Navy Yards projects in New York, will be released to the project, and the investors' immediate families can start moving abroad.
The United States is also a desired destination for these high net worth individuals because of the freedoms and protections that America offers. Improved air quality is also important, as is the reputation of the U.S. education system. Obtaining residency means the investors' children can study in the United States without paying hefty international student fees. But as retrogression worsens, the EB-5 immigration category will become less expedient and less appealing for mainland Chinese. Investors will either be stuck in China or have to apply for another form of visa to get out, and developers' EB-5 deals would need to suit longer timeframes.
Eventually, Chinese EB-5s could take as long as the employment based immigration categories for highly skilled Indian nationals, who wait 7–10 years to secure a green card.
China's Capital Flight
China's capital flight is of great concern to the Chinese regime. Over the last four or five years, China's elite have taken billions of dollars out of China, and much of it has landed in the U.S. real estate industry. According to Real Capital Analytics statistics cited by Reuters, mainland Chinese invested $10.4 billion in commercial property in the United States in the two years to March 10, 2015. Chinese investors spent about $6 billion on commercial buildings in Manhattan alone, including the $2 billion purchase of the famous Waldorf Astoria by insurer Anbang in February.
An editorial in China's state-run Xinhua news agency criticized Anbang's purchase of the Waldorf as being "headstrong with money," a subtle warning that close attention was being paid to assets moving abroad. Recently, authorities in China have gotten even more aggressive and have actually attempted to pull the capital back. State-run Beijing News reported in May last year that more than 1,000 "naked-officials"—officials with assets and families abroad— in the affluent southern Guangdong Province were warned to bring their families back from overseas, or face demotion. According to the report, 866 officials chose demotion. In June 2014, in Tieling of Liaoning Province, all officials above the deputy section level were made to hand over their passports to the local government. If any wanted to go abroad, approval would be needed "from above."
Invigorating NYC Development
Congress established the EB-5 visa in 1990 to create jobs and improve the economy. It allows foreign investors permanent residency in the United States for themselves, their spouses, and children under 21. To qualify they must invest either $500,000 in a targeted employment area, or $1 million in other EB-5-approved projects. The investor must also demonstrate that the money created 10 jobs over a two-year period of conditional residency to have the conditions removed from their green cards. Otherwise, the investor and his or her family members could be deported. Chinese EB-5s currently take around 14 months for conditional residency to be obtained, and then another two years for the conditions to be removed.
Invitation to Investors
Until about five years ago, EB-5 visas were underused, because the program lacked assurances that investors would obtain a green card. In June 2009, regulatory guidelines for the job creation requirements for EB-5s were clarified in a memo sent by Donald Neufeld, the acting associate director of domestic operations at U.S. Citizenship and Immigration Services. For the first time, temporary construction jobs were allowed to qualify toward the 10-job requirement, which opened EB-5 funds up to developers. Chinese investors and developers became confident that the investor would obtain permanent residency through the program.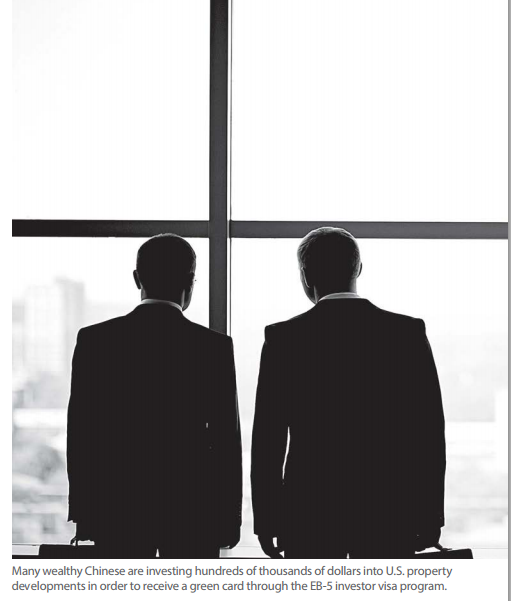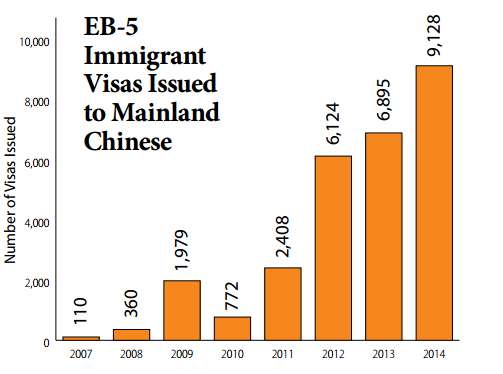 Tammy Fox-Isicoff, an immigration attorney in Miami, said the program really took off again after Alejandro Mayorkas, who was at the time USCIS director, issued a policy memo for adjudications on May 30, 2013, that "added a great deal of predictability for applicants."
"All of a sudden developers knew how to structure deals, and they knew what immigration wanted to see," Fox-Isicoff said. The lengthy memo instructed adjudicators to give applicants the benefit of the doubt: "Even if an adjudicator has some doubt as to the truth, if the petitioner or applicant submits relevant, probative, and credible evidence that leads to the conclusion that the claim is 'more likely than not' or 'probably true,' the petitioner or applicant has satisfied the standard of proof." Given how easily false government documents are fabricated in China, the memo has worrying implications. Mayorkas, who is now deputy director at the Department of Homeland Security, has since been found to have "exerted improper influence in the normal processing and adjudication of EB-5 immigration program benefits." The finding was made by the Office of the Inspector General of Homeland Security, and released in a report last month. The inspector general investigated allegations from USCIS staff that Mayorkas reversed USCIS adjudicators decisions for Chinese businessman who had invested in EB-5 projects overseen by three politically prominent figures. Among them, Sen. Harry Reid, who was Senate majority leader at the time, Terry McAuliffe, now a Virginia governor, and Anthony Rodham, the brother of Hillary Clinton, according to ABC News.
Homeland Security and the Securities and Exchange Commission have launched investigations into McAuliffe's GreenTech, and the company's EB-5 regional center, Gulf Coast Funds Management, where Rodham was CEO and president, to understand if any wrongdoing occurred. Activist group Cause of Action filed a conflict-of-interest complaint against Reid in 2013 with the U.S. Senate Select Committee on Ethics, to which there has been no response.
The Race to Regional Centers
Large-scale developers in the United States have embraced EB-5s as a useful low-interest form of financing. The interest rates are lower than conventional sources, because investors are motivated by receiving residency rather than profit. Rates are in the single digits, versus the 12–16 percent interest charged on other loan sources. Once approved by USCIS, a regional center acts as a service agent that links EB-5 investors with companies' projects. The regional center sets up an investment fund that the investors purchase equity stakes in, and the fund then either purchases equity stakes in a project, or becomes a loan.
The biggest advantage of going through a regional center is that indirect jobs can count toward the 10-job requirement for unconditional residency. To estimate indirect jobs creation, an economist inputs the total spending of a project, the region, and the industry into an accepted economic model. Some of New York City's most prolific developers, including Extell, Related, and Lightstone have established EB-5 regional centers. None of the companies responded to requests for comments. Related, the development company behind the massive Hudson Yards project near the Highline in Manhattan, raised about $600 million for the mega-project in EB-5 funds, from 1,200 families, according to the Wall Street Journal.
Forest City Ratner Cos. raised more than $475 million through the program for Pacific Park in Brooklyn, which includes the Barclays Center, according to the Wall Street Journal. The New York City Regional Center provided $247 million late last year for the redevelopment of the Brooklyn Navy Yard. The yard had previously enlisted several rounds of EB-5 money. Developers tend to use the EB-5 money as a loan, which is normally held for around five years. The EB-5 money is released to the project at the time the investors' I-526 is approved, and must stay in the project until the I-829, the removal of conditions on the green card, is approved.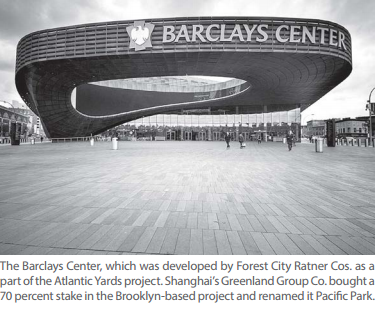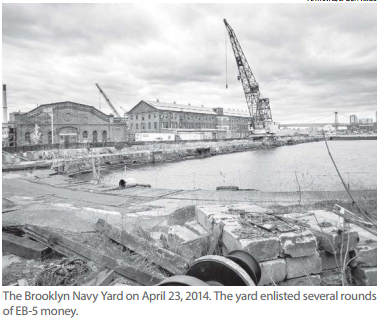 At the end of December 2014, USCIS had more than 13,000 I-526 petitions pending, according to Savills Studley, a commercial real estate services firm.
The Preferred Pathway
USCIS has approved 646 regional centers nationwide that can operate across multiple states, and had terminated 25 regional centers as of April 13, 2015. Regional centers are by far the preferred method for Chinese to enter the EB-5 program. In fiscal year 2014, 95.5 percent of Chinese EB-5 visa recipients invested $500,000, through USCIS approved regional centers. In fiscal year 2013, it was 98.2 percent. Normally the EB-5 centers are successful, but several cases have sullied the EB-5 industry's reputation. In 2013, the SEC and USCIS investigated a group that marketed itself as a regional center before officially gaining USCIS accreditation. The group, which included the USA Now regional center, allegedly used the EB-5 funds to finance a personal restaurant, and none of the investors received a conditional visa.
The SEC and USCIS also investigated an alleged $156 million investment fraud case, where nearly 300 Chinese EB-5 investors invested in a hotel and convention center project in Chicago. About $147 million was returned to the aggrieved parties.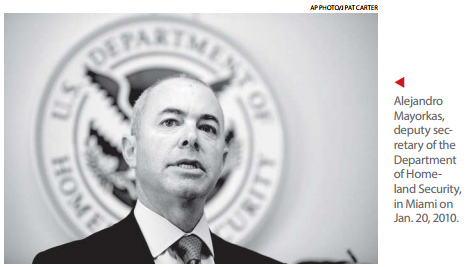 I think that a lot of Chinese business people are concerned with what is going on with their own government. - Dawn Lurie, immigration compliance counsel, Polsinelli
EB-5s Under Investigation
This year is expected to be a tough one for the EB-5 industry as the SEC investigates regional centers and immigration lawyers. A Government Accountability Office (GAO) audit of the EB-5 program will also be released in the summer or fall this year, and will likely bring more negative publicity to the program. It will be the second GAO report on the program. The first, in 2005, was to investigate why the program was underused.
Other government agencies have also reviewed the EB-5 program in recent years. The Department of Homeland Security's inspector general issued a report in December 2013 that concluded USCIS "does not always ensure that regional centers meet all program eligibility requirements" and that the program can "appear vulnerable to perceptions of internal and external influences." The report concluded that USCIS does not have the resources to prevent fraud or national security threats, and "cannot demonstrate that the program is improving the U.S. economy and creating jobs for U.S. citizens as intended by Congress."
Every three months, USCIS hosts an EB-5 stakeholder teleconference to address concerns with the program. During the Dec. 5, 2014 conference, USCIS Chief, Immigrant Investor Program Nicholas Colucci said USCIS was prioritizing working with law enforcement and regulatory bodies to prevent fraud and develop ways to improve confidence in the EB-5 program, according to a blog post by Fankai Yang, of Klasko Immigration and Nationality Law in Philadelphia.
"While Mr. Colucci did not elaborate on the details of the new initiatives, we think they will inevitably lead to an increase of Requests for Evidence (RFE) on lawful source and path of funds documentation. In fact, investors have witnessed a sizable increase in the number of RFEs on source and path of funds since late 2014," Yang wrote.
Not Just a US Problem
The investor program in the United States is less costly for immigrants than similar programs in most other developed countries. For example, in Australia the required investment is $1.5 million over a four-year period. Last February, Canada suspended its investor visa program with little warning, rejecting an estimated 59,000 pending applications because of the heavy influx of mainland Chinese.
To obtain residency in Canada, the investors were required to loan the government $800,000 interest-free for five years. But because of a huge backlog of applications the waiting time for residency was about 12 years, according to EB5investors.com. A spokeswoman for the Canadian immigration authority, Sonia Lesage, told the Beijing Youth Daily after the announcement last year that aside from "the $800,000 nterest-free loans, immigrants from the investor program contributed little to the economy" because the investors did not work in Canada, and paid little in taxes. Vancouver is recent years has garnered the nickname, "Hongcouver" for its burgeoning Asian population. In Vancouver's metropolitan area, 43 percent of the population has Asian heritage.
Keep the Money Flowing
The compounding backlog—around two-year's worth of applications from mainland China— will continue to worsen, according to comments made last month at an Invest In the USA conference in Washington, D.C., by Charles Oppenheim, who crunches the numbers for the Department of State. Immigration attorneys are urging their Chinese clients to apply for EB-5s as soon as possible to get a better place in line. And for those with approved I-526s, lawyers have been trying to schedule appointments at their consulates for conditional residency before the May 1 cutoff.
Many in the EB-5 industry, including Invest In the USA, have been lobbying the Obama administration to reinterpret immigration law to make only the investor, not the spouse or children, count toward the EB-5 quota. Reinterpretation is likely the most expedient way for immigration attorneys, regional centers, and property developers to retain their capital flows from China.
http://www.polsinelli.com/~/media/Articles%20by%20Attorneys/ArticleDawnLurie.pdf
Mentions
States
---
Securities Disclaimer
This website is for informational purposes only and does not constitute an offer or solicitation to sell shares or securities. Any such offer or solicitation will be made only by means of an investment's confidential Offering Memorandum and in accordance with the terms of all applicable securities and other laws. This website does not constitute or form part of, and should not be construed as, any offer for sale or subscription of, or any invitation to offer to buy or subscribe for, any securities, nor should it or any part of it form the basis of, or be relied on in any connection with, any contract or commitment whatsoever. EB5Projects.com LLC and its affiliates expressly disclaim any and all responsibility for any direct or consequential loss or damage of any kind whatsoever arising directly or indirectly from: (i) reliance on any information contained in the website, (ii) any error, omission or inaccuracy in any such information or (iii) any action resulting therefrom.