Inside EB-5, the Cash-for-Visas Program Luxury Developers Love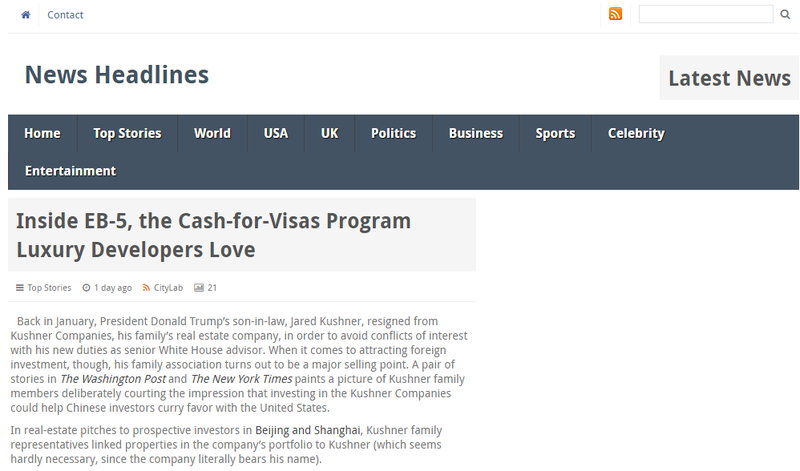 Back in January, President Donald Trump's son-in-law, Jared Kushner, resigned from Kushner Companies, his family's real estate company, in order to avoid conflicts of interest with his new duties as senior White House advisor. When it comes to attracting foreign investment, though, his family association turns out to be a major selling point. A pair of stories in The Washington Post and The New York Times paints a picture of Kushner family members deliberately courting the impression that investing in the Kushner Companies could help Chinese investors curry favor with the United States.
In real-estate pitches to prospective investors in Beijing and Shanghai, Kushner family representatives linked properties in the company's portfolio to Kushner (which seems hardly necessary, since the company literally bears his name).
Even without the appearance of an extremely unsubtle conflict of interest, the Kushner family's appeal to Chinese investors would be a controversial one. The mechanism by which the Kushner family seeks foreign direct investment is an immigration initiative called EB‑5, a cash-for-visas program that dates back to 1990. It's supposed to give wealthy aliens a speedy pipeline to citizenship in exchange for subsidizing rural or distressed urban developments. EB-5, as I explained back in January, does neither of those things: The waitlist for visas runs years long, and the Money rarely makes it to where it's supposed to go. It is, however, a very effective means of funneling Chinese Money into high-profile luxury condos and hotels.
Pay no attention to the man behind the screen: Footage of U.S. President Donald Trump is projected behind workers waiting for investors at a reception desk during an event promoting EB-5 investment in a Kushner Companies development at a hotel in Shanghai.
The Kushner family's EB-5 push is the best signal yet that the White House may resist efforts to reform the program, which was just extended by Congress through September in its recent budget push. If and when lawmakers ever get around to retooling EB-5, the developer-in-chief who occupies the White House may have a lot of input to offer. Here's why the program works so well for the Kushners (and Trump), and why legislators should be concerned.
EB-5 was designed to lure investment to rural and distressed urban areas
Congress authorized EB-5 as part of the Immigration Act of 1990, the last major immigration reform bill, which divided permanent-resident visas by job status. For a $1 million investment in a U.S. venture, a foreign investor could secure visas for herself and her immediate family members to live anywhere in the States. But few paid much attention to EB-5 until 2008, when credit got tight and developers turned to creative sources for financing.
The program still authorizes visas for $1 million. But there is a second, lower tranche for potential foreign investors: For $500,000, an investor can receive the same family-pack of visas, so long as the investment falls in a rural or urban distressed area. This lower investment tier is more attractive to foreigners. With EB-5, the risk falls entirely on the investor and the return is pretty low. And for a wealthy Chinese family, the point is to buy visas, so a lower upfront cost is all the better.
EB-5 works as a magnet to draw Chinese investment to luxury developments
For luxury developers looking for gap (or mezzanine) financing for very little return, EB-5 was just the thing. But the asterisk on that lower tranche was a bummer: Who wants to build luxury real estate in rural or distressed urban communities? No one.
Fortunately—for developers and Chinese investors—luxury finds a way.
Fully 97 percent of EB-5 investors chose that lower, $500,000 path toward their visas, according to an October 2016 report by the Government Accountability Office. But this investment rarely matches up with the rural or distressed urban communities that Congress envisioned as the target for all this investment. Instead, it's going to deluxe developments. Skyrise Miami, for example, garnered $258 million in EB-5 financing, in exchange for visas for some 500 investors (plus visas for their families). Los Angeles's Century Plaza Hotel raised $450 million in EB-5 financing. And so on.
How did these luxury developers manage to hoover up Money meant for poorer places? To quality for EB-5 financing, the developers needed to employ some creative accounting—and exploit an ambiguity built into the original legislation.
How states gerrymander the cash-for-visas program
In order for a development to qualify for that lower, more attractive, $500,000 investment tier, it has to fall in a rural or distressed urban area. Rural is pretty clear. But the urban category has a critical flaw: The law established a "targeted employment area" (TEA) qualification based on unemployment—then left it up to the states to decide what counts as a TEA.
States and developers were able to expand the reach of EB-5 by "gerrymandering." The technique varies from state to state, but essentially, developers or their partners in the EB-5 process (which are known as regional centers) can game the map to qualify a project.
Take, for example, Hudson Yards, probably the most luxurious luxury project under development in the U.S.—or maybe in history. As I explained in January, Hudson Yards in Lower Manhattan is nobody's idea of a distressed urban area. To qualify as one—as a TEA—unemployment in lower Manhattan would need to be much lower than it is. However, if the map is gerrymandered to include poorer Census tracts, then the average unemployment rate over the whole area could be high enough to qualify even Hudson Yards.
That's how unemployment in Harlem helped pay for Hudson Yards: The map used to qualify the $25 billion Hudson Yards development as a TEA winds north through Central Park and picks up half a dozen housing projects.
The Census tracts used to qualify Hudson Yards as a TEA for its second round of EB-5 financing in 2016. Public-housing projects along the route helped it achieve the necessary aggregate unemployment figure to quality for a lower investment threshold.
New York State could theoretically stitch together tracts from Central Park to Syracuse to gerrymander a map to make a Billionaire's Row supertall skyscraper fall in a high-unemployment zone. But the state doesn't need to: Unemployment in Harlem is more than high enough to qualify luxury south of the park.
To be sure, lots of the jobs in service or construction involved with these needle towers may indeed go to residents who live in Harlem or well beyond. But the point of EB-5 was to draw investment to those places that could use it—rural and distressed urban communities. Across the country, that's not what's happening. As the GAO report indicates, more than 90 percent of TEAs are gerrymandered.
There's nothing stopping Chinese investors from investing in authentically rural or distressed urban TEAs. But let's say they have a choice between putting their Money behind a luxury tower in New York City with Jared Kushner's name on it (noting, of course, that he has divested from the venture) or a recycling plant in Montana. Which seems like a smarter play right now?
How the Kushners could potentially Cash in on EB-5
Back in March, the Kushner Companies ended talks with Angbang, the massive Chinese insurance company, to redevelop 666 Fifth Avenue, after details of the Zaha Hadid-designed project drew negative press. Critics said that Angbang, a company with high-level connections to China's government, was seeking to buy favor from the White House.
Gerrymandering the map to qualify 666 Fifth as "urban distressed" would have been no problem. Had Angbang and the Kushner family moved forward with plans, it would have involved hundreds of millions of dollars in EB-5 financing, turning out thousands of visas. In fact, such a project could account for the majority of visas allocated under the program's annual cap.
"If $850 million of EB-5 financing were sought and obtained, that translates into 1,700 EB-5 investors (at today's $500K minimum investment level), which at the historical average of roughly 3 visas per investors (because spouse and children under age 21 also qualify) means approximately 5,000 visas," writes Gary Friedland, a scholar in residence for the Stern Center for Real Estate finance Research, in an email. "That would absorb 50 percent of the annual EB‑5 visa quota."
Real-estate developers who are close to the action command an unbeatable advantage in securing Chinese investment. No one but the Trumps are closer than the Kushners. Angbang allegedly offered Kushner Companies favorable terms for 666 Fifth, despite the troubled history of the project and a glut of office supply in New York. In a similar way, Chinese millionaires looking for a place to park their Cash for visas might overwhelmingly prefer an investment opportunity with the implied full faith and credit of the United States behind it. Advantage: Kushner.
And since the supply of EB-5 visas is capped at 10,000 per year, there's a limited amount of foreign Money up for grabs. This means that projects with a direct connection to the White House could squeeze out competitors—potentially making the cash-for-visas program a cash-for-team-Trump-for-visas program.
Some members of Congress would like to reform EB-5 to bring the program back in line with its all-but-forgotten original intent—to direct foreign investment toward struggling communities—or scrap it altogether. The Kushner family's embrace of the cash-for-visas program distorts it that much further. Now, it's not just luxury real estate that has a leg up on rural or distressed urban communities—it's connected luxury real estate that's at the front of the line for receiving virtually free financing from China.
There's little doubt that the election has elevated the Kushner family's status in the eyes of foreign investors, a fact that is likely not lost on Jared Kushner or on President Trump, whose companies stand to make a killing in cash-for-visas investments. So when Congress does take up EB-5 reform, don't expect the Trump White House to sit on the sidelines.
http://news.united.agronaplo.hu/item/421876_inside-eb-5-the-cash-for-visas-program-luxury-developers-love
Mentions
States
---
Securities Disclaimer
This website is for informational purposes only and does not constitute an offer or solicitation to sell shares or securities. Any such offer or solicitation will be made only by means of an investment's confidential Offering Memorandum and in accordance with the terms of all applicable securities and other laws. This website does not constitute or form part of, and should not be construed as, any offer for sale or subscription of, or any invitation to offer to buy or subscribe for, any securities, nor should it or any part of it form the basis of, or be relied on in any connection with, any contract or commitment whatsoever. EB5Projects.com LLC and its affiliates expressly disclaim any and all responsibility for any direct or consequential loss or damage of any kind whatsoever arising directly or indirectly from: (i) reliance on any information contained in the website, (ii) any error, omission or inaccuracy in any such information or (iii) any action resulting therefrom.