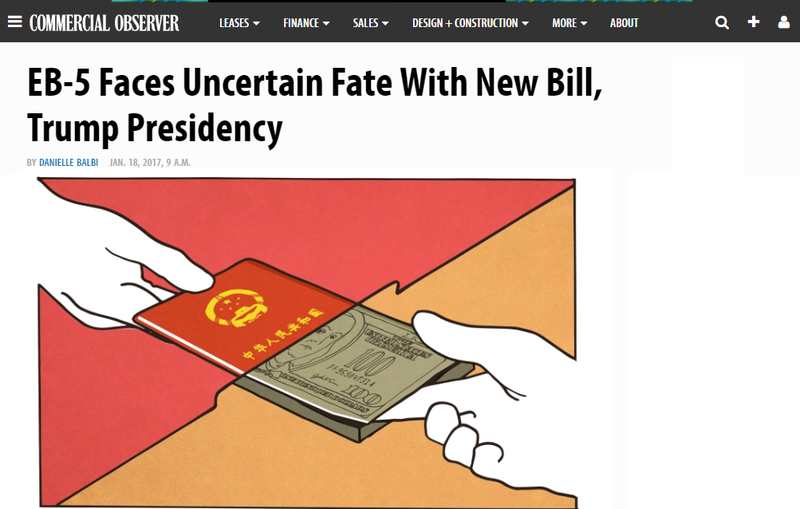 A mere week before Donald Trump's inauguration as president of the United States, the Department of Homeland Security (DHS) added fuel to the fire of political uncertainty by proposing a series of changes to the ever-controversial EB-5 immigrant investor program.
Though the president-elect has yet to take a stance on the much-debated program, set to expire on April 28 following a series of extensions by Congress, applicants are worried given his stance on immigration. And, developers who use the program are concerned about the significant changes the DHS wants to push forward. If the bill were passed in its current form, it could diminish the program's appeal to investors, according to experts who spoke to Commercial Observer.
"You can legislate all you want, but if the [DHS] bill went through as is, it would kill the program," said Eric Orenstein, an attorney at Rosenberg & Estis who works with EB-5 users.
In anticipation of serious changes by the incoming president, Samuel Newbold, an attorney in Barst Mukamal & Kleiner's U.S. immigration and nationality law practice, said at the end of 2016 his firm felt a "Trump-bump" with the busiest-ever November and December with EB-5 cases. "People are trying to find ways to secure status however they can because they are anticipating that Trump may do some drastic things," he said.
The program—which was established under the Immigration Act of 1990 and allows up to 10,000 foreign nationals per year to secure permanent residency by investing in commercial projects that create at least 10 jobs—has been a political hot button, as tensions surrounding immigration and national security are heightened more than ever. EB-5 has pumped more than $16.9 billion of foreign direct investment (FDI) into the U.S. economy since 2008, according to data from trade association Invest in the USA. And the program has been oversubscribed by the Chinese. An estimated 16,000 of the 20,000 EB-5 petitions pending with the United States Citizenship and Immigration Services are for individuals born in China.
The two most contentious areas of the program that DHS wants to change are the minimum investment amount that an EB-5 applicant must make in a project and the reconfiguration of how a "targeted employment area" (TEA) is determined.
The DHS wants to "adjust for inflation" by upping minimum investments to $1.8 million for developments in low- to average-unemployment areas and $1.35 million in high-unemployment areas from $1 million and $500,000, respectively.
The Obama administration's last-minute amendment also suggests that states be stripped of their ability to determine TEAs. Currently, a TEA is defined as a rural area or an area with a population of 20,000 or greater that experienced unemployment of at least 150 percent of the national average. However, a state can provide a developer with a TEA designation for a project in an area that does not fall under one of those two categories by pooling together a large number of census tracts, which some have referred to as "gerrymandering."
Congressman Bob Goodlatte of Virginia is one of the most vocal opponents of EB-5 in its current form and went as far as drafting his own reform bill last year, which also looks to restructure how a TEA is created. Like many others, he has condemned the fraud and abuse on the part of some of the EB-5 regional centers that work with both developers and visa applicants, but his main point of contention is the gerrymandering of districts.
Historically, states like California, New York and Florida have been the primary beneficiaries of EB-5 money because of their major urban centers. In 2013, those states received $438.4 million, $150.5 million and $426.9 million of foreign direct investment (FDI) through the program, respectively, according to data from Invest in the USA. On the other hand, states like Delaware, Iowa, Kansas, Tennessee and Virginia received none.
"I am pleased that the Department of Homeland Security has proposed increasing the investment amount and curtailing gerrymandering in this immigration program," Goodlatte said in a statement to CO. "This will help ensure that EB-5 investment funds are directed to distressed urban and rural communities that need them the most. I urge President-elect Trump to finalize these common-sense and long-overdue proposals to strengthen the integrity of this program so that it benefits the American economy."
John Banks, the president of the Real Estate Board of New York, said the real estate industry would prefer that the change in investment levels remain as minimal as possible. "I look forward to working with Congress to change that in a way that creates more potential revenue but does not make it so onerous that the program gets slowed down tremendously," he said.
A diminished version of the bill would not only hurt investors on the hunt for green cards, but it would present further financing difficulties for U.S.-based developers, even in big cities like New York.
Currently, banks are under greater scrutiny because of global regulatory constraints like Basel III, which disincentivizes construction lending with high leverage by driving up the cost of capital. Though private lenders are stepping in, they charge higher rates than traditional banks.
"About 85 percent of the projects I'm working on right now wouldn't happen without EB-5," Orenstein said. "Land values are very high, construction costs are on the rise. Couple that with the increased interest rates people are paying and projects won't get completed. EB-5 is a cheap source of debt or equity, and going to institutional lenders or private lenders is much more expensive."
Big-name New York City developers, like Related Companies and Forest City Ratner Companies, have used funds from EB-5 for some of the city's biggest developments in recent years. Related and Oxford Property Group used the program in its $20 billion Hudson Yards development, which is replacing an old railroad yard with 18 million square feet of commercial and residential space. Forest City and Greenland USA have also used the program for Pacific Park, the Brooklyn equivalent of Hudson Yards.
"People particularly like to look at Hudson Yards and say that the project doesn't need [EB-5 money], but they forget that Hudson Yards was a railroad yard," Banks said. "There was no economic activity and because, in large measure, EB-5 was available to the developers, they have created this new community and changed the West Side of New York. And Pacific Park, too, was a railyard."
When it comes to the DHS' second recommended area for change, matters are a little more complicated. Figuring out a standard method to determine TEAs is difficult because what may be appropriate in a rural town in Iowa would not necessarily be appropriate in New York City, Orenstein said.
"The people who construct buildings in New York City don't live in New York City, and they certainly don't live in Manhattan," he said. "You have to understand where the jobs are going to come from, and then you can understand why in cities like New York you're seeing the aggregation [of different census tracts]. If not, it's useless. You can't just look at a TEA for Midtown Manhattan."
Banks said that REBNY has been supportive of have commuting patterns taken into account when determining TEAs.
"The reach and benefit of EB-5 from Hudson Yards goes far beyond New York City," Banks said. "People are coming from all over the tri-state area to work on Hudson Yards, and they go home with paychecks with solid, middle-class incomes."
However, the proposed DHS bill states that while it considered accounting for commuting patterns, the idea "was deemed too operationally burdensome to implement as it posed challenges in establishing standards to determine the relevant commuting area that would fairly account for variances across the country."
As is, the DHS bill would eliminate the marketability of the program to investors from other countries, sources said.
"As a businessperson who works with the EB-5 program every day, I've seen firsthand the tremendous benefits this program provides communities in terms of attracting investment and creating jobs—often providing the critical capital to jumpstart development that otherwise would not get off the ground," Angelique Brunner, the EB-5 Investment Coalition's membership chair and spokeswoman, said in a statement. "Since 1990, this program has touched all 50 states and created tens of thousands of jobs in the process, promoting job growth and business investment in cities, suburbs and rural regions throughout the U.S., all at no cost to taxpayers. Failing to reauthorize the EB-5 program would result in less investment, less economic opportunity, and fewer jobs."
Orenstein added that the U.S. needs to stay competitive because it's not the only country with a pay-to-play program like EB-5, and investors could go to places like the United Kingdom if entry requirements for America become too high.
"Immigration by investment is not an American thing," Newbold said. "Because of a lot of the social, economic, political and environmental pressures that are becoming more polarizing in the world, you're going to see a global migration of people coming from countries where those pressures are more significant. If America is not competitive in that market, which it is still the most attractive market for people to come to, it'll be a total miss-hit by our government."
Even if the increase of minimum investment to $1.35 million from $500,000 does appropriately account for inflation since the EB-5 program's introduction in 1990, "that's a barrier to entry that a lot of people can't absorb," he said.
Additionally, it is crucial that lawmakers resolve issues surrounding the visa backlogs from China or increase the number of visas handed out annually, Newbold explained. The current program allows for 10,000 visas to be given out, but that number comprises not only investors; it includes their family members. Industry participants have suggested that the number be increased to up to 25,000 visas for investors and their families or have the 10,000 visas only apply to the investors and count their families separately.
And as far as the backlog, Banks concurred with Newbold and said that REBNY believes grandfathering those applicants in is absolutely crucial. "We think it's critical that people who have complied with the law up until the new legislation should be treated fairly and held to standards that they initiated the applications with," he said.
On the positive side of reform, everyone CO spoke to agreed that the EB-5 program needs greater transparency and integrity measures to ensure that securities rules are followed and that there are less conflicts of interest and more thorough background checks. But Orenstein said there is no real need to fret because he doubts Trump would approve the DHS bill in its current form, especially if it were to limit EB-5's reach.
"If you put aside his politics and just understand him as a real estate owner and investor, Trump understands that EB-5 is a good thing for the real estate industry in a time when financing is very hard to come by," he said. "And as someone who wants to create jobs and bolster not only the economy and the real estate industry, it's essential that this program is done in a way that makes sense."
On the whole, the program represents a small percentage of the greater immigration climate in the United States. Annually, the U.S. gives out roughly 140,000 employment-based visas, according to the United States Department of State, the body that tracks visas. "EB-5 is just 10,000 of that 140,000," Newbold said. "EB-5 is a very small tip of a large iceberg, which is a huge issue that spans refugees and employment-based visas for tech companies. When you talk about comprehensive immigration reform, where do you start?"
https://commercialobserver.com/2017/01/eb-5-faces-uncertain-fate-with-new-bill-trump-presidency/
Mentions
States
---
Securities Disclaimer
This website is for informational purposes only and does not constitute an offer or solicitation to sell shares or securities. Any such offer or solicitation will be made only by means of an investment's confidential Offering Memorandum and in accordance with the terms of all applicable securities and other laws. This website does not constitute or form part of, and should not be construed as, any offer for sale or subscription of, or any invitation to offer to buy or subscribe for, any securities, nor should it or any part of it form the basis of, or be relied on in any connection with, any contract or commitment whatsoever. EB5Projects.com LLC and its affiliates expressly disclaim any and all responsibility for any direct or consequential loss or damage of any kind whatsoever arising directly or indirectly from: (i) reliance on any information contained in the website, (ii) any error, omission or inaccuracy in any such information or (iii) any action resulting therefrom.