One EB-5 investor's story: Too little, and maybe too late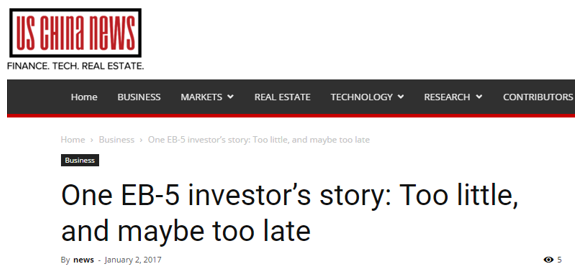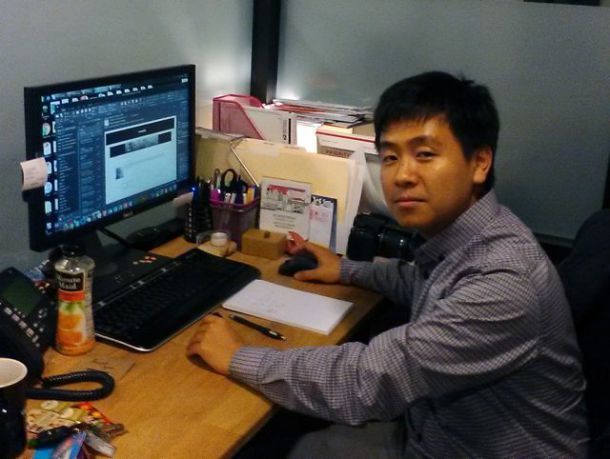 Minggan Wei sits in the Boston office of his company, LobsBoston. Wei, an investor in Q Burke, says he is out $500,000, and his immigration status is in doubt because of the alleged fraud perpetrated by Bill Stenger and Ariel Quiros, the Jay Peak developers. His student visa expires in February.
Minggan Wei has a growing business in a city he likes in a country he loves.
But he may be forced to give up all three. And he's already out hundreds of thousands dollars trying to prevent that from happening. He says he can't afford to spend any more.
His options, and his hope, dwindle with each passing day.
Wei, who also uses the first name Justin and hails from China, lives in Boston. He was one of the last EB-5 investors in projects headed by Jay Peak owner Ariel Quiros and Bill Stenger, the resort's former CEO. His investment dollars landed in an escrow account in the United States from China about a month before state and federal regulators leveled fraud lawsuits against the two developers in April.
Wei and his sister invested in Q Burke, a ski area in Vermont's Northeast Kingdom. While a promised hotel was constructed at the resort, an elite athletic center with an Olympic aquatic center was never built.
Q Burke, which is among the last projects led by Quiros and Stenger over a span of eight years, is tied up in litigation. The SEC alleges the developers defrauded EB-5 immigrant investors through a "Ponzi-like" scheme.
The lawsuits accuse the two men with 52 counts of securities fraud and of misusing $200 million of the $350 million they raised for seven of eight projects through the federal EB-5 immigrant investor program. Quiros has been charged with siphoning off $50 million to pay for personal items, including a $2 million luxury condo at Trump Tower in New York City.
Minggan Wei, 26, and his sister, Zhao Wei, 28, who together are out more than $1 million, say repeated requests for the return of their original investment have been denied.
They are also without the green cards they sought through their investments that would have allowed them to become permanent U.S. residents. Minggan Wei says his student visa expires in February.
"People who go into the EB-5 program, they all have a belief in the U.S., not the government, but the country," Minggan Wei said during a recent interview in Boston, where he has lived since arriving in the United States to go to school at age 17 from Beijing, China.
"They love this place, otherwise, why do they want to get a green card?" he asked, referring to EB-5 investors like himself. "They want to stay here because they like it here. They just like this land and want to be part of it."
After the U.S. Securities and Exchange Commission brought civil charges against the developers, Minggan and Zhao sued the state, Q Burke contractors, Quiros and Stenger hoping to get their money back. They later dropped the case when they realized court fight would be too costly.
A familiar story
Minggan Wei's story is similar in certain ways with that of hundreds of investors who bought into eight projects promoted by Stenger and Quiros.
More than 800 investors from 74 countries were drawn to the Jay Peak developments for the same reason: An opportunity to move to the United States.
The investors come from places like Brazil, Italy, Pakistan and China, where corruption is endemic. Or, from the United Arab Emirates, England or Switzerland where it's more difficult to start a business.
They came seeking safety, security and freedom. And they hoped that by buying into one of eight projects offered by Stenger and Quiros they would obtain green cards in a matter of months.
Each invested $500,000 in the Jay Peak projects in order to obtain permanent residency through the EB-5 immigration program.
For most, that half million dollar investment represented a life's savings they hoped to recoup in order to send their kids to college, start a business, or retire. Many are students whose visas are expiring or entrepreneurs who sought a new life for their families.
Stenger told investors they would get their money back — plus a dividend.
But only five out of eight projects were completed, and none of the investors, including the early investors in Hotel Jay and Tram Haus, got their money back after five years as promised, let alone a dividend.
Because Quiros allegedly used investor funds for personal expenditures, the money dried up for the three projects at the end of the scheme — the Stateside condo complex at Jay Peak Resort, a hotel and conference center at a ski area in East Burke and a proposed biomedical facility in Newport.
The music stopped in April when the Securities and Exchange Commission charged Stenger and Quiros with fraud.
That's when the nightmare began for investors. Their investments were suddenly in receivership and tied up in litigation for the foreseeable future.
It is doubly difficult for the more than 400 who still don't have green cards. Obtaining a green card is no longer a matter of waiting for U.S. Citizenship and Immigration Services to approve the required job creation targets of 10 jobs per investment. Because of the fraud, it now will take an act of Congress to get an exemption from that requirement.
Investors interviewed by VTDigger believed that the investments in the Jay Peak projects were safe because Gov. Peter Shumlin and the state's congressional delegation touted the developments in the Northeast Kingdom. Investors were told that the state was overseeing the financials for the projects, which turned out not to be true.
Alexandra Castillo, a real estate agent from Mexico, says she never would have put money up for the Stateside condos if Shumlin hadn't promoted the project with Stenger at a 2011 seminar she attended in Miami. Castillo says the governor worked to persuade the investors at the seminar. "We felt like he was there as governor and it wasn't a scam," Castillo said.
Castillo and her family wanted to escape from the drug culture in Mexico. "We have a living in Mexico, but we wanted to to move to the states and we liked Vermont because we thought it was an honest place," Castillo said. "You're all the time told that government works as it should in the United States — that there's no corruption and suddenly you learn you were wrong.
"I'm still a believer," Castillo said. "I'm still thinking the government will do something correct."
Wei Wang used family savings to invest in AnC Bio Vermont. He and his wife who are from Beijing had hoped to start a restaurant in Houston with the proceeds from their investment. Now he not only can't start a business, but also can't find employment because he only has a student visa.
Sheryr and Noreen Iqbar from Pakistan are also caught in a bind. They spent more than a decade saving money from their jobs as flight attendants to find a way to come to the United States. The Iqbars invested in AnC Bio Vermont in 2014, believing the project was a safe bet because they had seen a video in which Gov. Peter Shumlin said the developments were audited. When they found out that the SEC was investigating the Jay Peak developers they decided to pull out. In December 2015, the Iqbars asked to withdraw their application for citizenship and in just four days, USCIS accepted their request. At the same time, they asked Bill Stenger for their money back. The Jay Peak president delayed repayment for months and the Iqbars were still out their $500,000 in April 2016 when the SEC brought charges.
Sheryr Iqbar said he and his wife still hope to live in New Hampshire where they purchased a condo because "Pakistan is not a safe place" and they are worried about the future safety of their two children. Because they withdrew their USCIS application, Iqbar fears that even if Congress grants an exemption for defrauded investors, his family could be out of luck.
A number of investors have signed onto a class action lawsuit, hoping to recover funds from Quiros and Raymond James Financial Services, which, according to the SEC, allowed many of the suspect financial transactions to transpire. The lawsuit shows there are a total of 836 immigrants who put up more than $400 million. None of the investors are expected to recoup their investments anytime soon.
Sheryr and Noreen Iqbar with their two children. The couple invested in AnC Bio Vermont through the EB-5 program.
'You are just too little'
The Q Burke Hotel and Conference Center and AnC Bio Vermont, a proposed biomedical facility in Newport, were both suspended by the state in August 2014 because of suspected fraud at Jay Peak.
Seven months later, under pressure from Gov. Peter Shumlin, state regulators issued a partial approval of the two projects, allowing Quiros and Stenger to market the developments overseas and solicit investors like the Weis while the department conducted an investigation of the Jay Peak Limited Partnerships.
The state required that the Jay Peak developers put all new investor funds for Q Burke in escrow. Money was only to be released to pay for "bona fide" expenses for the building of the hotel and conference center, architecture fees, permits, and fixtures and furnishings.
In addition, Quiros and Stenger had to tell new and previous investors in the Q Burke project that the SEC was investigating all of the Jay Peak projects. In some cases, investors in Q Burke and AnC Bio Vermont, a proposed biomedical facility in Newport, were not made aware of the federal probe.
The Weis were part of this group of new investors who bought into Q Burke after the state greenlighted the project in March 2015. While the 116-room hotel at Burke Mountain was completed later that year, the athletic center was never built.
The Weis sued last summer, claiming that once federal regulators started to review the actions of Stenger and Quiros, the state Department of Financial Regulation should have taken stronger action. That includes, according to the lawsuit, preventing new investors from being put at risk in the Q Burke project until "an essential financial review" of the project was complete.
The Weis filed in state court in Vermont taking on the state Stenger, Quiros and a number of other parties in an attempt to recover their investment from those they felt were responsible for making promises that never came to fruition.
In addition to the two developers, the lawsuit named a slew of defendants all involved with the Burke Mountain resort project, including the contractor and architect. It also named the state Department of Financial Regulation and the financial institution Raymond James.
The 42-page lawsuit, filed in July, which lays out the allegations against the defendants, includes a section titled, ""Even While Under The SEC's Watchful Eye, With The Days of the Scheme Rapidly Coming to an End, The Defendants Make the Weis Two of Their Final Victims."
The Weis eventually had to drop the suit because they couldn't afford to continue legal action.
At the brief hearing in civil court in Burlington in September when his case was formally dismissed, the Weis' attorney stood alone at the plaintiff's table. The defense attorneys representing the entities they were suing filled the handful of seats at the defense desk as well as two additional rows of seats in the courtroom.
Pietro Lynn, an attorney representing the Weis at the hearing, told the judge his clients would be dismissing the case, but provided no reason. Lynn served as the Weis' Vermont counsel, with the pair's lead attorney based in New York City.
Minggan Wei, who did not attend the hearing, said in a recent interview that the reason the case was dropped was simple: The cost of the legal battle was too high.
When the case came to court in September, its first hearing before a judge, Wei said he realized that he could not afford to keep up the fight. His total lawyer bills had mounted well past $100,000 and no end or guaranteed outcome in sight.
Wei said he was up against large entities with deep pockets, and in the case of state of the Vermont, limitless resources and attorneys.
"You just can't ignore their power," he said, adding, "Even if you are the victim, you are just too little."
Assistant Attorney General Kate T. Gallagher, representing the state Department of Financial Regulation, in the case involving the Weis, said after their lawsuit was filed that the state would "vigorously" defend itself against the claims.
"The hotel was built, it's operating, it's ongoing, it's hiring people," she said in September following the hearing when the case was dismissed. "It could be sold as a valuable asset that could make them whole so certainly those are issues that should be resolved, we thought, before this should be heard."
Wei said the legal strategy was, in part, to name as many defendants as possible connected to his case in the hope that at least one would settle, allowing him and his sister to get back the money they invested. That never happened and spending hundreds of thousands of dollars on a case that could take years to come to trial was out of reach.
Wei said he looked at the possibility of joining a class-action lawsuit filed in federal court brought other investors who allege they were defrauded by Stenger, Quiros and others associated with the development projects.
But, he said, that process is long, and, in the end, it's likely the attorneys will see the biggest return while the investors will be left to share what's left of any judgment or settlement.
Burke Mountain Hotel and Conference Center in East Burke. Photo by Alan Keays/VTDigger
Immigration status in doubt
Now, he is trying to find a way to stay in the United States. He said the situation for his sister isn't as dire. She lives in San Francisco, is pursuing a master's degree, and is a little more flexible in where she may end up living when she gets out of school, he said.
For him, however, he said there is no doubt he wants to remain in the United States.
He graduated in December from the city's Northeastern University with a bachelor's degree in communications. And he's been doing more than hitting the books. He's been building a business over the past several years. That business, LobsBoston, employs a handful of people now and he has plans to expand the company across the country.
The marketing company connects businesses in the Boston area to the Chinese community, both within the city and beyond. His clients include government agencies and corporations as well as retail establishments and restaurants.
"Exclusive go-to for Chinese expats in Boston," reads the company's slogan.
Through a website and social media outlets, the company provides updated information and deals directly aimed to the Chinese market, Wei said.
"We're in the dominant position," he said. "If you ask any Chinese person in Boston, they should know about us."
In addition, the company works with businesses to develop strategies to reach the Chinese community. The company's long-range plan, he said, is to expand to other cities across the United States.
"I'm pretty happy to see that I have this business that's been running and heading in a good direction," he said. "We're creating a lot of value to our clients, to our market, to the city. I feel people need us."
However, there's a roadblock he must overcome first.
Wei says there's no way he's going to get a green card through his EB-5 investment by February when his student visa expires. EB-5 investors put up $500,000, plus an administrative fee, into qualified projects. If that investment creates 10 jobs, the investor then becomes eligible for a green card and permanent U.S. residency.
Due to the fraud allegations against the developers, Wei said, he's unlikely to meet the job creation requirement, and the process to obtain a green card hasn't even started. In fact, he said, he'd rather get the money back from the Burke development and use those funds to invest in something more viable.
That may never happen, and certainly not before February, though there is a 60-day grace period allowed before he may be forced to leave the country.
As a result, Wei said, he is left to scramble to find a way to stay in the United States. Options, he said, include seeking a work visa, but they are limited and are obtained through a lottery-like system.
Another possibility is enrolling in a master's degree program, allowing him to obtain a student visa and remain in the country.
Neither of those options are permanent solutions.
"I need to have something a little more stable," he said, adding that the constant uncertainty is taking a toll on him personally as well as professionally. "You don't know where you are going to be … you can't make plans."
His family back in China, he said, put up the money for him and his sister to invest in the Burke project in hopes that both would secure green cards and permanent U.S. residency.
Wei said his family runs an exporting business in Beijing, and though they are not poor, he said coming up with the $1 million was no easy task. They borrowed to obtain funds.
"One million dollars is a lot of money to us," he said. "I would say that's all the cash we have."
Surfing troubled waters
Wei said he learned about the Q Burke project by surfing the web for EB-5 developments. He said friends had used EB-5 as a way to obtain green cards.
"It was really a random search," he said. "I just see Jay Peak mentioned everywhere. We thought that might be a good starting point."
The Jay Peak Resort website, Wei added, provided links to their EB-5 projects and the ones that took place at that resort, including the construction of a hotel and water park, appeared to be among the best.
So he fired off an email and shortly afterward attorney Charles Leamy of Jay replied, pitching him projects, including Q Burke. Wei says Leamy aggressively pursued them, but at the time he didn't see that as a reason not to move forward.
Chuck Leamy. Facebook picture
According to the lawsuit, Wei met with Leamy and Stenger at Jay Peak in December 2015 to talk about the possibility of investing. He spent the night at Jay Peak and traveled the next day to Burke along with Leamy to see the property.
"That's the only time I've been to Q Burke," Wei said. "Construction was underway … Q Burke seemed like it would be another success."
Wei said due to the apparent success of other projects headed by Quiros and Stenger, his family didn't think there was a need to be that careful in reviewing the documents that were given to them.
"One thing I should have done, which I didn't do, was do more research online, looked at discussion forums to see if there was any negative information, which I didn't do," he added. "We really didn't know what the risks were. Now I know more."
Wei described Leamy as the person who dealt with him the most, referring to Stenger as "more of a VIP," who came and greeted him and talked a bit about the Q Burke project, but little more. Stenger did agree to reduce the standard $50,000 administration fee for each investor to $20,000 apiece for the Weis.
Wei said he never even met Quiros, described in a ruling by a federal judge presiding in the SEC case as the "architect" of the investment fraud scheme.
After they signed up to invest in the Q Burke project in December 2015, it took until March of this year for the Weis to wire the money from China to the escrow account in the United States.
Then came the phone call on April 14 from a friend, who had invested in a different EB-5 project in New York City, alerting him to news about the Vermont developments headed by Stenger and Quiros.
"He said, 'There's something really, really big I need to tell you,'" Wei recalled, adding his friend then told about the news reports of the SEC and Vermont attorney general's office filing the investor fraud lawsuits. "I was shocked."
Wei said the same day the news broke, he thought about calling Leamy. However, before he did, his phone rang. It was Leamy.
"He said everything is all right," Wei remembered Leamy reassuring him. "He said just don't worry too much. We'll get it right."
Shortly after, Wei said, he didn't think moving forward was such as good idea so he contacted a different attorney to try to see if he could get his money back. However, he said, when they checked with the bank, the funds had already been removed from the escrow account.
"It was just a few days later. I thought the money may still be there," Wei said. "The bank said they didn't have the money. It was transferred out."
Wei said he was surprised to learn the funds had been moved so quickly from the escrow account, especially since the last of the wire transfers had just taken place in March.
The contact with Leamy slowed and came to a stop with the filing of the lawsuit this summer.
The Weis, in total, paid $1,060,000, including $500,000 each for the investment, and $20,000 apiece in administration fees. In addition, they paid a combined $20,000 to retain Leamy for legal services associated with immigration.
The Weis, in the lawsuit, stated that Leamy had a clear conflict of interest because he pitched them the project and represented them as their immigration attorney.
"Leamy failed to disclose the conflict of interest that would arise by working for the (Jay) Peak Limited Partnership and also providing legal services to the Weis," the lawsuit states. "Instead of making this essential disclosure, Leamy charged the Weis a nonrefundable retainer for his so-called 'legal services.'"
In his court filing, Leamy denied wrongdoing. He also denied working for Quiros and Stenger at the time he accepted the $20,000 to provide legal services related to immigration.
"Charles Leamy has always been prepared to vigorously defend his reputation for integrity and excellent client service," his attorney, Robert Kaplan, wrote in a statement after the Weis' case was dismissed.
186 miles away
Wei's business is run out of a WeWork office space across from South Station in Boston's downtown, 186 miles from Vermont's Burke Mountain. It's an 11-story brick building filled with the latest technology, providing coworking spaces for startups as well as major corporations.
Inside, many entrepreneurs and their employees fill large open rooms as well as the smaller office spaces operating businesses that run on little more than laptops.
Wei tracks down available conference room space in the building on his smartphone, sits down and calmly answers questions from a reporter. He appears energized when talking about his business and his plans for the future. He's upbeat explaining the work he does with clients and the next steps he wants to take.
He seems worn down when discussing his EB-5 experience and what options are available to him to move forward, often blaming himself for the position he is now in. At the same time, he wonders how others could take advantage of someone like him and face no consequences.
Wei said he is skeptical about everything he hears or reads now connected to the Q Burke project, including reports that the investors will be made whole through the sale of assets associated with the fraud cases, including the hotel at Burke Mountain.
"I'll just have to wait and see," he said. "Who knows if it's just a statement or not."
His friendly and polite manner gives way to a touch of anger when he hears more promises and pledges from people connected to the EB-5 world back in Vermont.
"Apparently, it's all bullshit," he said.
http://uschnews.com/one-eb-5-investors-story-too-little-and-maybe-too-late/
Mentions
Litigation Cases
---
Securities Disclaimer
This website is for informational purposes only and does not constitute an offer or solicitation to sell shares or securities. Any such offer or solicitation will be made only by means of an investment's confidential Offering Memorandum and in accordance with the terms of all applicable securities and other laws. This website does not constitute or form part of, and should not be construed as, any offer for sale or subscription of, or any invitation to offer to buy or subscribe for, any securities, nor should it or any part of it form the basis of, or be relied on in any connection with, any contract or commitment whatsoever. EB5Projects.com LLC and its affiliates expressly disclaim any and all responsibility for any direct or consequential loss or damage of any kind whatsoever arising directly or indirectly from: (i) reliance on any information contained in the website, (ii) any error, omission or inaccuracy in any such information or (iii) any action resulting therefrom.