Real estate developers want foreign investor green-card program reformed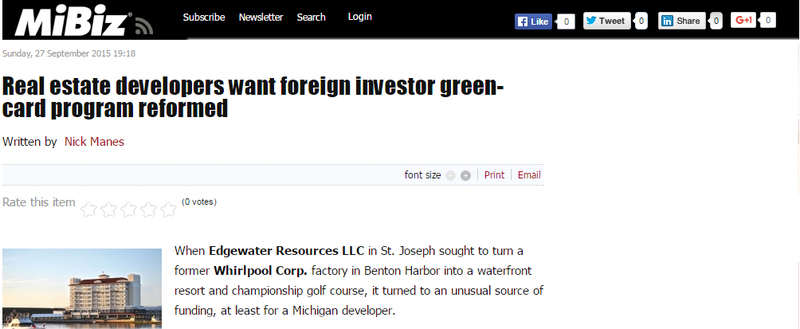 When Edgewater Resources LLC in St. Joseph sought to turn a former Whirlpool Corp. factory in Benton Harbor into a waterfront resort and championship golf course, it turned to an unusual source of funding, at least for a Michigan developer.
Edgewater principal Ron Schults and his partners raised $18 million from 38 foreign investors in China and India for the $30 million project. In return for their investment, the foreign nationals used a federal program to seek a permanent U.S. green card.
The challenge for developers like Schults seeking to woo wealthy foreigners: Many potential overseas investors see Michigan as flyover country.
"We actually sold (Harbor Shores) as a suburb of Chicago because at least people know about Chicago, even though it's still in the Midwest," Schults said. "But they do know about it, so that helped us a lot."
Under the EB-5 program, the federal government grants a permanent visa to qualified foreign investors who put at least $500,000 or $1 million into a commercial project, depending on the project's location. The federal program requires projects to create a minimum of 10 jobs, although the Michigan Economic Development Corp., which oversees the program in the state, requires developers to create 25 direct jobs.
Because investors get fast-tracked for a green card under the program, they're inclined to accept lower interest rates for their investments, which in turn helps developers save money even though there are costs and time associated with using the EB-5 program.
Whether the state will continue to have access to this tool remains unclear as the EB-5 program is set to expire at the end of September. However, bipartisan legislation before Congress would renew the program as well as clear up some of the issues that have come to light in recent years.
That would be welcomed news for economic developers promoting the program to commercial developers.
"If this is renewed and reformed to give benefits to projects in disadvantaged areas, it's a tool we really want to use," said Amy Banninga, a senior adviser at the MEDC.
In Michigan, the MEDC since last year has operated one of the 11 regional centers in the state that administer the EB-5 program. That stands in contrast to most other states, where private regional centers link developers to interested foreign investors. Only Vermont has a similar state-run regional center. The U.S. Citizenship and Immigration Services' website lists more than 700 regional centers nationwide.
Having a state-run regional center certainly adds complexity and bureaucracy to the process of obtaining financing, but it also provides increased transparency and oversight, Banninga said.
The organization typically only considers projects worth more than $20 million, she said, largely because of the complexity of navigating federal immigration laws and the significant financial expertise required to complete projects of that scale.
"What we provide as a center is, in effect, credibility for a project," Banninga said. "There is no subsidy. What they benefit from, as a project, is lower financing cost. But they don't get any kind of a subsidy. As a matter of fact, they have to prepare a lot of documentation and a lot of paperwork."
OVERCOMING CHALLENGES
EB-5 has proven to be controversial at times because many see it as simply a cash-for-green card program. Moreover, the intent of EB-5 is to deploy capital for projects in underserved areas, generally in rural America or urban areas with high unemployment, but that hasn't been the case in recent years.
Since many of the projects using EB-5 occur in major metropolitan areas along the East Coast and West Coast where the capital is not as badly needed, Schults and others with EB-5 expertise say the program isn't necessarily working as intended.
"The purpose of the act was to go to rural America and help — at least to some degree — the Midwest," Schults said. "Our agent in Hong Kong said the Harbor Shores project is the perfect EB-5 project with the intention of the law. It's in a rural area that has lost a lot of jobs."
The Harbor Shores development created 487 jobs, according to the project's developers. The project provided a welcomed employment boost for the region, which in 2009 had an unemployment rate of more than 13 percent, according to U.S. Census data.
Unemployment in the Niles-Benton Harbor metropolitan statistical area has since dropped to 4.5 percent.
To date, the Harbor Shores development remains the only project in Michigan to use EB-5, largely because the stringent reporting requirements mandated by the federal government can add up to a year of project lead time, causing many developers to go with more traditional financing, according to industry sources.
The bureaucracy surrounding the program eventually pushed developers of the David Whitney Building in Detroit instead to pursue traditional financing, said Mitch Garrett, vice president of acquisition and development at Fort Lauderdale, Fla.-based VOS Hospitality, one half of the joint venture that redeveloped the building.
Garrett told MiBiz that the David Whitney developers had foreign investors lined up but the time frame fell during the middle of the Detroit bankruptcy and the team decided that it would be simpler to secure more traditional financing. The partners eventually redeveloped the building into a mixed-use facility with a hotel and apartments, as well as a bar and restaurant.
"The foreign markets wanted to let it play out," Garrett said of the bankruptcy. "The overall market (of foreign investors) wasn't able to be educated about the Detroit bankruptcy, and it wound up working out (with other financing)."
GAMING THE SYSTEM
Federal mandates in the EB-5 program set job-creation thresholds and specify that projects must be located in a targeted employment area, which is defined as a rural area or a region experiencing an unemployment rate at least 150 percent of the national average.
However, industry insiders say states often rig those targeted areas via gerrymandering.
That was a problem highlighted by The Wall Street Journal, which reported in early September that state officials in New York combined a variety of low-unemployment and high-unemployment areas to meet the required unemployment rate to qualify for EB-5 financing for the $20 billion Hudson Yards redevelopment in Manhattan.
Also problematic, according to the report: Immigration laws only set aside 10,000 visas per fiscal year for EB-5. The Hudson Yards developer, New York City-based Related Companies, uses the vast majority of EB-5 visas, accounting "for about 20 percent of the dollars being raised through the program today," according to the report.
"There's going to be some regulatory changes and weeding out of people," Garrett said of some of the issues associated with the EB-5 program. "Once that shakes out, you'll be left with quality investors."
Users of EB-5 such as Edgewater's Schults say they are hopeful that the proposed federal legislation fixes the disparities seen with EB-5 dollars going to only a few areas.
"Unfortunately, the glitzy projects are the ones in these four major metropolitan areas," Schults said of developments in New York City, Miami, Los Angeles and San Francisco. "If you're an investor sitting in Beijing … and you have five projects in front of you and three of them are really cool, sexy, multimillion dollar projects in New York or Miami, and here's this one in a cornfield in Iowa, that's the struggle they have."
SEEKING REFORMS
While bills in the U.S. House and Senate differ in some ways, both seek to bring about more transparency and put a regulatory framework to the program that sources said has suffered at times because of some "bad actors."
While it remains unclear whether Congress will act before the program expires, both Schults and Banninga indicated that given the bipartisan nature of the bills, they are confident EB-5 will be renewed. Other experts have noted that some form of a short-term extension of the program also remains a possibility.
In a conference call with reporters, Sen. Debbie Stabenow, D-Mich., said she felt "very doubtful" that the program would be extended by the Sept. 30 deadline. She noted the Senate is focused on avoiding a government shutdown and is not taking up other bills at this time.
"I have not heard about an extension at this point in time, but it doesn't mean it couldn't happen," Stabenow said. "I would think there would be a period of time before that would be reauthorized."
The MEDC's Banninga remains hopeful about the program's future, if Congress acts to reform it. The EB-5 program as initially intended offers the state an incentive to help encourage development in regions that felt the worst effects of the Great Recession, she said.
"As it's currently working, that's not really happening," Banninga said. "If we can have yet another tool to help us in disadvantaged areas, we would never turn our back on that. We take that very seriously. If it isn't reformed, that's going to be very difficult."
http://mibiz.com/news/real-estate/item/22920-real-estate-developers-want-foreign-investor-green-card-program-reformed
Mentions
States
---
Securities Disclaimer
This website is for informational purposes only and does not constitute an offer or solicitation to sell shares or securities. Any such offer or solicitation will be made only by means of an investment's confidential Offering Memorandum and in accordance with the terms of all applicable securities and other laws. This website does not constitute or form part of, and should not be construed as, any offer for sale or subscription of, or any invitation to offer to buy or subscribe for, any securities, nor should it or any part of it form the basis of, or be relied on in any connection with, any contract or commitment whatsoever. EB5Projects.com LLC and its affiliates expressly disclaim any and all responsibility for any direct or consequential loss or damage of any kind whatsoever arising directly or indirectly from: (i) reliance on any information contained in the website, (ii) any error, omission or inaccuracy in any such information or (iii) any action resulting therefrom.