South Korea holds lawyer suspected of fraud: immigration attorney drew money from green-card hopefuls
He pledged to build hundreds of millions of dollars in biofuel projects around the country and was invited to speak before members of Congress.
But late last week, L.A. immigration attorney Justin M. Lee was awaiting charges of fraud in South Korea, where he was arrested July 10. He is also facing fraud allegations in the United States from more than a dozen investors and is the subject of a complaint by the California State Bar.
His troubles mark a dramatic turn after years of lofty promises made to investors and politicians.
Lee was a pioneer of using the EB-5 visa program, which allows foreigners to obtain green cards in exchange for investing in job-creating projects in the United States, to fund construction of large-scale manufacturing plants. His Koreatown law firm collected tens of millions of dollars from at least 45 green-card seekers, most of them from South Korea and China, to develop ethanol plants in Kansas and Texas. What's more, the projects his clients were investing in were planned by Lee himself.
But none of the plants, which promised to create thousands of jobs, was ever finished. Many investors lost money, saw their visas denied and were forced to move back to Asia. They now claim they were scammed, alleging that Lee used money for noninvestment purposes, and in some cases did not inform clients that he was running the projects in which they were investing.
"He's telling you you're investing in this biofuel venture in Kansas, but once you put your money in, he's taking it for a failing project in Texas," said Henry Lee, an attorney not related to Justin Lee who is representing a client who allegedly lost $500,000 in Lee's companies. "It was kind of a Ponzi scheme."
Justin Lee's downfall has made him the latest poster child for problems in the controversial EB-5 visa program. The program, which has resulted in thousands of successful green-card applications, has also been subject to allegations of fraud and criticism of its oversight by federal officials.
Despite Lee's problems--his arrest, the State Bar charges and nearly three years of investor lawsuits--the U.S. Citizenship and Immigration Services, which is the Department of Homeland Security division that oversees the EB-5 program, was still listing two of Lee's companies--Kansas Bio-fuel RC LLC and South West Biofuel RC LLC--as approved investment vehicles on its website last week.
"The lesson we can learn from this is that in this program there's a lack of transparency about what is actually happening with the use of capital," said Michael Gibson, founder of USAdvisors, a Tampa, Fla., investment firm specializing in EB-5 projects. "USCIS does not have sufficient resources to go after the bad actors. Until recently, there has been no scrutiny from securities regulators."


Neither Lee nor his L.A. legal counsel returned requests for comment, but in an answer to a complaint filed in January by the State Bar, he denied he had breached professional codes of conduct and blamed many of the alleged violations on his former partner, attorney Thomas Kent. Kent declined comment.
Green-card hopeful
Yongo Hwang met Lee in June 2007. Hwang, a retired South Korean citizen, was living with his wife in the Pacific Palisades under a temporary visa. But he saw Lee's EB-5 advertisements in local Korean-language newspapers promising permanent residency for a $500,000 investment and was enticed.
Lee arrived at their first meeting in his law office flashily dressed, wearing Cartier eyeglasses and a Rolex watch, according to Hwang. He described an investment opportunity in a Kansas ethanol plant.
"It gave me a bad feeling, but I had to make the decision," said Hwang, now 75. "I think I'm too old now and not clever enough. If I was younger, I would have never made that mistake."
By the time of the meeting, Lee's firm had placed $4.5 million from individual EB-5 investments into two nearly completed ethanol plants in Kansas and had committed an additional $2.5 million to a plant being constructed in Dodge City, Kan.
Lee had also set up his own L.A. energy company, Nexsun Corp., as well as two federally approved "regional centers"--investment vehicles that pool money from EB-5 investors --that would fund Nexsun plants in Kansas and Texas at a cost of more than $200 million.
The setup made him an immigration attorney, investment fund manager and developer all in one.
Hwang gave him the $500,000 and got his initial visa application approved. It granted him a temporary green card that would become permanent if the investment created 10 jobs.
Hwang said he and Lee also signed an unorthodox contract that was to pay Hwang a 3 percent return on his investment each year and allow him to receive his full investment back after nearly five years.
But after the deal was signed in 2007, Hwang claims he never received updates and was ignored when he asked to go see the plant site in Kansas. He also alleges that he was never told that Lee was involved in the development of the plants.
When the five-year window passed last year, Hwang asked for his money back, but said Lee asked him to wait for new investors. Hwang said that because his investment did not create the required jobs, the green card he expected never materialized. He now thinks he was cheated; he filed a lawsuit earlier this year in Los Angeles Superior Court.
One person who found it much harder to meet with Lee was Gibson, the Florida investment adviser.
As the EB-5 program was gaining in popularity in summer 2007, Gibson decided to tour all of the roughly 20 regional centers then existing across the country to perform due diligence (there are now about 350 regional centers). He was especially keen to meet Lee and his partner, Kent, who ran the only regional center headquartered in Southern California and the only one investing primarily in manufacturing. Lee's firm, however, was also the only one unresponsive to Gibson's requests for a meeting.
Gibson came to Los Angeles anyway, found the offices on Wilshire Boulevard in Koreatown and called from downstairs.
"I had literally traveled here from across the country and I called their office and I said, 'Listen, guys, I'm sitting right in front of your office, can I just come in to say hello?' And they said no," he said. "It was something along the lines of, 'We don't have time.' These were attorneys actively in the market raising capital to fund this commodity-based investment, which is very risky. There were all sorts of red flags that came up."
Gibson said that it was the only regional center in the country he did not meet with that year.
Big plans
Backed by equity provided by EB-5 investments, Lee's company planned to break ground on at least four facilities around 2007: a nearly $100 million plant near Ulysses, Kan., capable of producing 48 million gallons of ethanol a year; a $37 million biodiesel plant near Ulysses; a 100 million-gallon ethanol plant in Dalhart, Texas, which would have cost upwards of $200 million and was larger than any existing plant in Texas at the time of planning; and a 5 million-gallon ethanol plant in Hiawatha, Kan.
Lee wanted in on the ethanol boom, which was being fed by high gas prices, low corn prices and high demand. Things were so flush that a $50 million plant built in 2006 could expect to turn a $50 million profit in one year. About half of the country's 200-plus ethanol plants were constructed between 2006 and 2008.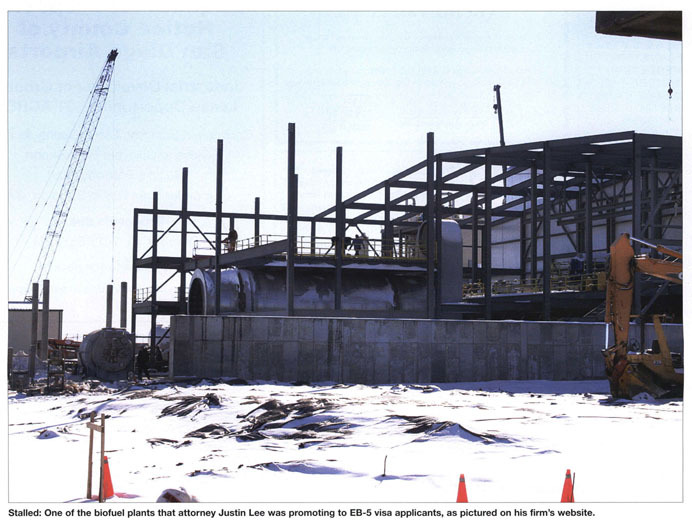 Lee lined up EB-5 investors and also received a $2.5 million investment from Phillipsburg, Kan., ethanol company Prairie Horizon Agri-Energy LLC. It's unclear how much his firm raised; Kent, his then-partner, told a Kansas newspaper in 2009 that the firm had raised $40 million to $45 million, mostly from investors in South Korea and China.
Though Lee was not a pioneer in ethanol technology, he was touted as an innovator.
In May 2008, when he had yet to build an ethanol plant on his own, the attorney spoke before the so-called U.S. Helsinki Commission, comprising members of the U.S. Senate, House of Representatives and executive branch. The hearing in Washington addressed the country's energy security future, and Lee discussed energy policy and plugged his Ulysses ethanol plant, saying it would create as many as 942 indirect jobs, generate $180 million in annual revenue, millions of tax dollars and increase local household incomes.
He was invited to the panel by then-Sen. Sam Brownback, R-Kan., now the state's governor, according to a transcript. The two had previously met, and Lee and his employees also donated at least $5,550 to Brownback's campaigns and PACs during the 2008 election cycle.
"Mr. Lee I'm familiar with and has an enterprise, an innovative ethanol operation going. And he's building in my state, in Kansas. And I'm delighted that they're doing it there," Brownback said during the heating.
Downfall
Within months of Lee's testimony before the commission, the ethanol market cratered. In October 2008, VeraSun Energy Corp., one of the country's largest ethanol producers, filed for bankruptcy protection. The collapse of the financial markets also made it difficult to get lending. A month later, Lee and Kent pushed the Dodge City plant, which they did not control but put early client investments into, into bankruptcy.
Prairie Horizon pulled out as an investor in Nexsun in 2009, and Nexsun that March announced it was halting construction on its Ulysses ethanol plant, which had broken ground in 2007, and was switching its focus to the biodiesel plant theM. But work continued on neither plant, nor on the plants in Dalhart or Hiawatha.
Lee had another problem. According to investor lawsuits against him, he signed contracts with investors in 2005 and 2006 promising them their money back after four years and six months. Soon they would begin demanding their money. Investors would also not receive their green cards unless they created 10 jobs each and he had not created very many.
Lee and his companies focused on finding new sources of money and to find alternative ways to create jobs to fulfill the visa requirements. He made trips to South Korea and China to pull in new investors, and was still signing up new visa investors in 2010, according to court firings.
He also pushed his employees in meetings to think of creative ways to fulfill job-creation requirements.
"When the money dried up you could see he got nervous and anxious," said Howard Nilsen, Nexsun's chief financial officer from June 2008 to June 2009. "He told me that he was having a difficult time sleeping and he's realizing he had responsibility for these jobs and, 'Howard, we've got to create the jobs.' Whether that's a fact or not, I thought he was being honest with me."
In order to create those jobs, Lee's team created a computer technology company in Texas and negotiated to invest in a different biofuel company.
It also opened an herbal pill-bottling business in Ulysses in late 2009 or 2010 and contracted to fix the roof of the local Chamber of Commerce building, according to Daron Hall, former city administrator of Ulysses.
"Suddenly they had a big green sign on Main Street that said 'Nexsun' and there was this pill-bottling spinoff business," he said. "It was so strange."
But efforts to find institutional investors were not successful.
Nexsun officers met with an investment fund manager in Florida who called himself "John Condo" and promised to invest $330 million into their projects in 2008. It turned out to be too good to be true.
Nexsun gave Condo, whose real name is Ioannis Koutsoubos, and his associates $300,000 in cash as a "deposit" for the investment, but never got any money in return. Koutsoubos and three associates were indicted in Florida last year on charges of defrauding Nexsun and more than 30 other developers.
In 2010, Lee's investors began realizing they had neither received their green cards nor their money back. Many who had moved to Southern California during the process had to go back to South Korea or China. At least 13 lawsuits have been filed since then. In January, the State Bar charged Lee with misappropriating money and misleading clients, and a trial at the State Bar court was scheduled for Aug. 6. That action was continued when Lee was arrested last month by Korean authorities at Incheon International Airport after complaints from Korean investors. Prosecutors were reportedly still weighing charges last week.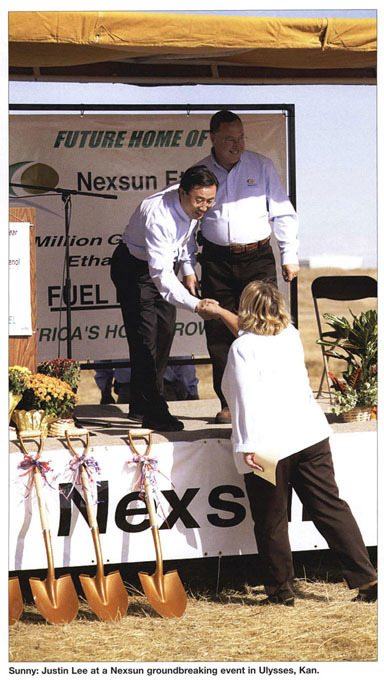 Meanwhile, the small towns where the plants were sited never saw their promised jobs.
"Ulysses is a small southwest Kansas town suffering from a declining tax base" Martin Long, county commissioner of Grant County in Kansas, wrote in an email to the Business Journal. "We have never been told or given a reason why this plant was not completed. For this reason, many people in our community suspiciously wonder why the project was abandoned."
Many of Lee's methods, if true as alleged in investor and State Bar complaints, were unorthodox if not illegal. Eight investor lawsuits allege that he signed repayment agreements guaranteeing investors' money back after four to four-and-a-half years, while two other investor lawsuits allege he signed agreements allowing them to sell back their interest after three-and-a-half years. Such guarantees ran counter to the requirement that an EB-5 investment he "at risk," and were used to entice clients, several of the lawsuits argue.
The State Bar's lawsuit and multiple investor lawsuits also claim that he did not disclose the conflict of interest that he was working both as immigration attorney and project developer, in violation of attorney conduct codes.
"Respondent did not provide a written disclosure to (clients) Mr. Ye and/or Ms. Zhang that notified them of his legal, business, financial, professional and personal relationship with Nexsun," the State Bar complaint reads.
His legal guidance to clients also appears to come close to giving investment advice in the sale of securities without being a licensed investment adviser.
Two sources said they have received calls from the Securities and Exchange Commission asking about Lee's handling of EB-5 investments.
Multiple investor lawsuits further allege that Lee shifted investors' money without permission, and at least one alleges that he used their investments to cover losses in other projects.
"He started taking money from the earlier investors to try to salvage the floundering investments," said attorney Henry Lee.
Another alleged conduct breach involves Koreatown's Wilshire State Bank. According to the State Bar's complaint, one of Lee's Chinese clients, Lei Zhang, put $500,000 in an escrow account at the bank with the condition that the money not be released until her initial visa application was approved. Lee's firm allegedly had the bank release the money before the approval, and spent it. Zhang's application was denied several months later. When she asked for her money back from the escrow account, she was allegedly told it was gone. Hwang similarly alleges his money was moved out of his escrow account by Lee and Wilshire State before escrow conditions were met in 2007.
The State Bar has alleged that Lee violated professional codes by failing to disclose his longstanding professional and personal relationship with Wilshire State to clients.
"In truth and in fact, Wilshire State Bank was respondent's long-standing financial institution where he had formed a legal, business, financial, professional relationship as well as close personal ties with the manager and other officers of the bank," it reads.
Wilshire State did not return a call for comment.
Nilsen, the former chief financial officer, said Lee was just the victim of bad timing.
"I don't believe the intention was for him to scam people's money. I think he got caught in a bad market at a bad time," he said.
However, the prospects of Lee's investors recovering their money look bleak.
Lee and his law firm have filed for bankruptcy. Hwang and his attorney further believe Lee moved money overseas during that time. Indeed, in September 2010, as a crash of investors was demanding their money back, Nexsun reportedly took stakes in four Filipino mining companies.
"It'll be difficult to get back the money" said Hwang, who is still living in the United States under a temporary green card but doesn't know how long he can keep renewing it. "Maybe there's some chance of a compromise, but I don't know."
http://go.galegroup.com/ps/i.do?id=GALE%7CA345458995&v=2.1&u=tel_s_tsla&it=r&inPS=true&prodId=GPS&userGroupName=tel_s_tsla&p=GPS&digest=f6bb57ef32fbfdeb204162819fb0b799&rssr=rss
Mentions
States
---
Securities Disclaimer
This website is for informational purposes only and does not constitute an offer or solicitation to sell shares or securities. Any such offer or solicitation will be made only by means of an investment's confidential Offering Memorandum and in accordance with the terms of all applicable securities and other laws. This website does not constitute or form part of, and should not be construed as, any offer for sale or subscription of, or any invitation to offer to buy or subscribe for, any securities, nor should it or any part of it form the basis of, or be relied on in any connection with, any contract or commitment whatsoever. EB5Projects.com LLC and its affiliates expressly disclaim any and all responsibility for any direct or consequential loss or damage of any kind whatsoever arising directly or indirectly from: (i) reliance on any information contained in the website, (ii) any error, omission or inaccuracy in any such information or (iii) any action resulting therefrom.