Outrage, Confusion As EB-5ers Blast USCIS Fee Hikes
By Mona Shah, Esq. and Rebecca S. Singh, Esq.
As EB-5 practitioners furiously collect themselves following this week's proposal from U.S. Citizenship and Immigration Services ("USCIS") to raise its filing fees, the industry has found itself questioning the mercurial agency's motivation … and not liking the probable answers.
USCIS is proposing an astronomical increase in the filing fees required for EB-5 visa applications. The fees were hardly modest to begin with, but they are an absolute bargain compared to the newly suggested charges. Per USCIS, the proposed fee increases are meant to compensate for the agency's lack of resources – resources that would allow them to "provide adequate service to applicants and petitioners or be able to keep pace with incoming benefit request workload."
Translation: We're cash-poor and understaffed, so we need more money from you to prevent us from not doing our job in a timely and efficient manner.
The increased amount would also, the USCIS noted, say, ease the backlog of processing times.[1] According to USCIS, the agency gets about 96 percent of its funding from filing fees. So from a purely monetary standpoint, this otherwise absurd proposal could provide a much-needed injection of cash into the beleaguered office.
Below is a chart of current vs. newly proposed filing fees for the relevant forms:
| | | |
| --- | --- | --- |
| Form | Current Fee | Proposed New Fee |
| I-526/I-526E | $3,675 | $11,160 |
| I-829 | $3,750 | $9,525 |
| I-956 | $17,795 | $47,695 |
| I-956G | $3,035 | $4,470 |
| I-956F | $17,795 | $47,695 |
The percentage jumps are astonishing. The proposed new fee for I-526/I-526E forms is $11,160, a whopping 204% jump from the current $3,675 fee. Meanwhile, the I-829 fee would rise 154% from $3,750 to $9,525; both fees are required to be paid by the individual investors. The I-956 and I-956F would increase 168% from $17,795 to $47,695, and the I-956G would surge a comparatively minuscule 47% from $3,035 to $4,470.
Unanswered Questions:
Some questions it behooves USCIS to answer include but are certainly not limited to:
Will these new EB-5 form fees be incorporated into RCs' reauthorization plans by the end of 2023?
How did USCIS arrive at these numbers?
What precisely, will the windfall of fees be used for? Which Department of Homeland Security ("DHS") department will benefit? Will the money be put into a pool and used for all and sundry, or will it be used for the benefit of EB-5 investors and projects?
Will an RC wishing to recertify or make a simple amendment to structure or geography be compelled to pay the new, exorbitant I-956 fee?
Is it even practical to assume that an increase in fee-based funding would mean a more functional USCIS? The fees were last adjusted and increased all the way back in 2016, and the problems facing USCIS certainly predate that adjustment. An increase in funding does not necessarily mean that it is guaranteed more staff or more resources. Furthermore, as it is unlikely that many will be willing to hand over this much money, one must wonder if USCIS would even see a marked increase in income or if this is just a (perhaps desperate) attempt to collect whatever it can.
Fee Changes Are Ill-Timed and Unfair
There are many reasons why these fee changes are ill-timed and unfair. The past year witnessed a roller coaster of events within the EB-5 program, despite the passage of major legislation – i.e., The Reform and Integrity Act of 2022 ("RIA"). Prior to the passage of RIA, the Regional Center program had lapsed for almost a year (a year without income), giving rise to uncertainty among investors. Following the passage of RIA and the industry's battle over recertification[2] (amounting to a downtime of about a year), regional centers and projects barely began to put project documentation together and market for investors before facing a slew of fees.
Further, it is quite unfair to ask previously designated regional centers to pay the high fees (fees that were already paid at the time of filing for initial designation). Is this only meant for new designation requests? What about amendments? Can you imagine paying $47,695 for an ownership change? It seems that the victory of RCs' reinstatement was hardly a victory at all, leaving a feeling that the fees are punitive in nature or opportunistic. Now that RCs have been freed from the burden of uncertainty, there appears another roadblock to success, and a costly one at that. Once again, regional centers are left to wonder just what will be involved in their reauthorization process.
USCIS has a penchant for making these announcements either at the 11th hour – as it did just before Christmas, finally releasing meeting minutes that revealed the agency's decision to extend the fast-approaching December 29 deadline for I-956 filing[3] (maybe done with the intent of the fee hike in mind) – or at a time when businesses, attorneys, and all others involved in EB-5 should be taking a moment to refocus their energies on the year ahead. The news of these proposed fee changes came midday on January 3rd, which for many was the first day back at work in 2003
Happy New Year, right?
The agency's timing is also suspect because of the alleged lack of available visas – if we cure the backlog by raising the fees, where are the new visas coming from? Though USCIS claims that these higher fees will help ameliorate some of its long-entrenched issues (not only including the filing backlog, but also involving inadequate staffing and financial insolvency), one needs to consider the ramifications of the fee hike outside of the USCIS offices. Surely, if another country offers investment-based visas at a lower bureaucratic cost, investors may be more likely to seek residence there, where filing fees do not reach nearly $50,000.
EB-5 Investors Bring Billions of Dollars Into the US in Foreign Direct Investment
It has been well documented that EB-5 investors have injected billions of dollars into the U.S. The nature of the exorbitant fee hike is certainly off-putting. What if these investors do not choose to come to the U.S.? There are detriments to the economy beyond just the loss of the initial $800,000 investment. When people choose to invest in a business in the United States, they are often bringing with them their families, meaning that the economic promise of the investment does not begin and end with the investor themselves. Family members will be sent to college, and will start and work at businesses, with their exceptionalness being cycled back into the economy to create a continued influx of jobs and capital.
If prospective clients eschew the U.S. for other countries featuring immigrant investor programs with less expensive fees, the money sure would not be going into America's economy like it would for EB-5s.
There is no shortage of nations with such programs that seem mighty attractive in comparison. For instance: Canada's Business Immigration program for permanent residency offers a relatively fee-friendly Start-up Visa to entrepreneurial types seeking to grow innovative, globally competitive businesses in Canada that generate jobs for local communities. The biggest fee is – and bear in mind, this is in Canadian dollars – $2,140 for the application, which includes $1,625 for a processing fee and $515 for a right of permanent residence fee.[4] Moreover, these numbers actually are the result of increases in fees for all permanent residence applications, which Immigration, Refugees and Citizenship Canada ("IRCC") , the Canadian government branch dedicated to all things immigration, implemented on April 30 of last year.
See the following chart for the fee structure, which really gets one what kind of benchmark USCIS used for its own proposal.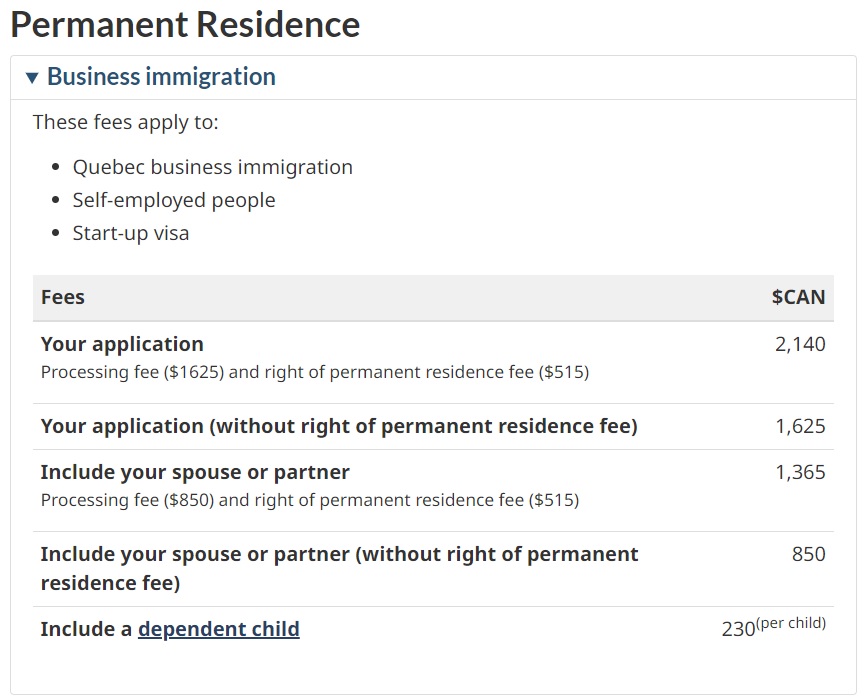 Source: https://www.cic.gc.ca/english/information/fees/fees.asp
For those seeking more than just residency, the island nation of Dominica offers a citizenship program that might be appealing in the wake of the proposed USCIS fee scheme. The Dominica Citizenship by Investment ("CBI") program features two investment options: a contribution of at least (depending on whether a spouse and/or any dependents are included in the application) $100,000 to the Economic Diversification Fund ("EDF") dedicated to Dominica-located public and private projects in sectors ranging from education to tourism; and real estate, for which an applicant must buy an authorized property worth at least $200,000.
Fees for the EDF option are relatively mild and get the client a passport, not just permanent residence like the U.S. program: The processing fee per application is only $1,000, while due diligence fees (which may be augmented in specific circumstances) comprise $7,500 for the main applicant; $4,000 for a spouse; and $4,000 for any dependent age 16 years or above.[5] Rounding off the charges are a certificate of naturalization fee at $250 per person, and an expedited passport issuance fee at $1,200 per person. See below for the details.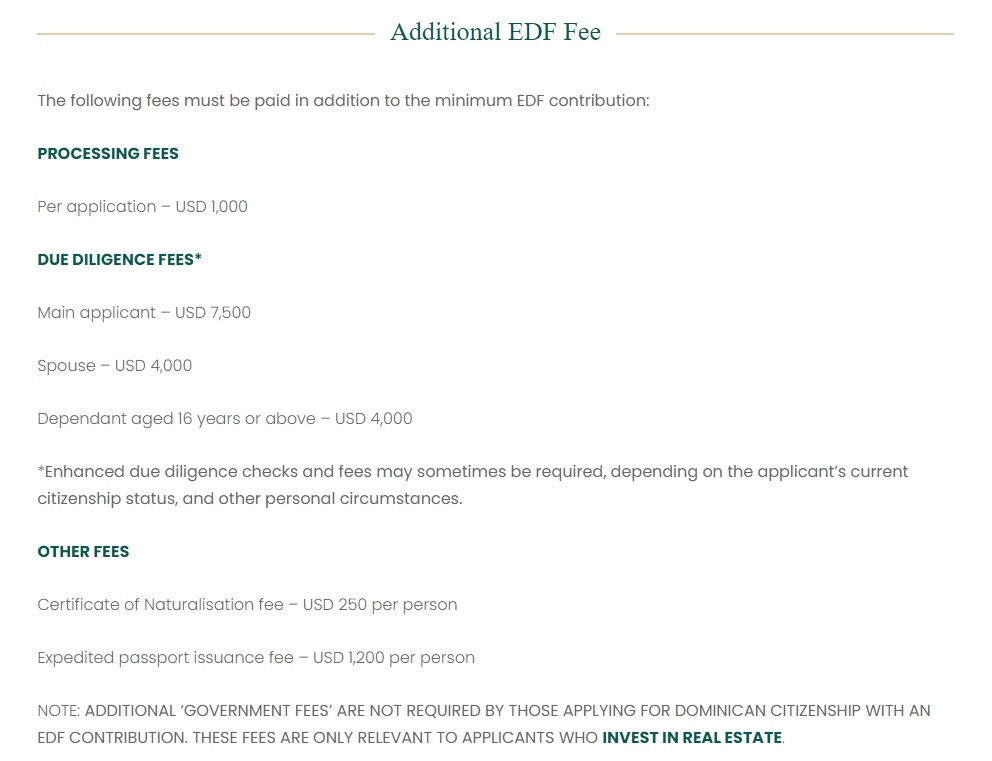 Source: https://www.cbiu.gov.dm/investment-options/economic-diversification-fund/
On the other hand, fees for the real estate option may approach USCIS levels. Government fees start at $25,000 for the main applicant, with additional monies stacked on top for dependents.[6] But wait – there's more: a processing fee of $1,000 per application; due diligence fees beginning at $7,500 for the main applicant, $4,000 for a spouse, and $4,000 for any dependents age 16 or above; a certificate of naturalization fee of $250 per person; and an expedited passport issuance fee of $1,200 per person. See below for the fee schedule.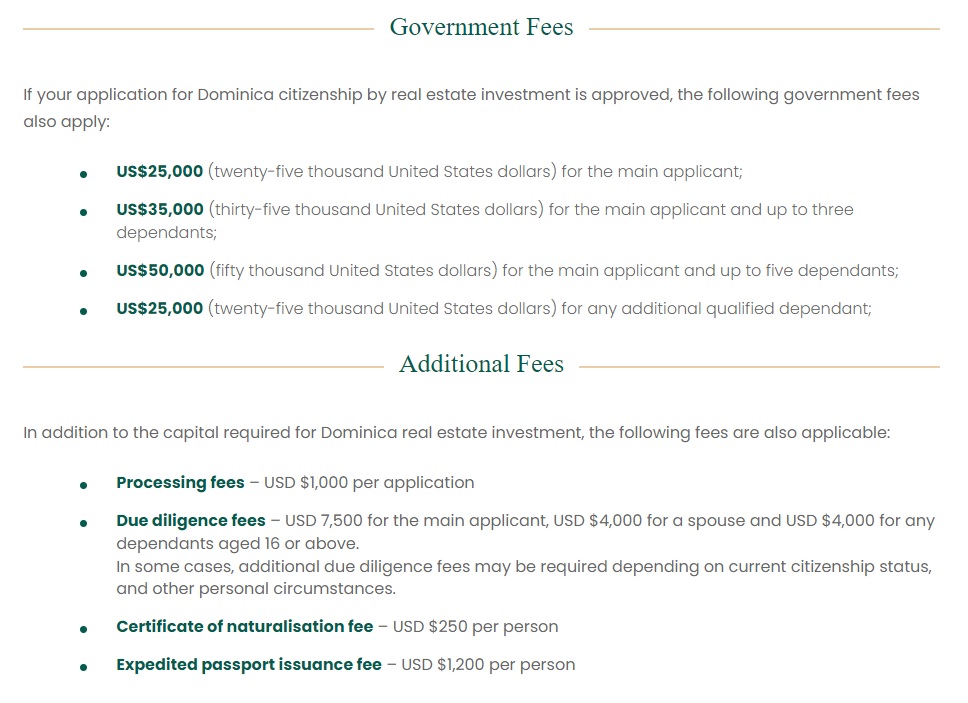 Source: https://www.cbiu.gov.dm/investment-options/real-estate/
Meanwhile, EB-5 practitioners are wondering whether this new USCIS proposal is a reprimand to regional centers daring to litigate against USCIS, whether EB-5s are being misconstrued as a wealthy person's scheme, or whether the agency merely is being opportunistic. After all, with the impecunious USCIS floundering financially, it could be looking at the EB-5 set's war chests as easy pickings.
For the price, however, one would expect such fees to come with premium or at least faster processing so that applicants are approved much more quickly. Yet USCIS has given no indication that this deal would be reciprocal. It appears, as usual, that the agency is leveraging its monopoly on the sector by upping its fees without fear of EB-5ers taking their business somewhere else. This does not bode well for the prospects of any compromise with USCIS.
The Industry Is Set to Fight the Fee Hike
At this juncture, the outrage in the industry is palpable. The stage has been set for yet another confrontation (which would be the third in 18 months!). In addition, it is expected that the industry will lobby vociferously for these proposed fees to be nixed. In typical fashion, USCIS has offered a cursory window of time for EB-5 practitioners to react. Per the agency, there will be a 60-day public comment period that "starts following publication of the NPRM in the Federal Register." USCIS clarified that "[fees] will not change until the final rule goes into effect, after the public has had the opportunity to comment and USCIS finalizes the fee schedule in response to such comments."
There also will be an opportunity for interested parties to voice these and other concerns during an upcoming listening session. The DHS will first host a listening session on January 11th at 2 PM EST, wherein interested members of the public may speak directly to USCIS. In order to provide comments and ask questions during this session, one must register prior to the start time. You can register to participate in the session here: Upcoming National Engagements | USCIS.
You can also submit written data, personal views, or arguments free of charge to the Federal eRulemaking Portal at https://www.regulations.gov/ using docket number USCIS-2021-0010.
USCIS has additional, alternative options it can consider to get back into the black. One obvious step that the agency should take when it is not so strapped is to hire more EB-5 reviewers to cover the backlog, thereby ensuring that USCIS receives fees more quickly. Another possibility would be to fully shift to digital, which would speed up the application process while reducing the need for costly physical materials and the extra hours needed to comb through them. The agency has hinted at the potential for such a move, but a complete shift to non-paper submissions is not likely to happen in the near future.
A concern here is whether USCIS will a) listen to EB-5 practitioners' comments protesting these fees and b) whether the agency will raise fees even more in the future if its coffers are not sufficiently filled by this latest effort. Could this be the beginning of a "new USCIS normal"? No one can be sure what the capricious USCIS team will do in relation to this possibility, but if it ultimately decides to hike fees to unaffordable levels, the EB-5 sector will shrink immeasurably – which would be disastrous for everyone. Until that bridge is crossed, industry proponents may just have to pray to the EB-5 gods for luck.
And that's a small consolation for now.
---
[1] 2022-27066.pdf (federalregister.gov)
[2] https://mshahlaw.com/joint-settlement-of-two-lawsuits-against-uscis/
[3] Nixed USCIS Regional-Center Deadline Is Mixed Blessing for EB-5 Set – Mona Shah & Associates Global (mshahlaw.com)
[4] https://www.cic.gc.ca/english/information/fees/fees.asp
[5] https://www.cbiu.gov.dm/investment-options/economic-diversification-fund/
[6] https://www.cbiu.gov.dm/investment-options/real-estate/
https://mshahlaw.com/outrage-confusion-as-eb-5ers-blast-uscis-fee-hikes/
---
Securities Disclaimer
This website is for informational purposes only and does not constitute an offer or solicitation to sell shares or securities. Any such offer or solicitation will be made only by means of an investment's confidential Offering Memorandum and in accordance with the terms of all applicable securities and other laws. This website does not constitute or form part of, and should not be construed as, any offer for sale or subscription of, or any invitation to offer to buy or subscribe for, any securities, nor should it or any part of it form the basis of, or be relied on in any connection with, any contract or commitment whatsoever. EB5Projects.com LLC and its affiliates expressly disclaim any and all responsibility for any direct or consequential loss or damage of any kind whatsoever arising directly or indirectly from: (i) reliance on any information contained in the website, (ii) any error, omission or inaccuracy in any such information or (iii) any action resulting therefrom.