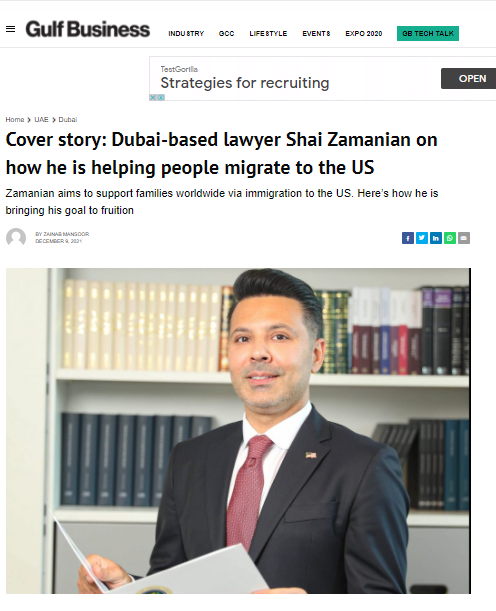 The decision to move away from home and live and work in a different continent to follow his dream wasn't a difficult one for Shai Zamanian.
That's because the legal director and founder of The American Legal Center in Dubai was keen to pursue a vision he held dear. "In 2012, I made the choice to immigrate far away from home, to follow my passion of assisting families build better lives through immigration. My vision was to educate the Middle Eastern market about the EB-5 Immigrant Investor programme and to use my knowledge and expertise in assisting families start their migration journey to America," he explains.
It wasn't the first time Zamanian was leaving home. "Many years ago, I had immigrated [to America] with my parents from a war-torn nation in the hopes of a better and more secure future. Living in the US gave my younger brother and I the opportunity to receive quality education and to build a life that had not been possible for our parents," he reminisces.
His company, The American Legal Center, is now the perfect combination of his most fervent passions – immigration and real estate. "My first passion – immigration – is the reason why I am here today. My second passion – real estate – grew out of my experience at Rialto Capital, the financial arm of US-based housing developer Lennar. When I completed my doctorate in law at the University of Miami, the world was going through the 2008 recession. The financial markets had collapsed with banks being undercapitalised, and with the failure to obtain traditional loans from banks, Lennar was amongst the first to discuss alternative forms of financing. This is where I learned about the US EB-5 Immigrant Investor programme."

The EB-5 Immigrant Investor programme was launched in 1990 to promote economic growth by injecting foreign capital into the US economy. Under the programme, an investor and his qualifying dependents, comprising of the investor's spouse and unmarried children under the age of 21, have the opportunity to obtain US green cards and subsequent citizenship by way of making an investment of $500,000 in a new commercial enterprise in the country. An EB-5 advisor plays a crucial role in the process, Zamanian notes, as he/she acts as a single point of contact between the client, the regional centre in which the client would invest, and the attorney of record.
An experienced advisor also presents a number of well-vetted projects to the applicant. "The most common forms of investment that we see are either in residential complexes or in hotels across the US. We were part of the NYC Ritz-Carlton project in New York which had approximately 250 investors and successfully raised $125m. We have also been part of other hotel projects in the US, such as the SF Gateway Marriott in San Francisco, California."
However, the pandemic has changed the appetite of investors – especially when it comes to sectors such as hospitality, he notes.
"In 2020, we witnessed the effects of the Covid-19 pandemic on the tourism industry. Global travel restrictions lowered demand for hotel projects. During this time, we saw an increase in demand for residential projects, especially as people around the world and in the United States placed more emphasis on their place of living." Land of opportunity The US is one of the world's most sought-after countries for immigration due to its political and economic stability as well as the high standard of living it offers, says Zamanian.
"Most people wishing to relocate to the US are keen on creating a better future for themselves and their families. Relocation to the US offers access to the world's best healthcare system, top-notch academic institutions and excellent career opportunities as well as economic stability and the ability to travel to and enjoy diverse locations, with 50 different states in the country."
People from across the Middle East also opt for this scheme because of the ease with which they can file their applications under the EB-5 programme, stresses Zamanian. His company, which includes a team of US licensed lawyers and professionals, offers services to applicants of all nationalities. Most of his regional clients are either Indian, Pakistani, Egyptian and/or Iranian nationals, he confirms.
"The reason the EB-5 programme is more popular as compared to other immigration schemes is because it o­ffers a fast-tracked route to obtaining the US green card, which o­ffers a path to obtaining US citizenship. There are other schemes, such as the E-2 Investor Treaty visa, which allows an applicant to obtain a US investor visa to live and work there; however, this scheme is not permanent as it only offers a renewable visa, not a green card. Additionally, investors are also interested in the EB-5 programme because it neither requires any professional experience nor holds any language level requirements. The only pre-requisites are that an investor's source and path of funds must be lawful."
Going gets tough
However, the programme has seen its fair share of challenges. In 2017, Donald Trump, the then US President, signed the controversial Executive Orders 13769 and 13780 – Protecting the Nation from Foreign Terrorist Entry into the United States, popularly referred to as the Muslim travel ban, which prohibited the entry of certain individuals based on their nationality. "At the time, the United States Citizenship and Immigration Services (USCIS) still processed and approved all applications for the EB-5 programme, as the main criteria was the source of funds analysis rather than nationality. However, the challenge posed by the Muslim ban came after USCIS had approved an investor's I-526 petition, at which time the file was transferred to the National Visa Center, an entirely different government agency in charge of providing consular processing," explains Zamanian.
The solutions Zamanian and his team had structured for clients who were at the receiving end of the ban included either obtaining a second passport from commonwealth countries; obtaining a waiver from the executive order; or applying for a student visa so that the client would go through the 'adjustment of status' process rather than consular processing. Another challenge posed by the Trump administration was spiking the minimum investment amount for the programme from $500,000 to $900,000 in November 2019.
"Understanding that price had a tremendous impact on our clients – most of whom were from upper middle-class families – we devised a strategy to ease their burden. We negotiated with regional centres to allow our applicants to invest through installment plans rather than having to invest the entire $900,000 all at the same time. This allowed our clients flexibility in gathering the required funds to participate in the EB-5 programme."
Entering tomorrow
With the EB-5 programme expected to be reauthorised early this month, Zamanian is convinced they do not require a new strategy to handle the torrent of potential applications. "Our success in the June 2021 rush was because we had prepared our clients' files long before the price decrease was announced on June 22 this year.
We were advising and urging interested families to work with the right EB-5 advisors to put together their applications in anticipation of the upcoming rush. We were also continuously hosting seminars across the GCC region to disseminate this information. For those of our clients that are ready to file post reauthorisation, we have already prepared their files; the only step left is the submission as soon as the programme is renewed."
Given the opportunities that the world's largest economy presents, will citizenship by investment schemes continue to grow? Zamanian strongly believes so.
"As it is instinctive for families to always look for a better future for their children and to improve their standard of living, immigration will always be in demand. Citizenship by investment schemes have seen greater traction in recent years and the trend is set to continue because of the dual benefits these programmes o­ er to the migrating families as well as the country receiving the investment.
¨Reports from the US State Department show that the number of approved visas for the EB-5 programme tripled between the fiscal year 2008 and 2009, from 1,443 visas in 2008 to 4,218 visas in 2009. According to the Department of Commerce, approximately 16 job opportunities are created by each EB-5 investor."
His centre filed 6 per cent of all global EB-5 petitions this June with the aim to capture a greater slice of the applications pie going forward. "Our growth will stem from opportunities in new and uncharted territories. We will visit these towns and educate populations on how to gain access to the US. From another angle, we will continue to develop alternative forms of financing products for US-based real estate developers," Zamanian emphasises.
And what is his definitive vision? "Our ultimate goal is to help as many families as we can to gain access to the US for their children and generations to come."

https://gulfbusiness.com/cover-story-dubai-based-lawyer-shai-zamanian-on-how-he-is-helping-people-migrate-to-the-us/
---
Securities Disclaimer
This website is for informational purposes only and does not constitute an offer or solicitation to sell shares or securities. Any such offer or solicitation will be made only by means of an investment's confidential Offering Memorandum and in accordance with the terms of all applicable securities and other laws. This website does not constitute or form part of, and should not be construed as, any offer for sale or subscription of, or any invitation to offer to buy or subscribe for, any securities, nor should it or any part of it form the basis of, or be relied on in any connection with, any contract or commitment whatsoever. EB5Projects.com LLC and its affiliates expressly disclaim any and all responsibility for any direct or consequential loss or damage of any kind whatsoever arising directly or indirectly from: (i) reliance on any information contained in the website, (ii) any error, omission or inaccuracy in any such information or (iii) any action resulting therefrom.