$500K for a Green Card: Foreign investors help Portland boom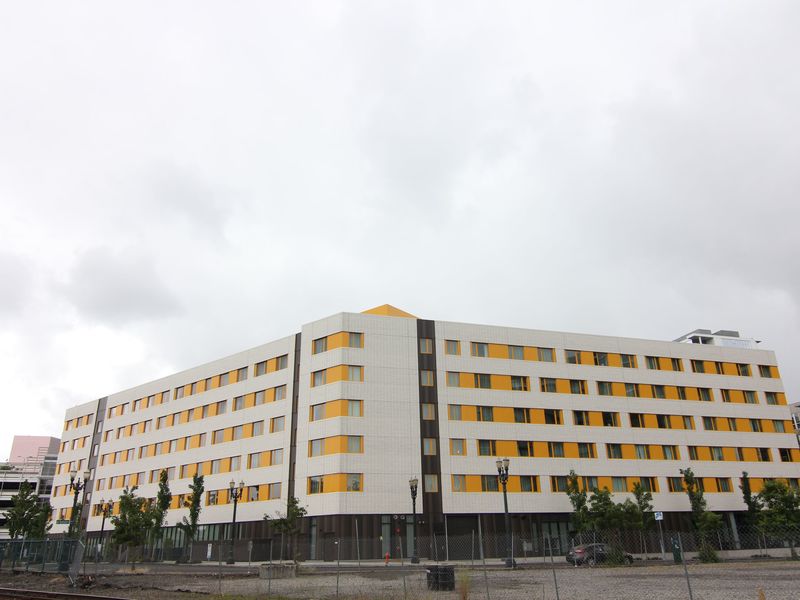 Kai Lu and his wife, Helen Shu, were raising their young daughter in China when an ultra-modern Marriott Courtyard hotel was built just minutes from their home in Suzhou, a congested suburb of Shanghai.
The couple went to check out the new hotel and noticed a flyer in the lobby advertising a similar hotel in Portland, Oregon. The flyer was seeking investors who, in exchange for half a million dollars, could receive Green Cards for their immediate family.
"We were planning to move to the U.S. or Canada," said Lu. "We got a very good impression of the hotel group, so we were very confident in that investment."

Lu combined the family's savings along with some money from the couple's parents to come up with the $500,000 investment. Three years later, they moved to Sammamish, a suburb of Seattle.
Lu is one of thousands of people who help fund big commercial real estate projects every year in exchange for U.S. residency through the federal program called EB-5. The program has backed projects in cities including New York, Los Angeles, San Francisco and Seattle.
Critics of the program say it's too secretive, putting national security at risk and making investors vulnerable to fraud. Three Republican senators called for a federal audit of the program, which began in December 2014. But that hasn't stopped EB-5 from gaining popularity in Portland as developers hope these foreign investors can help the city boom.
"You will see more [EB-5] activity in Portland and beyond," said Marvin Kau, vice president of project development at American United, a regional center that manages EB-5 investments in Oregon.
How EB-5 Works
The EB-5 program allows people to invest $500,000 into a building project in a high-unemployment area (150 percent higher than the national average), or $1 million in a location with normal employment rates -- although almost no one chooses the $1 million option. The investment must create at least 10 full-time, permanent jobs.
In exchange, the investor receives a Green Card for themselves, their spouse and any children under the age of 21. The process is quicker and easier than the traditional Green Card application process, and most people can move to the U.S. a couple years after the investment is made.
"You can put EB-5 money into any business that creates jobs"
The EB-5 program started in 1990 as a temporary way to get people from out of the country to move to the U.S. and create new companies. Instead, it's become a fast-track solution for building hotels and office towers.
"The original design of the program was for foreigners to move to the U.S. and hire people," said Kau. "It's evolved to be primarily a real-estate funding source over time. You can put EB-5 money into any business that creates jobs."
Hotels are the easiest to finance, Kau says, because it's easy to explain a hotel to investors.
"The reality is you have to attract EB-5 investors, foreigners who don't know anything about the areas and the business owners and things like that. You have to be able to market the project to them," he said. "They are attracted to hotels."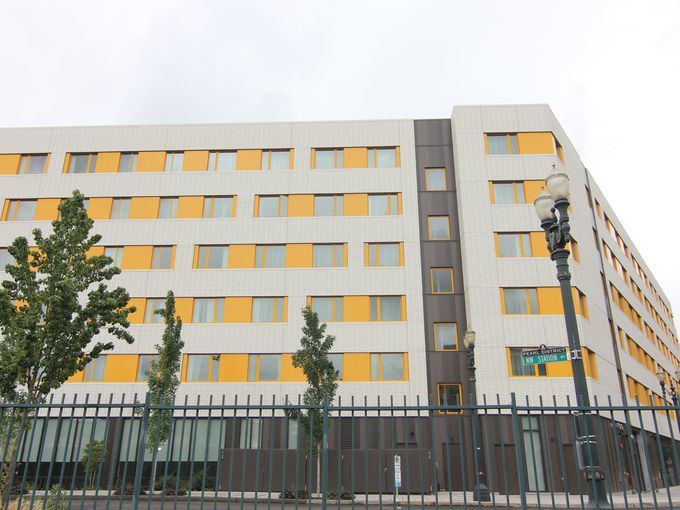 Right now, there are 10,000 Green Cards available through the program each year and around 85 percent of the investments come from China, where families of three are the norm. That means that just over 3,000 investments, on average, are pumped into the economy – allotting for around $1.5 billion nationally.
The investors work with regional centers, such as American United, to connect with developers in the U.S. in exchange for a cut of the investment return. Although the Green Card process and the general program are managed by the Department of Homeland Security, the regional centers are private and a DHS spokesman said even the government doesn't know how much money has been brought in through EB-5.
The program is not only extremely popular with investors -- the New York Times reported that all 10,000 investments allotted for 2015 were snapped up by May -- but also with developers, especially during tough economic times. Cobbled together, EB-5 investments can fund multi-million-dollar projects even when banks might be white knuckling their purse strings.
"In order to build a hotel or office tower from scratch, you need a lot of investment," said John Mangan, spokesman for Portland's Williams and Dame Development, the group behind Portland's first two EB-5 investment properties. "The more investors you have, the better chance you have to build your project."
Who EB-5 Investors Are
Half a million dollars may seem like a huge investment to some, but most EB-5 investors are not extremely wealthy. Instead, most look like Lu's family - a couple who is hoping to send their child to U.S. schools and perhaps seeking a new adventure, borrowing money from family in order to make their dreams happen.
"We want to expand our lives. We have done a lot in China but it's totally another world. "
"I think they do it, in part, to get the citizenship and also of course to benefit their children," Mangan said. "The U.S. still has the best colleges in the world and if you really want to succeed in the global economy, you want your kids to go to great schools."
That was the driving factor for Lu and Shu, whose daughter, Qingyan, is now 4 years old. She will start preschool in the fall, then go to public schools.
"That's why we did this," Shu said.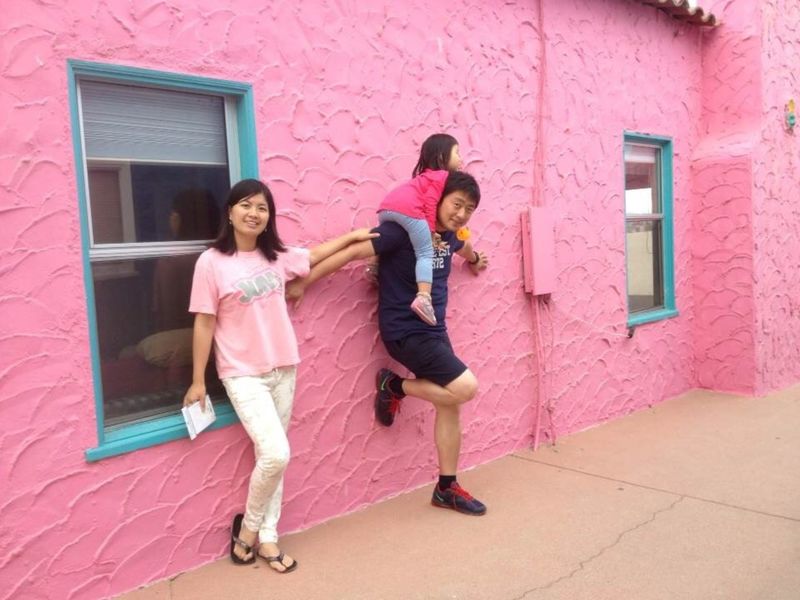 After making the investment, the family visited San Francisco, Portland and Seattle, and settled on the Seattle suburb of Sammamish because of the good public school system and substantial Chinese community close by. The program doesn't specify where families have to move, and many investors choose cities based on the school system and colleges.
Both Lu, 33, and Shu, 28, also plan to go back to college. They're excited to pursue their passions after spending more than a decade working long hours in sales positions. Shu hopes to be a teacher, while Lu wants to become an auto mechanic, something he's thought about doing for years.
"In China, I have done a lot of work to make money," Lu said. "I know the United States is a country on wheels, full of automobiles. It seems to be a paradise because I can see a lot of types of cars. I feel very happy about that."
Through their $500,000 investment, the couple is able to live the American dream. They even have a single-family home with a yard. It's something they could never have in Suzhou.
"We wanted to change. To start a new style of life," Shu said.
"We have done a lot in China but it's totally another world," Lu said. "We want to get more knowledge about the whole world."
Portland developers tap into EB-5 investments
The signs of development in Portland are inescapable. Take a walk downtown and the decibels spike as you pass massive projects that take up city blocks. Drive over the Fremont Bridge and you see cranes rising high out of the Pearl district and South Waterfront past that, rapidly building condos and hotels.
Two of these big projects – the Marriott Residence Inn in the Pearl District and the Hyatt House in the South Waterfront – are funded by EB-5 investments. Both are projects of the development group run by Homer Williams and Dyke Dame, the men behind the revitalization of the Pearl District and South Waterfront.
"Williams and Dame raised millions of dollars through foreign investors"
Before Williams and Dame, no one was seeking EB-5 investments in Portland. They weren't either, until they got involved in a Los Angeles hotel project funded by EB-5.
"Homer and Dyke are extremely forward-thinking," said Mangan. "They realized this would be a very creative and effective way to finance a project [in Portland]."
In 2014, the $50 million Residence Inn by Marriott was built in the Pearl District. Mangan wouldn't specify exactly how many EB-5 investments were involved, but he said the overwhelming majority of funds were from Chinese EB-5 investors.
"Right after the recession, investment funds for ground-up hotels were very tight. Williams and Dame raised millions of dollars through foreign investors," he said. "Those investors get a return and they also get an opportunity to get a Green Card."
Now, Williams & Dame are building a Hyatt House on the South Waterfront, also funded in part by EB-5 investments. At the groundbreaking in February, Chinese investors, translators, developers and city leaders gathered to ceremonially kick off the project, which will be six stories tall and have 203 rooms.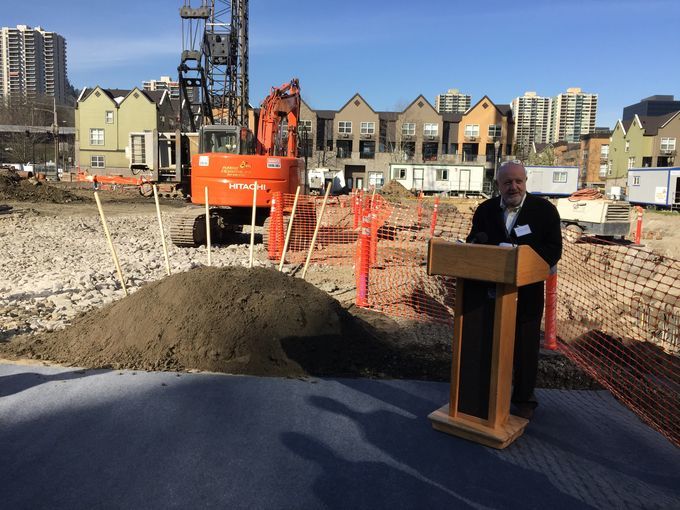 But Williams and Dame are not the only ones in the city capitalizing on the foreign funds. In just two years, Oregon went from having zero regional centers for EB-5 investments to 11. At American United, the only center approved by the Portland Development Commission, staff have 12 projects in the pipeline in Portland and around the state.
The Portland Development Commission hopes to draw even more investors to the city. On PDC's website, there are videos on EB-5 investments in Chinese and "Welcome to Portland" pages marketed specifically to the Chinese and Japanese communities, highlighting the Chinese and Japanese gardens, Dragon Boat races and Chinatown.
Statistical loophole brings funds downtown
By the time Oregon jumped on the EB-5 train, other cities had been building hotels using the investments for years. The reason the program didn't catch on earlier in Portland is that in order to invest $500,000 instead of $1 million in exchange for a Green Card, the investment needs to happen in a designated "targeted employment areas," which have an unemployment rate that's 150 percent higher than the national average.
Business Oregon, the state's business development hand, didn't officially make those designations until two years ago. Since then, Business Oregon has created detailed maps of the targeted employment areas in counties across the state.
The map of Portland shows that the high-unemployment areas include nearly all of the Pearl District and downtown, which coincidentally contain some of the most sought-after property in the city.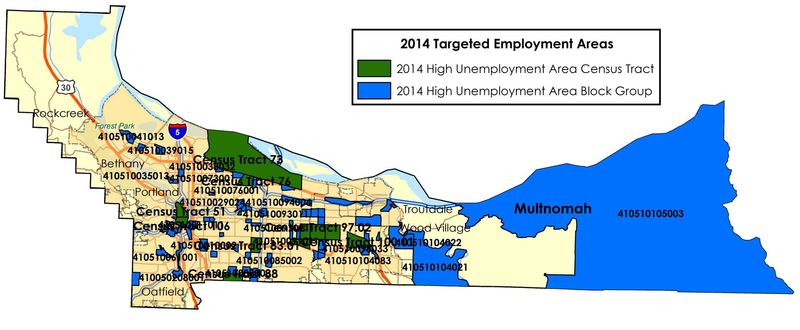 So why are downtown and the Pearl District, which have the city's most expensive real estate per square foot, designated as areas that are in need of development?
As it turns out, a significant number of homeless people and students are included in the unemployment count, which kicks the jobless rate in the Pearl to around 20 percent and 30 percent downtown.
The state uses the American Community Survey (ACS) for the unemployment data to designate high-unemployment census tracts (neighborhoods) or block groups (individual city blocks).
"The unemployment rate is calculated for people 16 or over who are in the labor force," said Charles Rynerson, a researcher at Portland State University. "Everything I've read suggests that homeless people should be included in the ACS if they say they are looking for work."
If the homeless people list their residence as downtown or the Pearl, where many people camp out, they are included in that data. The same goes for students who live in the downtown area but aren't working while they are in school at Portland State University or other colleges in the city.
The data is also lagging behind current trends. In 2014, the unemployment data pulled from numbers gathered in 2008-2012, meaning that after the city rebounded financially, the data showed that Portland was still in an economic crisis.
Although there appears to be issues with the unemployment data, stakeholders say having downtown and the Pearl designated as high-unemployment areas for EB-5 investments will only help Portland in the long run, because they bring more jobs to the economic center of the city.
"Jobs are located in the central city," said Peter Englander with the Portland Development Commission. "Jobs [created by EB-5 investments] have to be full-time jobs. The great thing about the program is that those jobs are created."
American United's Marvin Kau concurs.
http://www.kgw.com/story/news/investigations/2015/06/02/green-cards-lure-foreign-investors-to-portland/28371479/
Mentions
States
---
Securities Disclaimer
This website is for informational purposes only and does not constitute an offer or solicitation to sell shares or securities. Any such offer or solicitation will be made only by means of an investment's confidential Offering Memorandum and in accordance with the terms of all applicable securities and other laws. This website does not constitute or form part of, and should not be construed as, any offer for sale or subscription of, or any invitation to offer to buy or subscribe for, any securities, nor should it or any part of it form the basis of, or be relied on in any connection with, any contract or commitment whatsoever. EB5Projects.com LLC and its affiliates expressly disclaim any and all responsibility for any direct or consequential loss or damage of any kind whatsoever arising directly or indirectly from: (i) reliance on any information contained in the website, (ii) any error, omission or inaccuracy in any such information or (iii) any action resulting therefrom.