Sixteen-Year Visa Wait Keeping Chinese Investors Away From U.S.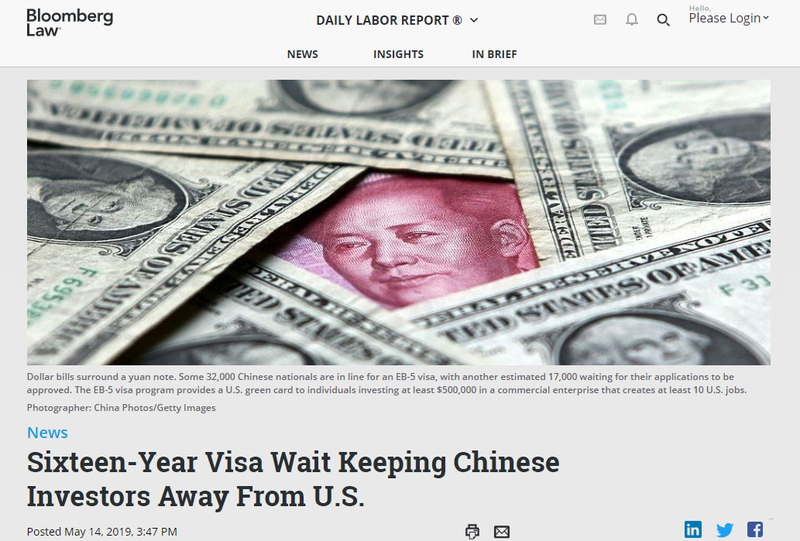 Dollar bills surround a yuan note. Some 32,000 Chinese nationals are in line for an EB-5 visa, with another estimated 17,000 waiting for their applications to be approved. The EB-5 visa program provides a U.S. green card to individuals investing at least $500,000 in a commercial enterprise that creates at least 10 U.S. jobs.
Chinese national applying today for a U.S. immigrant investor visa may not get one until 2035 at the earliest.
With more than 34,000 applicants in line for the roughly 10,000 EB-5 visas available each year—not counting the nearly 39,000 whose applications haven't yet been approved—the average wait isn't much better for the handful of other countries facing backlogs. Indian nationals are looking at 8.4 years, and for Vietnamese, it's 7.6 years, Charles Oppenheim, chief of the State Department's Immigrant Visa Control & Reporting Division, said at a recent conference hosted by an EB-5 advocacy group.
The lengthy waits, a function of caps on the visas overall and per country, threaten to undermine a program that has brought billions of dollars into the U.S. and directly or indirectly created hundreds of thousands of jobs. The squeeze is occurring as the Trump administration reviews regulations aimed at reducing fraud in the program and making sure more investment goes to rural areas as it intended.
American Lending Center, based in Long Beach, Calif., has used immigrant investors' funds to help finance more than 80 small business projects in 18 states, including various hotel franchises, a dental office, and a pediatric rehabilitation hospital. But with lengthening wait times for EB-5 visas, there's a concern that funding for current and future projects could dry up as interest in the program wanes, said John Shen, chief executive officer.
Out of all the issues the visa program is experiencing, "this is the most critical one, for sure," Shen said.
Impact on Families
The EB-5 program provides a green card to a foreign national who invests at least $500,000 in a commercial enterprise that creates at least 10 U.S. jobs. The most common form of investment is through the regional center program, which allows immigrants to pool their investments and count indirect job creation toward the visa requirements.
EB-5 visas haven't drawn much attention from the White House, unlike the diversity lottery and the the H-1B skilled guest-worker visas that are heavily relied on by U.S. tech companies.
Nationals of each country are capped at 7 percent of the total, although they may use remaining visas slated for countries that don't use up their full amount. Other than that, the visas are available on a first-come, first-served basis.
Chinese investors, who for years have made up the lion's share of EB-5 applicants, are still seeing the biggest wait times despite surges from nationals of Vietnam and India. Currently, 32,169 Chinese nationals are in line for an EB-5 visa, and another estimated 17,368 are waiting for their petitions to be approved.
Children's Eligibility Jeopardized
Some investors have been waiting so long that their children became too old to be considered dependents entitled to green cards through his or her parent's EB-5 visa. That's the "worst case scenario," Shen said, because many Chinese are motivated to apply for the visa by the opportunity to have their children attend U.S. schools and eventually live and work in the country.
A "child" for purposes of visa eligibility is defined as someone who is under 21 and unmarried.
One couple who applied in 2014 received their green cards last year, but in the meantime their son turned 21, Shen said. Now, the couple must sponsor him for a family-based green card, which could take another five years to come through, he said.
Another family still waiting for their visas has been living separately, with the husband maintaining his job in China and the wife staying with their son, who's attending high school in North Carolina. "They're extremely frustrated" because she can only stay in the U.S. on a B-2 visitor visa, which requires her to leave every six months, Shen said.
"I wouldn't call it a trend," but some investors are doing a workaround by giving the funds to their minor children and having them apply directly for the EB-5 visas, said Bernard Wolfsdorf of Wolfsdorf Rosenthal in Santa Monica, Calif. The Uniform Transfers to Minors Act allows minors—usually teenagers—to receive funds from their parents and be the primary EB-5 applicant, he said.
Having a child apply for the visa directly means he or she won't age out of visa eligibility while waiting for it to become available.
Billions Raised
A January 2017 Commerce Department study found that EB-5 investors contributed $5.8 billion out of a total of $16.7 billion in investments in EB-5-related projects in fiscal years 2012 and 2013. Those projects were expected to create more than 174,000 jobs.
But the program isn't without its difficulties.
The Securities and Exchange Commission has brought several high-profile cases against regional center operators for misappropriating millions of dollars in EB-5 funds, causing investors to lose their money and their visas.
Former U.S. Citizenship and Immigration Services Director Alejandro Mayorkas was accused by some senators of exerting improper influence on a case involving a company run by the brother of former secretary of state and presidential candidate Hillary Clinton. The Homeland Security Department Inspector General's Office later determined that he had created the appearance of a conflict of interest when he reviewed and approved the application for Anthony Rodham's Gulf Coast Funds Management LLC to be an EB-5 regional center.
Several prominent lawmakers, including Sens. Charles Grassley (R-Iowa) and Patrick Leahy (D-Vt.), have called for changes to the program to cut down on fraud. They also believe the program allows too much development in wealthy urban areas.
The Obama administration proposed EB-5 overhaul regulations in January 2017 that would address these concerns—prompting Grassley and others to urge their completion. But the final version of the regulations didn't emerge for more than two years, and have been under review with the White House Office of Management and Budget since late February.
For the Children
Wolfsdorf said he isn't seeing a big overall drop in EB-5 interest, although several Vietnamese investors are pulling out. "We still have an over-demand even with all these terrible waiting lines," he said.
The reason: the potential wait is worth it for motivated parents.
"Many people feel that the opportunity to have their children live the American dream and study in America is unparalleled," said Wolfsdorf, a past president of the American Immigration Lawyers Association. "It's all about these children studying in the United States."
And "people are still optimistic" that Congress will soon step in and ease the backlogs, he said.
EB-5 also remains a more viable alternative for Indian immigrants, who face waits of decades for other types of employment-based visas that, unlike the H1-B, lead to permanent residency. For instance, Indians seeking EB-3 visas—which go to workers with bachelor's degrees—are now looking at an estimated 50-year wait.
An Indian professional in the U.S. on an H-1B and looking to stay "basically has 2 choices: wait 8.4 years or wait 50 years," Wolfsdorf said. That means "EB-5 remains alive and well for India."
https://news.bloomberglaw.com/daily-labor-report/sixteen-year-visa-wait-keeping-chinese-investors-away-from-u-s
Mentions
---
Securities Disclaimer
This website is for informational purposes only and does not constitute an offer or solicitation to sell shares or securities. Any such offer or solicitation will be made only by means of an investment's confidential Offering Memorandum and in accordance with the terms of all applicable securities and other laws. This website does not constitute or form part of, and should not be construed as, any offer for sale or subscription of, or any invitation to offer to buy or subscribe for, any securities, nor should it or any part of it form the basis of, or be relied on in any connection with, any contract or commitment whatsoever. EB5Projects.com LLC and its affiliates expressly disclaim any and all responsibility for any direct or consequential loss or damage of any kind whatsoever arising directly or indirectly from: (i) reliance on any information contained in the website, (ii) any error, omission or inaccuracy in any such information or (iii) any action resulting therefrom.