How Seattle became a hotspot for EB-5 investments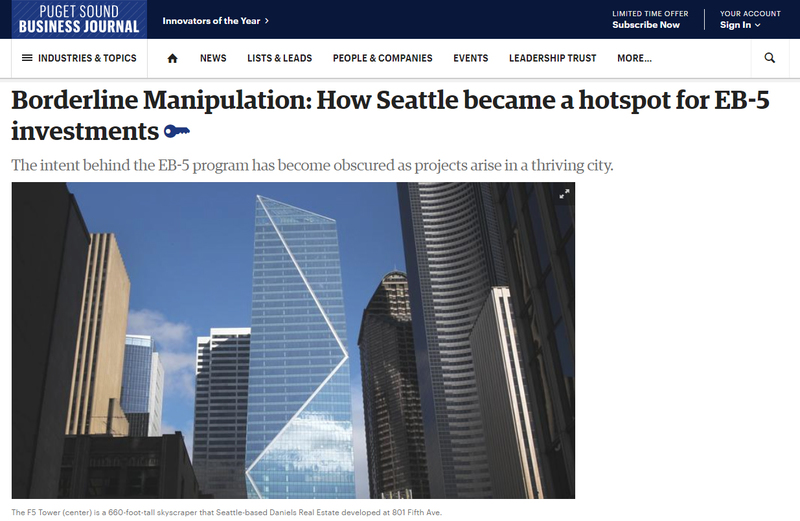 The F5 Tower (center) is a 660-foot-tall skyscraper that Seattle-based Daniels Real Estate developed at 801 Fifth Ave.
The intent behind the EB-5 program has become obscured as projects arise in a thriving city.
Many of America's top companies have made their home in the Seattle skyline, built on a foundation funded by millions of dollars from immigrants.
Foreign investors recently ranked Seattle as the third most-coveted market in the world for real estate investment. A Spanish retail titan, for example, this month paid $740 million for one building in Amazon's sprawling campus in South Lake Union. It was the region's largest-ever real estate sale.
On its surface, the city seems an unlikely hotspot for a federal program designed to encourage investment in economically depressed areas.
Yet the EB-5 immigrant investor program — which provides a path to residency in exchange for investments in U.S. companies — has helped shape Seattle since the great recession. Investors in Seattle projects commonly receive a discount intended for struggling inner cities and rural areas.
It's not difficult to create an area that will qualify for the discount as an EB-5 project, Seattle-based developer and American Life President Henry Liebman said. All it takes is grouping together small areas — sometimes only a few blocks wide — to create an area with high unemployment so investors can get a discount to participate in the EB-5 program.
"You just have to get the census tracts and unemployment data and ... do the math," said Liebman, the founder of one of the first and most prolific EB-5 developers in the country.
Developers used EB-5 investments to build Facebook's $286 million South Lake Union office Dexter Station, the $350 million development that includes Avalara's headquarters across from CenturyLink Field, and the $450 million downtown Seattle skyscraper where F5 Networks plans to relocate. Each of these projects qualified for the investor discount.
The controversial 29-year-old program, which has been linked to scandals in Washington state and faced scrutiny among U.S. legislators, is approaching a crossroads. By September, the Trump administration will decide whether to extend the program. Meanwhile, a lawsuit stemming from one of Liebman's projects could redefine the return investors expect beyond a green card.
Shrouded in secrecy
Congress created the EB-5 program in 1990 to encourage investment and job creation in economically challenged regions. The program allows investors to gain permanent U.S. residency by putting money into a U.S. commercial enterprise creating at least 10 jobs. While the program can be used for any type of business, it's most often used to generate capital for real estate developments.
But the program has been susceptible to scandals in recent years.
Tibet-born developer Lobsang Dargey redirected millions of dollars for what was once Potala Tower to support unrelated projects, go to casinos and pay for his $2.5 million Bellevue mansion. He sits in prison while his investors fight for green cards.
Capt. Huy Ying Chen solicited donations for an international shipping terminal in Longview that still hasn't been built. Chen has appealed a King County judge's finding that he violated the Washington state Securities Act.
The EB-5 program itself is shrouded in secrecy. The federal regulator of the program, U.S. Citizen and Immigration Services, has said it does not make public information about EB-5 capital investment projects.
Asked whether USCIS tracks individual EB-5 projects, a spokeswoman for the agency said the agency's role in the program is to determine eligibility, whether the project can be completed and if it will create the required jobs.
The Business Journal contacted nearly two dozen EB-5 consultants, investors, attorneys and companies seeking EB-5 investments, called regional centers. Most declined to be interviewed.
The loopholes
Investors are supposed to pay $1 million minimum to qualify for the EB-5 program, but an exception intended for rural areas and inner cities most pressed for jobs allows for the investment of only $500,000 if the development is within the boundaries of a "targeted employment area," or TEA.
But TEAs have become less the exception and more of the standard as states including Washington have allowed developers to combine small areas to create large areas with at least 6.6 percent unemployment, or 150 percent of the national rate.
U.S. Sen. Chuck Grassley (R-Iowa) in 2016 found that "nearly all EB-5 investments today are made at the $500,000 level."
In Washington, the state Employment Security Department has the authority to designate TEAs.
Liebman, the Seattle developer, said he is unaware of a single EB-5 project in the Seattle area that didn't qualify for the discount. His company, American Life, draws and applies its own TEA boundaries.
"You have to string several census tracts together and some will have really high unemployment rates and you have to weight them by population," he said.
Other developers pay economists and consultants to do it for them. The Business Journal reached out to firms that advertised consulting on TEA designations, but all were unavailable or declined to comment.
Robert Haglund, a Washington state Employment Security Department research analyst who approves TEA applications, said the law doesn't specify that TEAs must prop up struggling inner cities or rural areas.
"I try to follow the rules and not put my personal opinion into it," he said. "The bottom line is to get people jobs."
Grassley and Sen. Patrick Leahy (D-Vermont) disagreed with that notion in a March 11 letter to President Donald Trump.
"Instead of creating jobs in undercapitalized areas, the program now primarily serves to provide wealthy developers access to cheap foreign investment capital subsidized by the sale of U.S. visas," the senators wrote.
It's unclear how many projects in Washington have qualified for a TEA designation or where and how boundaries have been drawn because the state has declined to disclose information about projects. The Business Journal has filed a records request.
Employment Security Department Commissioner Suzi LeVine said the agency has no plans to change how TEAs are drawn.
"It's not my place to decide one way or another," she said.
The case for TEAs
The creatively drawn boundaries of TEAs in well-off neighborhoods comes at the cost of investments in truly economically depressed areas, Grassley and Leahy argue. It provides little incentive for investors to invest anywhere else.
But others see it differently.
The way the state designates TEAs, LeVine said, can address the needs of high employment areas by allowing projects in lower unemployment areas, such as grouping together Rainier Valley and Mount Baker.
"Do we undermine the intent of the program? I don't think we necessarily do," Bellevue-based EB-5 attorney Shahzad Qadri said. "The idea is to attract foreign investment."
Building next to Amazon, he said, will create more jobs that will have a net benefit to the state because skyscrapers aren't going to get built in economically depressed areas of the state.
EB-5 funding became important for developers following the recession, when credit was difficult to obtain. Liebman said Seattle would look a lot different without the EB-5 program, and the targeted employment area designation is vital to attracting investments.
Without it, Liebman said, "you won't get any investors."
How TEAs work
Although the EB-5 program is regulated by U.S. Citizen and Immigration Services, states have the authority to designate targeted employment areas, or TEAs. The only guidance USCIS gives is that states must use a combination of census, Bureau of Labor Statistics and federal office management and budget data. The Employment Security Department handles the designations in Washington state.
EB-5 regional centers — the companies seeking EB-5 investments — can establish TEAs by using the data provided by the state and stringing together small areas called Census blocks or tracts to create an area with high unemployment. USCIS lists 65 regional centers registered in Washington.
They can use either Census tracts or smaller areas within them called Census blocks. It's more common in Western Washington for developers to use Census blocks.
The areas must be contiguous, but there are no other guidelines on the shape of the area — it can be shaped like a lightning bolt as long as it creates an area with high enough unemployment.
Regional centers submit a form with a list of the blocks they'd like to designate as a targeted employment area. The form doesn't specify a limit for the number of blocks that can be pieced together, and even has an option for applicants to add rows to include more blocks. Employment Security Department analyst Robert Haglund said he tries to keep them under 12 blocks.
While Washington designates TEAs, it may be possible for developers to circumvent the system and apply to USCIS directly for a TEA designation using an unemployment dataset they come up with on their own.
https://www.bizjournals.com/seattle/news/2019/04/19/where-do-they-draw-the-line-how-developers-lure-eb.html
States
---
Securities Disclaimer
This website is for informational purposes only and does not constitute an offer or solicitation to sell shares or securities. Any such offer or solicitation will be made only by means of an investment's confidential Offering Memorandum and in accordance with the terms of all applicable securities and other laws. This website does not constitute or form part of, and should not be construed as, any offer for sale or subscription of, or any invitation to offer to buy or subscribe for, any securities, nor should it or any part of it form the basis of, or be relied on in any connection with, any contract or commitment whatsoever. EB5Projects.com LLC and its affiliates expressly disclaim any and all responsibility for any direct or consequential loss or damage of any kind whatsoever arising directly or indirectly from: (i) reliance on any information contained in the website, (ii) any error, omission or inaccuracy in any such information or (iii) any action resulting therefrom.