CityPlace delays prompted worst-case scenario planning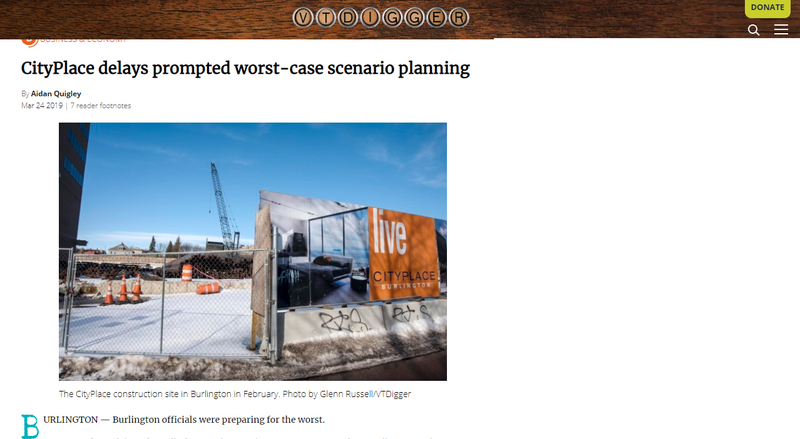 The CityPlace construction site in Burlington in February.
Burlington officials were preparing for the worst.
After months of delays this fall, the CityPlace Burlington site continued to sit idle. By October, mayor Miro Weinberger had taken the unprecedented step of publicly calling for action by the site's developer Don Sinex and the project's majority partner Brookfield Asset Management.
Behind the scenes, the mayor and his administration had drawn up a back-up plan of action if progress continued to stall. The city drew up a worst-case scenario plan to pull out of the project, a move which would have spelled the beginning of the end for the ballyhooed project.
The situation had gotten that bad.
And while a hole still remains at the site of the over $220 million redevelopment project — set to bring housing, retail and office space to one of the downtown's most prominent pieces of real estate — city officials and business community leaders are feeling more optimistic about the project after Brookfield Asset Management has increased their involvement in the day-to-day operations.
Weinberger said that the city was never close to taking the drastic action of backing out, but felt it was necessary to be prepared for the scenario.
"Brookfield has been taking reassuring steps, and our confidence that the project is getting back on track has been growing for some time now," Weinberger said. "So I wouldn't say we ever got real close to doing that, but we certainly had the internal conversations, planning and preparedness to lay out what that would mean, and when we might consider that."
Following an unexpected statement last week from Don Sinex that construction would start around May 6, city councilors are waiting to hear a more in-depth update from Brookfield, expected next month.
VTDigger's business coverage is underwritten by:
Brookfield, an enormous New York City corporation which manages around $350 billion in assets, reassured the City Council in January that the project was heading in the right direction.
City councilors and business leaders have said Brookfield's appearance has been reassuring, and said that Brookfield will underpromise and overdeliver — insinuating a sharp contrast to Sinex, who had been saying for months that construction was weeks away from restarting.
But councilors were caught off guard when Sinex recently told VTDigger about the May restart, a declaration which was met with a mix of optimism and skepticism.
The developers have not yet secured the city permit they need to pour the foundation, Weinberger said.
CityPlace was supposed to have been completed last year. Beset by delays, 2019 turned into 2020, and now 2021.
When the project was approved in 2016, it was touted as an economic driver that would bring residents and retail into the city's downtown.
Instead, for most of the past year, the CityPlace site has been an eyesore and impediment to downtown traffic. The Burlington Town Center mall was torn down last year and the site, which occupies a city block right off of Church Street Marketplace, has been a deadzone for months. Residents compare it with the "hole in the ground" in Newport left in the wake of the Jay Peak development fraud.
The ongoing delays have upset key stakeholders, and continued delays could imperil the project.
How did we get here?
Sinex originally bought the property in December 2013, and reached an agreement with the city on redevelopment in 2016. The proposal faced lawsuits opposition from some residents who believe the 14 story development would be too large and change the feel of downtown.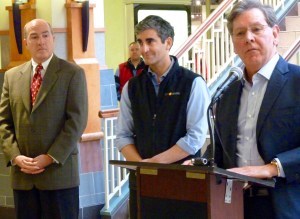 Burlington Town Center Mall owner Don Sinex speaks at a news conference with Burlington Mayor Miro Weinberger, center, and PC Construction Senior Vice President Jay Fayette.
In 2016, voters approved both a $22 million TIF bond to rebuild two roadways through the development and supported a zoning change allowing taller buildings to be built. Demolition of the mall started in late 2017.
The project was delayed a couple of months after asbestos was discovered on the site in January 2018. Demolition was completed in August 2018.
That was the last significant construction activity at the site.
One major issue was financing. In August, Sinex asked the City Council for a waiver to pour the foundation despite not having all of the financial backing for the project in place, a key part of the agreement between Sinex and the city.
Sinex argued that he had all of the financing to pay for foundation pouring in place, and the financing for the whole project was close. He told city council members the waiver was necessary to keep the project moving and avoid lengthy construction delays.
The city gave him the waiver, but the foundation was not poured because it turned out Sinex didn't have the financing.
Tensions bubbled over in October, when Weinberger publicly aired his frustration over the lack of progress, especially after the city had gone out of its way to accommodate the developer's August request.
Public records obtained by VTDigger showed that Sinex had butted heads with city officials throughout the summer and had come close to firing contractor PC Construction.
When Plan B was being drawn, and even now, Weinberger said the city let the developers know they were willing to pull the plug on the project if they reached the point where it was no longer viable.
"We really have the ability, effectively, to end the project as it's currently conceived," he said. "If the city were to walk away, that would really precipitated its end… obviously it's a very consequential option, and one you don't want to use unless you absolutely have to, because what flows from that will certainly be additional delay."
As winter approached with no activity in sight, some city officials began to get nervous.
In October, Sinex said the winter would not be a roadblock to starting construction, and that the foundation would be poured in a couple of weeks. By the middle of November, that tune had changed, and city officials told the city council that construction wouldn't start until spring and that Brookfield would be getting more involved.
Brookfield's appearance before the City Council in January helped calm the nerves of many on the council, and seemed to signal that Sinex would be taking a backseat on the project in favor of Brookfield.
"No one really knew what was going on between Brookfield and Mr. Sinex, and we didn't know if Brookfield had soured on the project," City Council President Kurt Wright said at the time. "We now know that they have not, they are full speed ahead, and springtime is hopefully right around the corner."
Sinex re-emerged last week to say that construction would be re-starting around May 6, and that he had reached a financing agreement with a new lender.
Sinex said via email that a number of factors had contributed to the delays, including the amount of time it took for him to enter into a development agreement with the city, the discovery and safe removal of asbestos from the site and Brookfield's decision to get more involved.
He said he could agree with the argument from some residents that the project had been unnecessarily delayed, to an extent.
"But then I would add and caution everyone that this is a large deal (probably the largest private development in VT history) and it is also a complicated project, which explains somewhat why it has taken so long to get everything in order including the financing," he wrote.
Sinex said a lender for the full project financing has been lined up, and that he has been frequently talking to tenants and will be making some more announcements once construction restarts in May.
Brookfield has taken a much quieter approach than Sinex. Andrew Brent, the head of communications for Brookfield Properties, did not respond to request seeking additional information last week and this week.
Weinberger is confident the project is back on track.
The mayor says the city did its due diligence throughout the process. Ultimately, the agreement with the developers protects the city financially.
"We know far more about the finances and what's going on with this project than you would on a typical private development, because we insisted on disclosure of additional information as part of this private-public partnership," Weinberger said. "We've been aware they were having an issue in a way that would not have been possible under different scenarios."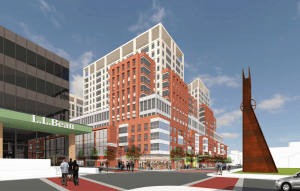 The CityPlace Burlington development in a rendering by PKSB Architects.
Another threat to the project would be if the University of Vermont Medical Center, the biggest tenant, decided to pull the plug on their plans to rent 100,000 square feet of office space in the complex.
While hospital officials have said plans to move to CityPlace haven't changed, a recent statement from the medical center is less declarative than those made in the past.
"We're encouraged by the increased involvement by Brookfield and believe things are moving in the right direction," said Michael Carrese, a spokesman for the hospital. "We'll be working with them over the next several weeks to solidify arrangements and hope the outcome allows us to remain involved in the project."
In August, Carrese said that the hospital was committed to the project and that Sinex had kept the hospital fully informed about the factors influencing the schedule.
Carrese said the hospital's position has been consistent.
"We're committed to the project and hopeful it will succeed because we believe it will be good for the community and we want to continue to contribute to the vitality of downtown Burlington," he said. "We've also said previously the delays are a concern and we want to see solid steps forward in the process."
While the hospital initially planned on moving into the complex this year, it has been able to extend its leases at other locations until it is ready to move into CityPlace. It is planning on an early 2022 move-in date.
The hospital plans to move 350 to 400 administrative staff who work now work in several locations in Burlington and South Burlington to CityPlace.
Weinberger said that he knows the hospital and developers are in frequent contact and that he is encouraged by what he is hearing from both sides.
Councilor Joan Shannon said that she hasn't seen any indication that the hospital was reconsidering its commitment.
"We cross that bridge when we get to it and we're not there at this point," Shannon said. "We're certainly cognizant, and the developer is cognizant, that we need the tenant and the tenant has a time sensitivity."
The delays have had little effect on the city's tax revenue, Weinberger said.
Weinberger said the mall's closing has had only a marginal impact on the city's sales tax revenue and no clear effect on the meals and rooms tax.
"I would have expected a greater impact, in some ways, than we have seen," he said of losing the revenue from the mall site. "I think the reason we haven't seen it is because of just the strength of the Burlington downtown, it turns out this is a fairly small component of the downtown's overall strength."
The city estimates that after the former mall site is redeveloped, the site will generate approximately $2.4 million in annual tax revenue, tripling the revenue to the city from when the mall — demolished in 2017 — was there.
Weinberger said he was sympathetic to some of the businesses directly surrounding the site, like the restaurant A Single Pebble, a stone's throw away.
"It is out of concern for those businesses in part that we have pushed really aggressively to try to keep this delay as short as possible, and we did push Brookfield successfully for some payments to help mitigate some of those negative business consequences," he said.
While the original agreement between the city and the developers called for the developers to pay $50,000 a year for two years after the foundation permit is issued, the city was able to push Brookfield to release the full $100,000 up front before the permit is issued.
The city's Community and Economic Development Office will use that funding for business promotion efforts.
BTC Mall Associates, the name of the Brookfield/Sinex partnership, also paid the city $72,000 for the downtown holiday parking promotion, $50,000 for a holiday shopping marketing program and $30,000 to reimburse the city for administrative costs related to the delay.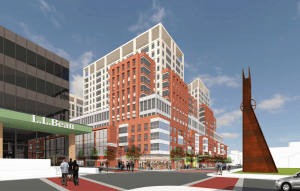 The CityPlace construction site in Burlington on Saturday, Feb. 19, 2019. Photo by Glenn Russell/VTDigger
Optimism
Leaders in the city's business community have been major proponents of the project since its initial days. And while no one is happy with the delays, their faith in the project remains strong.
Kelly Devine, the executive director of the Burlington Business Association, said the project will bring more workers downtown, increase the number of people living downtown and open up two north-south corridors in the city that have been closed off for decades.
"We talk about a hole in the ground right now, but we had a virtual hole in the ground before with a nonfunctional parcel in our downtown," she said. "Transitions are always difficult … but I encourage people to be patient and optimistic."
Burlington's downtown had a strong Christmas retail season, Devine said. While data suggests the national brands that had been in the mall had attracted some Canadian guests, those have been gone for several years.
"I think it's very difficult to point to any one factor for success of lack thereof," she said. "We feel fortunate the season went well, and in terms of downtown, we need to continue to be on our game about marketing and getting people to come downtown, no matter what happens at CityPlace."
Tom Torti, the president of the Lake Champlain Regional Chamber of Commerce, said the office space in CityPlace could play a role in attracting businesses to the city, and could also inspire local businesses to move downtown instead of to business parks in the suburbs.
"I'm bullish on the town and I'm bullish on the project," Torti said. "I think people need to not look at it through such an immediate lens."
Brookfield's increased involvement has been re-assuring, Torti said.
"I'd be not telling the truth if I said I wasn't a little dismayed up until the recent activity by Brookfield," he said. "Brookfield's here, Brookfield's engaged. Everyone knows how big Brookfield is and what Brookfield can pull off."
Real estate developer Ernie Pomerleau has been a major supporter of the project from the start. He said Sinex should be commended for his willingness to make a major investment into the city, and that a lot of criticism of Sinex has been misplaced.
"There's no one in the universe who wants this to go more than Don Sinex," Pomerleau said. "He's not a bad guy, he's a good guy… He should be applauded, not villainized in any form."
Pomerleau said projects the size of CityPlace are incredibly difficult, and delays are to be expected.
"My fingers are crossed," he said. "I pray for their success, their success is our community's success."
Doubt
Not everyone is upbeat.
The delays have had a psychological effect on the city's downtown, outgoing city councilor Dave Hartnett said. He publicly feuded with Sinex last fall.
"As a whole, it's cast a dark cloud over our downtown," Hartnett said. "People aren't' feeling good about downtown."
Councilor Max Tracy said at this point, he has little confidence in the project.
"The delays are incredibly disappointing and are a real loss for our downtown, in that it is not only a physical hole, but a hole in the fabric of downtown," Tracy said.
Tracy is less optimistic that Brookfield's increased involvement is a signifier of a positive shift in the development. While Sinex hasn't delivered on his promises about when construction would start, Tracy said Brookfield hasn't followed through on its vow to be more transparent with the community.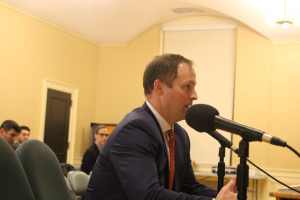 Chase Martin, of Brookfield Asset Management, speaks to the Burlington City Council on Jan. 22, 2019.
Brookfield said they would provide monthly updates in January, but did not appear in February and are not on the agenda for Monday's meeting, the last in March.
"It remains to be seen whether Brookfield's entry will be continuous, meaningful and impactful in terms of communicating with the public," Tracy said.
John Franco, the lawyer for a group of residents who have been fighting the development, questions Sinex's narrative for the delays.
"We don't know what the real reasons for the delay are. If this was well-conceived and well put together, this wouldn't be happening," he said.
In December, a federal judge dismissed lawsuit filed by Franco's clients. A new lawsuit was filed in state court February alleging that the project's developers had violated the terms of a settlement project opponents had agreed to.
The current status of the project has drawn comparisons to a stalled development in Newport that ground to a halt when developers Ariel Quiros and Bill Stenger were charged with securities fraud. A gaping hole in the ground has been the main feature of Newport's downtown since the spring of 2015 and there is no timeline for a new development on the site.
The Pomerleau family talked with Quiros and Stenger about a waterfront development in Newport, but walked away when Stenger failed to provide a sufficient deposit for the project.
Pomerleau said the stalled developments in Newport and Burlington couldn't be more different.
"It's not like Newport, which is going to have a hole for a while," Pomerleau said. "This is not an EB-5 thing." Quiros and Stenger were charged with securities fraud after allegedly running a "Ponzi-like" scheme with money from foreign investors.
Even if Sinex's plans unexpectedly fall through, skeptics don't believe the space will sit vacant for an indefinite period of time.
"Something will be built here, there's no question about that," Franco said. "That property's not going to go undeveloped … and nobody wants that."
Franco and his clients would prefer a smaller project, more in scale with the rest of downtown.
Politics
Weinberger, a developer himself before becoming mayor, has been a staunch supporter of the project and has distanced himself from the current delays.
The support of the development, and the lack of progress emerged as campaign issues in the March Town Meeting Day city council election. Two young Progressive activists defeated incumbents.
Hartnett, a Democrat, believes that the lack of CityPlace progress could have played a role in the Town Meeting Day elections.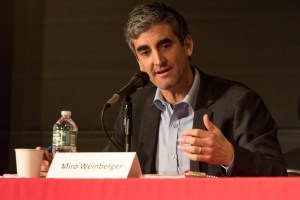 Burlington Mayor Miro Weinberger.
"We lost two incredible talented city councilors on election day," he said. "I'm not sure a lot of it had to do with themselves, I think it had a lot more to do with the temperature of the city and people upset with downtown, and other issues."
Wright said while the delays may have affected some voters, he didn't think the issue swung the city council election.
Could the project delays hurt Weinberger politically moving forward?
"The mayor stuck his neck out for this," Tracy said. "If they're unable to move forward, it will certainly be on the people who were really strong supporters of this project, because they were the ones who were crucial in selling this to the public."
Shannon said with Weinberger's background as a developer, the city could not have a better mayor to navigate the project.
"As a developer, he knows where to push the developer, and I think he really does hold them accountable," Shannon said. "But if something goes wrong, will he be blamed? Probably. I'm not sure that's fair, but that's kind of the nature of politics, it's somewhat opportunist."
Weinberger said he was focused on moving forward and he would let the political chips fall where they may.
The lack of action after the council agreed to the August change to the development agreement might make future requests favoring the developers more difficult for the council to stomach.
"A number of us, including myself, were unhappy with what had happened there," he said. "We were asked to make a material change to the agreement and then after putting ourselves out there to be good partners, the developers haven't, at least yet, used that additional capacity we gave them."
Tracy, who voted against the new agreement, said he hoped the council would be more skeptical if the developers return with additional requests.
"I certainly hope that any further givebacks to the developer would meet with far greater scrutiny," he said.
If the project gets back on track, Weinberger hopes the new council will consider additional requests.
"I'm hopeful there would be a willingness from the council to continue to relate with what amounts to one of our largest landowners now, who we want to see investing in jobs, housing and creating new public revenues," he said.
https://vtdigger.org/2019/03/24/cityplace-delays-prompted-unease-among-burlington-officials-residents/
States
---
Securities Disclaimer
This website is for informational purposes only and does not constitute an offer or solicitation to sell shares or securities. Any such offer or solicitation will be made only by means of an investment's confidential Offering Memorandum and in accordance with the terms of all applicable securities and other laws. This website does not constitute or form part of, and should not be construed as, any offer for sale or subscription of, or any invitation to offer to buy or subscribe for, any securities, nor should it or any part of it form the basis of, or be relied on in any connection with, any contract or commitment whatsoever. EB5Projects.com LLC and its affiliates expressly disclaim any and all responsibility for any direct or consequential loss or damage of any kind whatsoever arising directly or indirectly from: (i) reliance on any information contained in the website, (ii) any error, omission or inaccuracy in any such information or (iii) any action resulting therefrom.