Developing Differently: The Story Of Chuck Schoninger's Development Path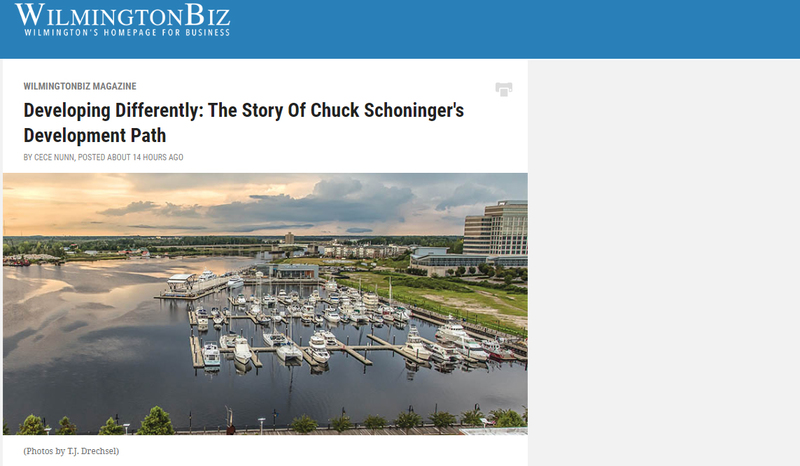 If he had it all to do over again, he probably wouldn't.

"I'd be in Miami Beach, hanging out. The amount of money I've spent here, I could've lived a very good life," said developer Charles "Chuck" Schoninger, sitting in a restaurant booth in February at the Marina Grill.

He was only half joking.

Schoninger was talking about the creation of the restaurant at Port City Marina and the marina itself, which are part of an area along the Cape Fear River in downtown Wilmington that Schoninger estimates will eventually contain about $750 million worth of development, including the $50 million his company and investors have spent there.

Despite his answer "no" to the question, "Would you do it all over again?" Schoninger, CEO of real estate development firm USA InvestCo, said adding a marina, two restaurant buildings and Pier 33 Entertainment, a concert venue, to the city's northern riverfront, along with building a cold storage facility at the Port of Wilmington, has had its moments.

"It's rewarding in the long term," he said. "I'm proud of what we've done here."

But the northern riverfront project in particular has also had its challenges, with legal disputes between Schoninger and the construction company that built the restaurants, and between Schoninger and the companies he was working with to operate the restaurants, along with delays and even more construction issues than anticipated at the outset.

He said he had also hoped to have apartments on land facing the marina under construction at the same time, but while the marina was finished in 2015, Schoninger's group sold the apartment land to a different developer in 2014. That developer, DeWitt Carolinas, broke ground on the Pier 33 apartments four years later.

Schoninger moved to Wilmington from Colorado more than 10 years ago, acquiring the bulk of the 35 acres he and investors eventually owned along the northern riverfront in 2007.

These days, he only has a few vacant acres left. It's unclear when a hotel that was part of his plans might be developed, and one of the two restaurants at the marina is serving as an event venue instead of an eatery.
'Going from the Gut'
The marina, the restaurants and Pier 33 Entertainment all came about after Schoninger and others in Wilmington tried to get the city to go in on a baseball stadium that would be built on land at the foot of Harnett Street on the northern riverfront.

The stadium would have overlooked the Cape Fear River on 6.6 acres that will now be home to the city's North Waterfront Park.

In 2012, 70 percent of voters in a public referendum sided against building the baseball stadium, killing a proposal to build the facility and bring a minor league team to town.

It was a letdown, but Schoninger said he and his partners persevered, working on other plans for the former industrial properties and selling the stadium site to the city for the park for just under $4 million.

Much of USA InvestCo.'s northern riverfront projects, as well as its Port of Wilmington Cold Storage facility, were funded through the federal EB-5 program. At the time, for a minimum of $500,000 worth of an investment and the creation of the equivalent of at least 10 direct, indirect or induced jobs, individual investors in the area's projects could be granted green cards.

But the effects of the Great Recession and construction delays hampered the marina project, for which construction started in 2012.

"We're probably a year to a yearand- a-half behind from our schedule," Schoninger said in July 2015. "There's a bunch of things that kind of lead up to that. Construction here was a lot harder than we ever anticipated, so it took a lot more money."

Crews had to pull up what Schoninger called in 2015 "piles and piles of junk" from the river to be able to create the marina.

"We spent a week on two or three rocks," he said.

Without the PPD headquarters building, which opened in 2007, and the restaurants and the marina in front of PPD's building, the area might still be home to what was considered a blight, a former industrial property, Wilmington Mayor Bill Saffo said.

"I always say about developers: They're professional gamblers," Saffo said. "You're basically borrowing money, betting on a concept that you think is going to fly, tying it into the overall health of the economy, and hopefully you made the right call because if it goes wrong, you're going to lose everything.

"When nobody could get money to do the project that [Schoninger] did, he went out and found the money. He raised the capital in the middle of a tough recession and made the investment and voila, you have this beautiful marina" and the restaurant buildings.

Saffo said Schoninger is not a "quintessential developer" who analyzes every detail of a project before moving forward.

"He's more going from the gut," the mayor said. "But so far, he's done a phenomenal job for the riverfront, and all the stuff that's happening down there, a lot of it is due to him."
When they were first announced seven years ago, the two restaurants at the marina were going to be BlackFinn Ameripub and Vida Mexican Kitchen y Cantina.
Fast-forward to 2019, and Schoninger and the companies that were going to operate the restaurants are accusing each other of various failures and funding discrepancies.

Efforts to reach the plaintiffs in the case for this story, through their attorney and a Charlotte restaurant, were not successful before press time.

Schoninger did not want to comment specifically on the dispute he's in with the entities that were set to run the Wilmington locations of BlackFinn and Vida. The case was in N.C. Business Court as of press time.

Another case between Schoninger's company Northern Riverfront Marina & Hotel and Clancy & Theys Construction Co. over the two-restaurant complex, which resulted in a nearly $860,000 judgment against NRMH in May, has been settled, Schoninger said, and NRMH remains the owner of the two buildings.

While Marina Grill is operating in the building that BlackFinn previously occupied, the building across the breezeway at the Port City Marina that was set to become Vida is being used as an event venue. It could change into a traditional eatery as the neighboring residential population increases over the next several years, Schoninger said.

Of the legal disputes in general, Schoninger said, "At the end of the day, disputes are just a normal part in the course of running a development business."



Floating New Ideas
So what does the future hold for Schoninger and his development plans?

The answer is simple for one aspect: The EB-5 visa program has nearly run its course for Chinese investors, Schoninger said.

Others familiar with the program agree.

"EB-5 is just about dead, and the reason for that is the way that this visa is set up. As with other employmentbased visas, we only will allocate 7 percent of a visa classification to any one country and historically China has consumed 90 percent of the 10,000 or so EB-5 visas that are available," said Steve D. Albert, managing director of East West Path, a U.S. immigration consulting firm.

He said that statistic has resulted in a 10- to 15-year waiting list for potential Chinese investors, too long to be of benefit to Chinese families, many of whom want the visas so their children can receive an education in the U.S., Albert said.

Schoninger has been pursuing other potential development near the Wilmington Convention Center for a hotel close to the marina, though it will not likely be a Hotel Indigo as originally planned, Schoninger said. His remaining land on the northern riverfront is under contract with developers he did not name.

With additional apartment projects already announced or underway along the northern riverfront, the residential density could build up to thousands of people, Schoninger said.

Meanwhile, his cold storage facility at the Port of Wilmington is 75 percent occupied thanks to poultry and produce clients, Schoninger said.

He said he's also got a houseboat community in the works called The Strands, which would use Port City Marina slips and mean having residents at the marina on houseboats that another of Schoninger's companies, Atlantic Houseboats, would build.

He said he's received 400 inquiries about the houseboats, the results of just a small amount of advertising and word-of-mouth.

Schoninger said he's not an apartment builder or office developer, instead specializing in projects that are outside the mainstream asset classes and that make more sense to finance with investment dollars.

"Nobody here would believe in it, would invest in it," Saffo said of Schoninger's northern riverfront projects. "It took him going to China and getting investors, and I salute him for that. That took a lot of courage. Whether you agree with him or not or whether you like the guy or not, I applaud him for it."


http://www.wilmingtonbiz.com/wilmingtonbiz_magazine/2019/03/26/developing_differently_the_story_of_chuck_schoningers_development_path/18706
States
---
Securities Disclaimer
This website is for informational purposes only and does not constitute an offer or solicitation to sell shares or securities. Any such offer or solicitation will be made only by means of an investment's confidential Offering Memorandum and in accordance with the terms of all applicable securities and other laws. This website does not constitute or form part of, and should not be construed as, any offer for sale or subscription of, or any invitation to offer to buy or subscribe for, any securities, nor should it or any part of it form the basis of, or be relied on in any connection with, any contract or commitment whatsoever. EB5Projects.com LLC and its affiliates expressly disclaim any and all responsibility for any direct or consequential loss or damage of any kind whatsoever arising directly or indirectly from: (i) reliance on any information contained in the website, (ii) any error, omission or inaccuracy in any such information or (iii) any action resulting therefrom.