Most expensive beachside project in Daytona pins hopes on Russian developers with a personal stake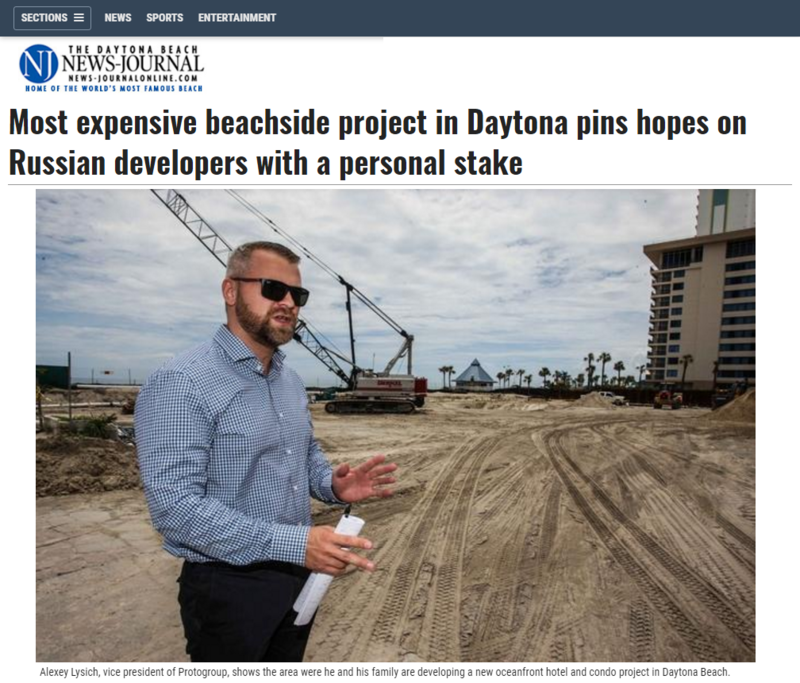 Alexey Lysich strode over the earth of what he hopes will be the foundation for his family's towering 29-story hotel. There wasn't much to see — a cavity with exposed pilings, the rest of which are buried.
Yet inside a nearby trailer, a red clock counted down to the hotel's eventual completion: 692 days, 11 hours, 13 minutes, and 47 seconds.
Despite not having all the funding in place, the $90 million hotel is forging ahead, making it the first new beachside hotel constructed in Daytona Beach in some two decades and the most expensive private development between the Halifax River and the Atlantic Ocean in the city's history.
Building permits put the total for the hotel and its neighboring 31-story tower — which will contain 120 luxury condos — at $185 million, though Lysich would only confirm the hotel's price.
Not much is known about Lysich, or his father and brother, who together own several hotels in the Russian city of St. Petersburg. Few public records detail their U.S. business dealings, and they are the proprietors of one hotel here, a Palm Coast Days Inn.
Lysich and his family, however, have more on the line than your typical developer. The Daytona Beach Convention Hotel & Condominiums is by far the largest U.S. project they have taken on. Partly tied to it is the residency of Lysich's brother, Dmitry. A Daytona Beach official wrote a letter to immigration authorities about the project as part of his visa application.
And it's their money pouring the concrete, though Lysich said they are close to signing a deal with a bank. Other wealthy foreign nationals may also provide funding through a controversial visa program that came under fire after the company formerly headed by President Donald Trump's son-in-law, Jared Kushner, used it to court Chinese investors seeking a pathway to residency through what have become called "golden visas."
Lysich said he feels confident with the gambles.
"Daytona has no hotels for a long time. People will see this one is fresh," said Lysich, who still speaks with a Russian accent but much more fluently than when he first brought the project to the city in 2012. "It creates a good opportunity to be the first."
'It's better to live here'
Risk is not new for Lysich or his family. His father, Petr, opened a small grocery shop in St. Petersburg shortly after "perestroika" reforms in the 1980s, which eased government economic controls in the former Soviet Union. Lysich, a boy then, said he didn't know exactly what made his father open the grocery, other than "people always buy food." It eventually grew into SEASON, a chain of six stores.
He described his family as middle-class, living in a home just outside the city, where he enjoyed playing video games and swimming. Lysich, 33, who has sharp features, angular brown hair and a close-cropped beard, still practices the crawl stroke.
Seeing St. Petersburg lacked hotels devoted to travelers — who were eager to see the city's palaces, theaters and magnificent State Hermitage Museum — the Lysiches made their first foray into the hotel business, opening the four-star, 194-room Petro Palace Hotel in 2005 in the city's historic center. In an area known for its luxury, their hotel was a more affordable option, he said.
"Everything was five star hotels since the 1950s," he said.
They found success and opened three more hotels there from 2006 to 2010, including a 557-room Holiday Inn and a Staybridge Suites. A boutique hotel in Montenegro near the beach in Petrovac was also opened.
"I like to be guest oriented," he said, providing services "for people who come to the city to see how beautiful it is."
In December 2007, Lysich's father bought a beachside house in Palm Coast costing about $1 million dollars. Lysich, who first came here as a tourist in 2008, said they chose the area for three reasons: It was within reach of Orlando International Airport, it was warm, and it was not Miami, which he described as too crowded. In 2010, Lysich and his family received residency through the Diversity Immigrant Visa program that awards 50,000 green cards each year in a lottery.
He now lives in Palm Coast nearly year-round, with his wife and two boys, 4 and 6.
"We can live in comfort with the kids in a good neighborhood," he said. "There is privacy, and it is calm here."
He has applied for his citizenship and said he doesn't plan on returning to his former homeland.
"I think it's better to live here than it is to live in Russia," he said. "More possibilities for me and my boys."
'The project is real'
Just days after buying the Palm Coast house in 2007, a company owned by the Lysiches purchased another Palm Coast property at 120 N. Garden Street for $3.4 million, according to the property appraiser's office. It wasn't until 2010 that construction began there on the family's Days Inn, which opened in 2011. Lysich said he immediately saw it was a "good market" with tourists.
"You see these special events affect our hotel in Palm Coast, (30) miles north of Daytona," he said, "and you can imagine what it will be in Daytona Beach."
In a 2012 foreclosure sale, Florida-company Protogroup, which lists Lysich as vice president and his brother as president, bought 4.5 acres, just south of Seabreeze Boulevard, for $6.3 million. Protogroup's vision for the property is a massive 1.1 million-square-foot complex with two 300-foot-plus oceanfront towers connected by a catwalk suspended over the Oakridge Boulevard beach approach to maintain public access to the sand.
The higher of the two buildings will be the 31-floor north tower, with 120 luxury condo units, 42 hotel rooms and a cost of $95 million, according to the building permit. The south tower will have 29 stories and include 459 hotel rooms, costing $90 million.
The original plan was to be open by the fall of 2015, but financing everything at once proved impossible, and Protogroup received extensions from the city to stagger construction, allowing it to pre-sell the condo units.
On a recent visit to the site, two cranes loomed against the sky. Construction had started in February. Lysich said the foundation's concrete would soon be poured.
"We started with the construction of the hotel so people will see the project is real," he said. "No one wants to buy without construction."
This strategy is not uncommon, said R. Britton Colbert, owner of a Florida hotel consulting firm. But Colbert said it could be difficult attracting a lender without a large-scale American hotelier attached to the project.
"Maybe they think they have enough money and they think they can buck the system," he said.
'Money is money'
Besides a bank loan, Lysich is also seeking investors through the EB-5 visa program, which provides a path to residency to wealthy foreign nationals who invest between $500,000 and $1 million in a project that creates at least 10 U.S. jobs.
David Vedder, the head of a local immigration law firm, said that being named an EB-5 center would allow $1 million investments by up to 40 foreign nationals in exchange for equity in the project and the possible visa. The application, which was sent nearly two years ago, is expected to be approved shortly by U.S. Customs and Immigration Services, said Vedder, who is representing the project.
"These guys are creative thinkers," Vedder said. "They are very resourceful, and they have a kind of confidence in their own ability to make the project happen."
Critics of the EB-5 program, however, have said it's murky, loosely regulated, and prone to abuse. There have been several cases of fraud, including a South Florida woman accused of diverting nearly $1 million from Chinese investors to buy a 48-foot boat, a BMW and Mercedes.
Vedder agreed that the visa program has attracted "a lot of charlatans," and that the investors are mostly concerned with obtaining "green cards." Their pitfall, he said, is a maze of companies receiving the invested cash. The Lysiches' project, however, is entirely under their company, Protogroup, he said.
"It owns the land, it owns the hotel project, and it will be the operator of the hotel," he said. "It's a very elegant idea."
Public records show Lysich and his family own few companies. According to the Florida Division of Corporations, he has one called InQvist, which he said is a tourism business related to Russia. There are two companies, DBRH and Iceberg Daytona, which dissolved in 2014 and 2012, respectively. Smile Land is behind the Palm Coast Days Inn. And finally there is Protogroup, which in a brochure given to the city lists the family's patriarch, Petr Lysich, as CEO, though he is not on any of the incorporating documents.
Web searches provide scant information about the family. A search of the Panama Papers — 11.5 million leaked documents that detail offshore entities — shows an Alexey Petrovich Lysich with an address in St. Petersburg associated with an account in the Seychelles. Lysich said that he doesn't think it's him, and that it could be anyone because "it's a leak." He had no further comment about it. He also said his family has no connection with the Russian government or contact with President Vladimir Putin.
"Money is money. It's U.S. dollars that I pay to the general contractor," he said.
'A wave of good things'
A white parking garage gleams at the corner of A1A. The only portion of the project to be constructed, it stands in contrast to the Seabreeze neighborhood, clinging to its former glory days as the center of the Daytona Beach's spring break. Three strip clubs, Razzle's night club, and the immutable Oyster Pub — its sign of an anthropomorphic clam shell drinking a beer out front — still dominate the area.
Resident Anita Gallentine said that the whole core tourist area down to International Speedway Boulevard is too dilapidated and crime-ridden to command hotel rooms costing $200 per night, much less luxury condos.
"I don't go down there. I think it's seedy and nasty," she said. "I don't see it becoming a high-end area. I don't see it happening. The economy is still not very strong. Who will fill these rooms? There's nothing drawing them here other than Florida and the beach."
That stretch of sand, however, is one of the few areas that doesn't allow cars, which could make it more attractive to investors.
"You never will (find) a beach like here," Lysich said. "Daytona will become as it was in 1955. It was a pearl here."
Former mayor Glenn Ritchey, who first negotiated with Lysich through a translator about the project, was also upbeat about the prospect of new rooms for Ocean Center events, jobs for hotel construction and operations, and improved beachside businesses.
"We're riding the crest of a wave of good things in our community," Ritchey said. "Just seeing (construction) cranes creates an air of positivity."
Lysich was ready to start seeing those cranes hauling beams. He stood at the edge of the site and surveyed the dirt.
"It's exciting," he said. "It will be more exciting when we go vertical. Right now, it's a couple of million dollars in the ground."
http://www.news-journalonline.com/news/20170624/most-expensive-beachside-project-in-daytona-pins-hopes-on-russian-developers-with-personal-stake
States
---
Securities Disclaimer
This website is for informational purposes only and does not constitute an offer or solicitation to sell shares or securities. Any such offer or solicitation will be made only by means of an investment's confidential Offering Memorandum and in accordance with the terms of all applicable securities and other laws. This website does not constitute or form part of, and should not be construed as, any offer for sale or subscription of, or any invitation to offer to buy or subscribe for, any securities, nor should it or any part of it form the basis of, or be relied on in any connection with, any contract or commitment whatsoever. EB5Projects.com LLC and its affiliates expressly disclaim any and all responsibility for any direct or consequential loss or damage of any kind whatsoever arising directly or indirectly from: (i) reliance on any information contained in the website, (ii) any error, omission or inaccuracy in any such information or (iii) any action resulting therefrom.